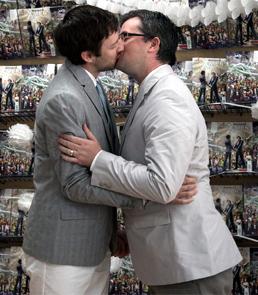 Both the Barack Obama administration and United States lawmakers on Capitol Hill have expressed concern over the Indian Supreme Court's decision to uphold a law that criminalises consensual homosexual conduct.
State Department spokeswoman Jen Psaki, when asked about the administration's reaction to the Supreme Court upholding Section 377 of the Indian Constitution which criminalises consensual sex between gay and lesbian partners, said, "The United States places great importance on the protection of human rights and fundamental freedoms of all people."
"And as you saw and as you referenced in Secretary's (John F Kerry's) statement, that includes lesbian, gay, bisexual, and transgender persons around the world. We oppose any action that criminalises consensual same-sex conduct between adults,' she said.
Psaki continued, "LGBT rights are human rights. That's something you've heard Secretary Kerry say and Secretary Clinton say that before him, and we call on all governments to advance equality for LGBT individuals around the world."
Asked if the administration intends to bring up this issue with the Indian government, particularly since Foreign Secretary Sujatha Singh is currently on an official visit to the US, the spokeswoman was circumspect, saying, "We consistently bring up human rights issues with most countries we meet with, and I don't have any specific recent call or meeting to read out for all of you, but certainly, that's something we are happy to express publicly and privately as needed.'
When pressed by reporters, Psaki asserted, "I believe by saying we oppose any action that criminalises consensual same-sex conduct between adults in general around the world, I think I was pretty clear about what our view is."
When asked once again if the US is "opposed to the Supreme Court decision and are you going to raise this issue with the Indian government," she said, "I expressed our concern about any cases along these lines. We are in regular touch about these issues and others with India. I don't have anything specific to read out for you in terms of future meetings or conversations about this."
Reporters were not willing to give up on the issue, and asked her if there were "any options at all that the State Department is examining to encourage India to repeal that law?"
Psaki reiterated, "That's a decision that the Indian government would make. We obviously don't make decisions on behalf of other governments and their legislation. So I expressed our deep concern about any efforts around the world to not recognise that LGBT rights are human rights, and that's a message we'll continue to convey."
Meanwhile, diplomatic sources acknowledged that US lawmakers belonging to the House Foreign Affairs Committee, whom Singh had met on Capitol Hill, had brought up the issue with her, obviously on the urging of some of their gay and lesbian constituents.
But the lawmakers had expressed confidence, sources said, that "India had the judicial process and also the legislative process and hoped that this will reach its logical end."
The Hindu American Foundation also expressed its angst over the court's decision while the South Asian Lesbian and Gay Association held a demonstration outside the Indian Consulate in New York City to protest the Supreme Court's action.
HAF leaders, while announcing their disappointment over the Supreme Court ruling, recalled, "In 2009, the New Delhi high court rejected Section 377 of the Indian Constitution, a remnant code from the British Era, and decriminalised same-sex relationships. The Indian Supreme Court, known generally for expanding civil rights, chose to defer to the Indian Parliament to reform the provision.'
Harsh Voruganti, associate director of public policy at HAF, said, "No law should interfere in a consensual relationship of two individuals behind closed doors," and added, "We had hoped that the Indian Supreme Court would have upheld the lower court's progressive decision."
He argued, "Section 377, based on arcane, Victorian mores, does not reflect the understanding of many contemporary Hindu lay and spiritual leaders who emphasise the teachings of every individual's inherent divinity -- be they heterosexual or homosexual.'
Image: Jason Welker and Scott Everhart kiss after exchanging vows during their wedding ceremony at Manhattan, New York ' Photograph: Adrees Latif/Reuters