Indian-Americans are "very concerned" about the rhetoric from Donald Trump who has "poisoned" the political dialogue with his insults to immigrants and women, US House of Representatives contender Raja Krishnamoorthi has said.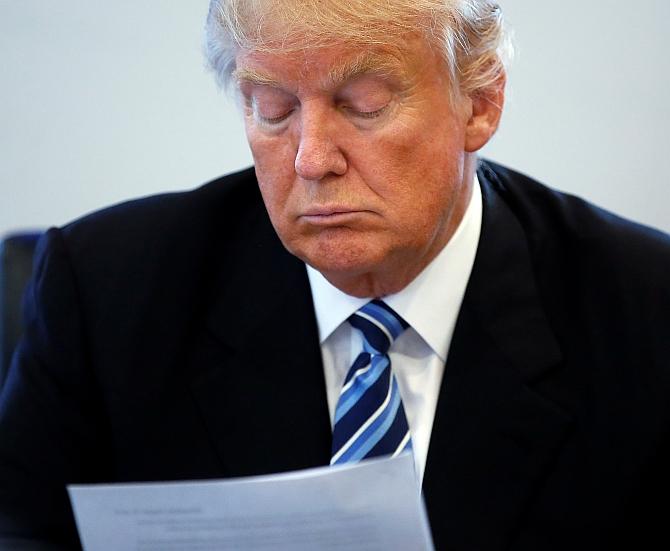 Krishnamoorthi, 42, is contesting for the 8th Congressional District of Illinois that includes west and northwest Chicago suburbs. He won the Democratic Party's Congressional primary in Illinois in March and has also been endorsed by President Barack Obama.
Obama, in a rare video message this week, described Krishnamoorthi as his "good friend" and called on Americans to vote for him.
Obama said when he had run for the US Senate, Krishnamoorthi had helped him "develop ideas for building an economy that works for everyone. Now Raja's plans will help small businesses grow, raise wages, and help families pay for college."
Krishnamoorthi said he was "honoured" to have the support and endorsements of the President as well as those of other bodies and unions. He said the endorsements from the leading Chicago area newspapers, that have different perspectives, "means that we are doing something right".
Krishnamoorthi's district has a sizable Indian-American population and Krishnamoorthi said the community, in its interaction with him, say, "they are very concerned about the rhetoric coming from people like Donald Trump who has basically poisoned the political dialogue in this country with his insults to immigrants, people with disabilities, women, other minorities and veterans.
"People more than ever are yearning for unity in the face of the collective challenges confronting the country. Indian-Americans feel that call to action and call to unity even more keenly," Krishnamoorthi said.
"Trump says these things in a very cynical way. I personally think that he knows better but he is trying to deliberately appeal to the worst instincts in Americans," he said.
Krishnamoorthi emphasised that the only way for people to combat such rhetoric is to become more politically engaged and to vote and express their preferences for the way they believe America should be run through the political process.
"Now more than ever people have to vote and ensure that November 8 is the day when America decides to go in the direction of unity and collective teamwork in facing the common challenges confronting the country," he said.
Krishnamoorthi expressed strong appreciation for the India-US relationship, which he said has steadily become stronger and deeper. He underscored that a strong relationship between the two democracies is crucial as the world confronts a plethora of challenges.
"I hope to be a positive force in developing the relationship between the world's oldest democracy and the world's largest democracy.
In an endorsement in June, Obama had said as the son of immigrants who worked their way into the middle-class, Krishnamoorthi understands both the challenges facing America's working families and the opportunities their work makes possible.
"I know he'll fight hard in Congress to create more good jobs, empower more Americans to start businesses, and help working families afford to put their children through college," Obama had said.
Krishnamoorthi said, "It is so important in the face of the various challenges that the world confronts today, whether it's climate change or terrorism or making sure economic gains are broadly shared by working families throughout the world, that America and India form a strong partnership based on democratic principles, respect for human rights and also based on free markets."
A son of immigrants, Krishnamoorthi grew up in Illinois and after college and law school, he became policy advisor for Obama's successful US Senate campaign. He also served as a founding prosecutor in Illinois Attorney General Lisa Madigan's anti-corruption unit.
Krishnamoorthi has also received crucial endorsements from influential news outlets such as The Chicago Tribune, Chicago Sun-Times, Daily Herald and key bodies like Illinois Realtors, Illinois Credit Union League, Human Rights Campaign and International Association of Fire Fighters.
"We are talking about ideas, we are not talking about insults. We are running a grass-roots, ideas based campaign in the best tradition of American government and politics," he said.
Krishnamoorthi, who had fought the elections to enter the US House of Representative in 2012, said the biggest concern facing constituents in his district is how to grow and strengthen the country's middle class.
"People ask me how do they send their child to college, will social security and medicare be there for them when they are retired. People are very concerned about gridlock within Washington DC and they want to see people who go there to get things done and who are willing to work with the other side to achieve results," he said.
He expressed hope that on November 8, his campaign will be able to "make history and go to the Congress".
"One of the reasons why I have had some success in this campaign so far is that I have talked to people and given them details behind the plan and proposals that I have to tackle the challenges" facing the country, Krishnamoorthi said.
He said instead of "generality" or engaging in rhetoric, he can speak in detail about his plans and is in a better position to engage the other side in terms of figuring out the common ground.
He urged American voters to go out and exercise their electoral right, saying "elections are almost a celebration of democracy".
"As the old adage goes, if you do not have a seat at the table you are on the menu. It is important for people everywhere to have a seat at the table and have their voices heard," Krishnamoorthi said.
He encouraged people to take their children to the polls "to develop a new generation of voters".
Photograph: Reuters