The planned 43-day-long campaign called 'Raise your Voice Against Child Sexual Abuse' will see Muhammed Shahid cover 11 states and 96 districts.
A 20-year-old university student embarked on Wednesday on a solo cycle trip that will take him from Kanyakumari to Kashmir to raise awareness about child sexual abuse.
Muhammed Shahid, a second year Geography student from Jamia Milia Islamia University hit upon the tour idea with the support of the university authorities and volunteers of various groups working for the rights of children.
The campaign that Shahid begins from the Swami Vivekananda Kendra in Kanyakumari is expected to cover 11 states and 96 districts and is scheduled to culminate on July 12 at the University of Kashmir.
The planned 43-day-long campaign, which he calls "Raise your Voice Against Child Sexual Abuse" will see Shahid distributing pamphlets with information on the social issue.
Shahid also plans to interact with parents and students, and enact at places he stops, a street drama aimed at inspiring children to speak up and not keep silent if they face abuse.
"I got the idea of a cycling campaign when I went to a couple of juvenile homes in Delhi as a part of a program by a reputed city-based NGO. Most students I talked to had some experience to share of sexual abuse. It was then I decided to do this campaign," he says.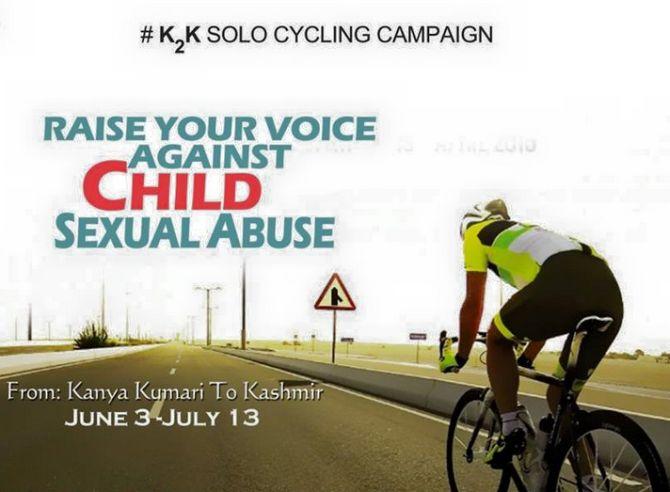 "As a child I had encountered abuse so I don't want this to happen to anyone else," says the cycling enthusiast who thanks his parents for their full support.
The itinerary chalked up by Shahid, who hails from Kozhikode in Kerala, attempts to cover a total of around 4,200 kilometres at a daily cycling of an average of 95 kilometres to 105 kilometres.
For the past six months Shahid says he prepared by rigorously practicing for the proposed trip.
"I use to cycle almost 50 kilometres a day from 7 pm to 1 am. During weekends I used to increase the distance to 100 kilometres," says the cyclist.
To reduce the load on the road trip the cyclist has packed only the bare essentials in a back pack that also contains a camera.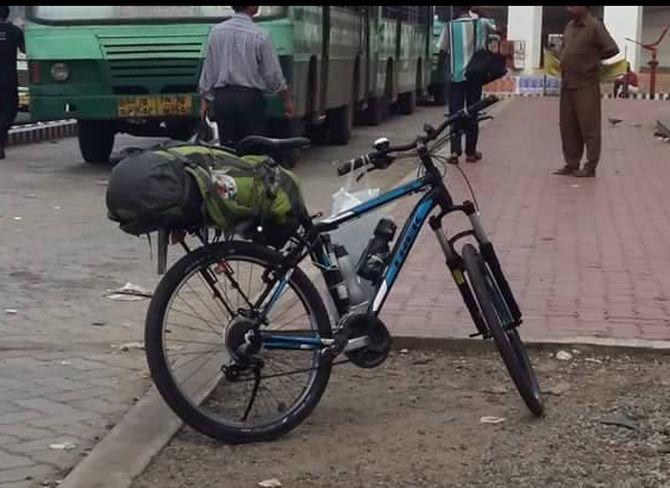 The student says he has received support from social activists, friends and other non governmental organisations.
Relief and Charitable Foundation of India, RCFI, a Kozhikode-based charity has assisted Shahid financially and the Jamia Milia University has sponsored his bicycle.