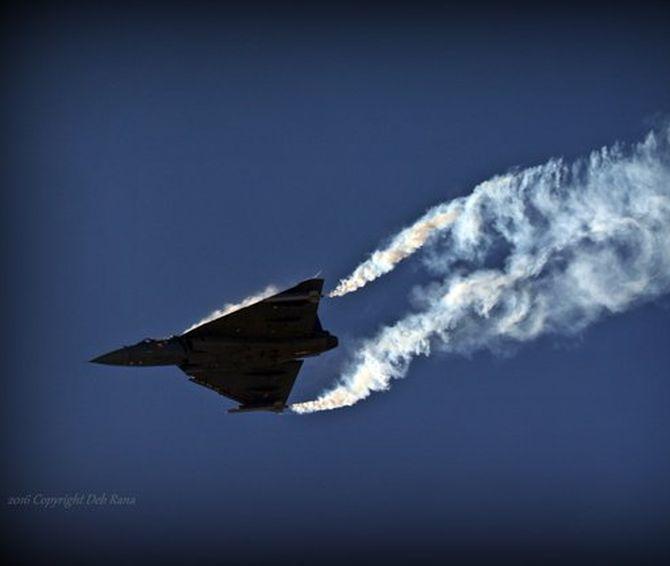 Leading defence and aeronautical firms of the West are reportedly worried over the success of the Tejas Trainer Jet, especially as India is expected to bag the first contracts for the trainer jet from Sri Lanka and Egypt.
The Tejas Light Combat Aircraft is a supersonic, single-seat, single-engine multirole light fighter aircraft, which has been under development for the past three decades. It has been co-developed by the Aeronautical Development Agency in cooperation with the Bengaluru-based Hindustan Aeronautics Limited.
The Sri Lanka Air Force is reportedly looking to procure 18 to 24 new fighter aircraft to replace its obsolete fleet of Chinese license-built MIG-21 by 2017, and had recently rejected Pakistan's JF-17 aircraft built with Chinese help.
On the other hand, Egypt has also shown some interest in procuring the Tejas, though it had last year signed a contract to buy 24 Rafale fighter jets from France.
According to the web site www.dailymirror.lk, both Colombo and Cairo are said to be interested in purchasing the current version of the aircraft. Two things going in favour of the Tejas are its lower cost and its flying ability.
The Tejas is perhaps the world's smallest lightweight, multi-role single engine tactical fighter aircraft and the state-run HAL has said it has received expressions of interest for it from abroad, but refused to reveal any names.
It has maintained that its priority is to deliver this combat aircraft to the Indian Air Force and Indian Navy first. The Indian Air Force is reported to have a requirement for 200 single-seat and 20 two-seat conversion trainers, while the Indian Navy might order up to 40 single-seaters to replace its Sea Harrier FRS.51 and Harrier T.60.
Rather than wait for LAC Mk II, the IAF had decided to go for an upgraded version of the existing Tejas with over 40 modifications. As per the production plan, six aircraft will be made this year and HAL will subsequently scale it up to eight and 16 aircraft per year.
HAL is likely to hand over the fourth Tejas aircraft to the IAF by June end. The four aircraft will make up the first squadron to be used for training and familarisation. The first Tejas squadron will be based in Coimbatore, Tamil Nadu, and is scheduled to enter service by 2017-2018.
The LCA programme was initiated in 1983 to replace the ageing MiG-21s planes in IAF's combat fleet. In 1984, the Indian government established the Aeronautical Development Agency to manage the LCA programme.
The Tejas is often described as a HAL product, but the responsibility for its development belongs to ADA, a national consortium of over 100 defence laboratories, industrial organisations, and academic institutions with HAL being the principal contractor.
The Tejas is the second supersonic fighter developed by HAL after the HAL HF-24 Marut.