'Welcoming her with glee reflects the BJP's desperation in UP,' says Nazarwala.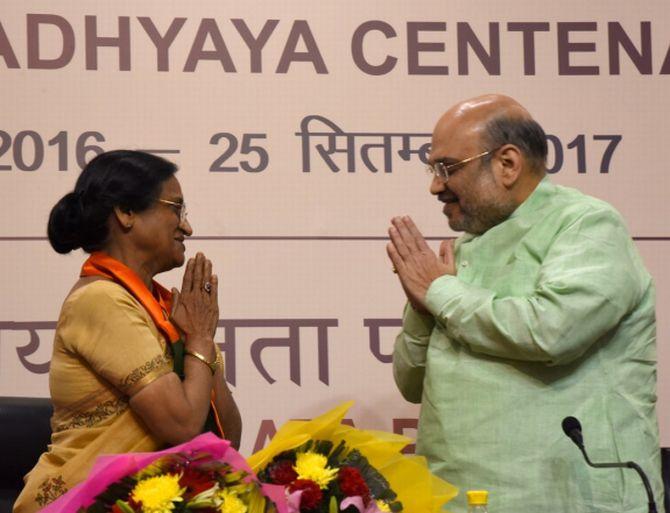 Rita Bahuguna Joshi, once the president of the Congress' Uttar Pradesh party, wanted to sit in the chief minister's chair one day, like her late father, Hemvati Nandan Bahuguna.
But when Congress Vice-President Rahul Gandhi, guided by Prashant Kishor, trusted Sheila Dikshit for the party's CM face in UP, Rita decided to switch sides.
She is now with the Bharatiya Janata Party, but she can do little for the party.
Like Sheila for the Congress, she could swing Brahmin votes for her new party, but not of the same magnitude, as she is an Pahari Brahmin from Uttarakhand.
Maybe she can reveal a few irrelevant Congress secrets. But the CM's chair, which she had set her eyes on, is now very far from her.
For one, she is no match for her brilliant father.
And two, it may trouble the BJP if long-time workers of the party and the Rashtriya Swayamsevak Sangh start complaining about outsiders being given preference over sakriya karyakartas (active party workers).
Welcoming her with glee reflects the BJP's desperation and bankruptcy in UP.
The party is making clumsy efforts to cobble together and garner support from every quarter/community possible.
Rita has promised to mobilise Pahari Brahmin votes for the BJP and the party was persuaded by her brother, former Uttarakhand CM Vijay Bahuguna, to induct her.
But it might prove a myopic, even risky, step for the BJP.
The tall promises Rita made to Rahul during the 2012 UP assembly election hardly bore any tangible result.
Maybe, all she can do is to get a BJP ticket for herself, in exchange for a couple of Brahmin votes.
IMAGE: Rita Bahuguna Joshi greets BJP President Amit Shah after joining the party. Photograph: @BJP4India/Twitter