There are a lot of very bad men out there. And Syed Asif Ibrahim is the best officer to deal with them. Aditi Phadnis reports.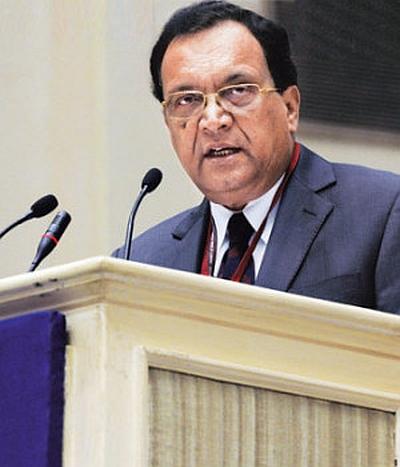 If the reports are correct, this is a first. For the first time ever, India has a special envoy for counter-terrorism and extremism.
Syed Asif Ibrahim was last week appointed to the job, having previously become the first Muslim to become director of the Intelligence Bureau.

A colleague said he had not seen the wording of the order that describes the job Ibrahim will do.
But the title is impressive: It means the person holding the rank understands a range of security threats to India and Indians, from Boko Haram to the NSCN Khaplang group, with Lashkar-e-Jhangvi and the East Turkistan Republic thrown in on the way. There are a lot of very bad men out there.

But one thing is clear. Ibrahim's appointment has Ajit Doval written all over it.
Although it was the United Progressive Alliance government that appointed him, Ibrahim is a bureaucrat who has won the confidence of a new political dispensation, unlike former foreign secretary Sujata Singh and former chief of the Defence Research and Development Organisation, Avinash Chander.
More like outgoing Cabinet Secretary Ajit Seth.
Himself an IPS officer from an intelligence gathering arm, Doval keeps a keen ear to the ground and has a light touch.
He is known to be especially fond of people he has worked with earlier.
When Ibrahim was appointed DIB, Doval said he was the "best officer in the national interest" and it was "just a coincidence" that he was a Muslim.
But, added a word of caution for the new chief.
"As IB chief, he will have to prove himself, as it is a highly sensitive posting... The political system in our country will always try to manipulate and take political advantage from him," Doval was quoted as telling a reporter.

Ibrahim will be the PM's envoy but will report to Doval , thus squaring a circle.

What is important is what impressed the government about Ibrahim's work, and got him the job. It was Ibrahim who planned the 2013 operation to nab Yasin Bhatkal, co-founder of the Indian Mujahideen, one of the biggest fish the Indian intelligence has helped land.
Close cooperation with law enforcing authorities in Nepal helped. But with Bhatkal's arrest, the back of the IM was virtually broken.

It was around this time that the South Asia bureau of the Al Qaeda was planned and launched by Ayman al Zawahiri.
It might have been a new thrust by an ambitious Islamic grouping or a strategic response to a grouping whose very existence was threatened.
The Islamic State of Iraq and Syria became the newest threat for India.
Worse, young boys appeared to be enchanted at the idea of engaging in jihad. More than 10 seemed to have left home to join ISIS without informing their parents.

Ibrahim decided to treat these boys like boys, rather than hardened criminals. Intelligence brought information and some were stopped at the airport, the parents of others were contacted and with the cooperation of the parents, IB explained to them that there was nothing romantic about picking out women and children in buses and shooting them.
The last ISIS returnee said he came back because he realised women were only sex slaves to the 'jihadis'.
The IB and police worked together. Soon, the trend was reversed.
A girl from Hyderabad who had left to join ISIS returned halfway from Turkey, after some persuasion from her parents and the Indian state.

Because of covert contact with some of these groups, Ibrahim was able to arrange the return of some young men. How he handles his new job remains to be seen.