'It is especially discouraging for young people in the development sector. I've noticed that many of them are actively considering other career options to escape this atmosphere.'
Geetanjali Krishna reports.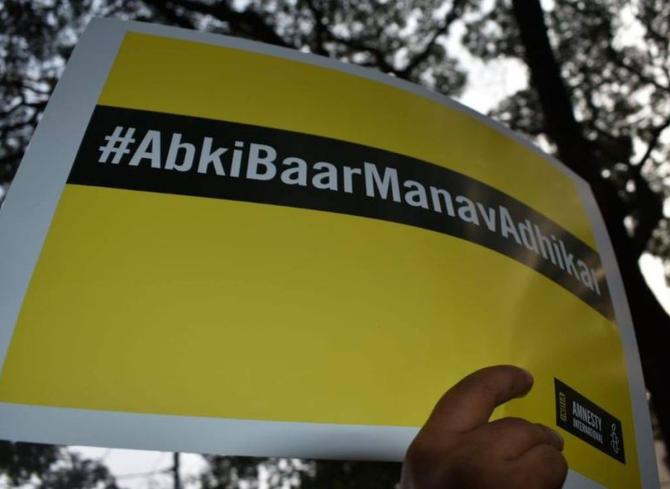 In late July, when the Supreme Court of India initiated contempt proceedings against lawyer Prashant Bhushan, civil society activists worried that freedom of speech was under threat.
Later, when the same civil society members were named by the police as instigators of the riots that rocked northeast Delhi in February this year, the threat loomed larger.
And now, Amnesty International India announced it could no longer afford to uphold human rights in India due to reprisals from the Indian government.
Non-governmental organisations or NGOs say that demands for accountability and transparency in public works and the imperatives of enforcing human rights in India are becoming challenging.
These high-profile clampdowns, they add, have not only successfully stopped the activists in their tracks, but they've had smaller NGOs facing an existential crisis.
"In the last few months, the reprisals against noted activists and large NGOs have made me cautious about speaking my mind on social media," says Veena Lal, director of Karm Marg, a children's home in Faridabad. "It could adversely impact the 60 children dependent on me."
Reprisals, smaller NGOs reveal, take many forms.
"Income tax scrutiny is a commonly used tool to punish people like us," says the founder of a Delhi-based NGO on the condition of confidentiality. "We're so small and short-handed at the best of times that the nuisance value of the many trips to the chartered accountant and to the income tax office is huge."
NGOs have also expressed concerns over the provisions of the Foreign Contribution (Regulation) Amendment Bill 2020, which the Rajya Sabha recently passed.
These, they say, will further clip the wings of the beleaguered civil society.
Many small NGOs, which didn't have FCRA, used to rely on foreign platforms like Global Giving to receive foreign funds.
They allege that now the government is not allowing even these platforms to disburse funds.
"I sense a lot of fear and uncertainty around," says Apar Gupta of Delhi-based Internet Freedom Foundation, which advocates digital rights and liberties.
"It is especially discouraging for young people in the development sector. I've noticed that many of them are actively considering other career options to escape this atmosphere," Gupta said.
Anjali Bhardwaj of Satark Nagrik Sangathan, who has been named along with two junior colleagues in the chargesheet on the Delhi riots, says such institutionalised witch hunts muzzle free speech and civil society in three ways.
"First, they discourage individual activists from standing up for what they believe in. Second, NGOs targeted end up becoming incapacitated. And third, by making very public examples of organisations like Amnesty, the government is sending a chilling message that these are the consequences of dissent," Bhardwaj said.
Amnesty is among a list of high-profile civil society organisations such as Indira Jaising's Lawyers Collective, Bhushan's Campaign for Judicial Accountability and Judicial Reforms and Harsh Mander's Centre for Equity Studies that have been under intense scrutiny.
The day Amnesty published its report on the riots in northeast Delhi, alleging the role of the state, one of its bank accounts was frozen.
Weeks earlier, its members were called in for interrogation on the same day they brought out a report on human rights violations in Kashmir.
"The civil society space is rapidly shrinking as a result of this," says Bhardwaj.
"While some of us have lawyer friends working pro bono for us, the legal fees alone brought upon by such reprisals is a potent enough threat," she said.
Amnesty plans to move a writ petition in the Karnataka high court against the freezing of its bank accounts.
Sources in the organisation say its executive director, Avinash Kumar, is paying from his pocket to keep the offices running for the next few weeks and fight the legal battles ahead.
Civil society members say they can only wait and see for whom the bell tolls next.
Shrinking space
There are 49,860 FCRA associations in India, of which 22,447 were active as of September 29, 2020.
While more than 9,000 of these were registered in the last 10 years, new FCRA registrations were down from 1,961 in 2011 to 164 in 2020 -- the lowest in 10 years.
And more than 20,000 have been cancelled.
A senior FCRA expert said that the government is using a very big hammer to squash a relatively small problem. "It is a mutually destructive approach. The latest bill will further flip the world of NGOs upside down."