Rediff.com's Vicky Nanjappa explains why destroying mobile towers just before a political rally is a big headache for security agencies.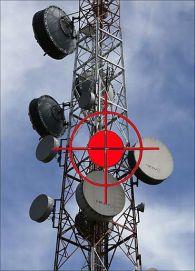 Late on Wednesday night around 100 naxals blew up two mobile towers at Manjhauli and Dumaria Bazaar 40 kilometres from Gaya where Bharatiya Janata Party prime ministerial candidate Narendra Modi will address a rally on Thursday afternoon.
Blowing up mobile towers is considered symbolic, as it seriously hampers communication during a massive rally.
Intelligence Bureau reports point to enhanced naxal activity during the elections, say sources. The threat perception is not just from Islamic groups like the Indian Mujahideen and the Students Islamic Movement of India.
IB intercepts suggest that the naxals are planning an attack to avenge the killing of 10 of their cadres at Chatra in Jharkhand. They have a strong support base in the southern central parts of the state.
Blowing up mobile towers may not claim lives, but does hamper communication. Security agencies rely on these mobile towers for intercepts and destroying them affects planning. Restoring these towers take time, which makes networking and tracking difficult for security agencies, sources point out.
When a blast of this nature takes place just before a major rally, the work of all the security forces becomes two fold, as they have to find alternative means to track and communicate.
Naxals have blown up 260 mobile towers so far. The local police was asked to enhance security around mobile towers in naxal strongholds in February 2012. However, the recent incident in Gaya shows that the local police have not followed the advisory.
"An officer is in constant touch with his source of the ground. When a tower in the area is blown up all communication is cut off," says an officer.
Naxals too use mobiles to communicate and they are very often seen coming out of the jungles into areas where there is network to make phone calls. These signals are used to pick up their location. In some cases the mobile tower is blasted immediately after the naxal has made his call.
In a bid to nab naxals, the government had sanctioned setting up 500 mobile towers in Odisha, Maharashtra, Bihar, Jharkhand, West Bengal and Chhattisgarh. It was with the same technology that the security agencies closed in on top naxal leader Kishenji who was killed in an encounter.
In 2006 and 2007, the reliance on human intelligence was more and the number of towers blasted was just four. In 2008, 37 towers were destroyed and in the following year 66 were blown up.
In 2010 and 2011, there were 90 towers that were blasted and between 2012 and 2014, 61 mobile towers have been targeted by the naxals.
The government may have sanctioned additional towers in naxal hit areas, but the local police do not do enough to guard these towers defeating the purpose, IB officials point out.