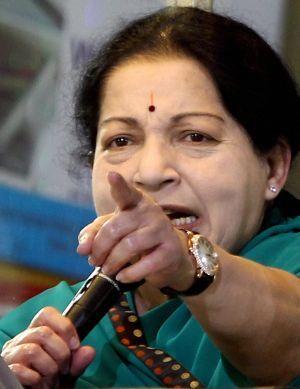 Five months since her conviction by a Karnataka court and being forced to step down as Tamil Nadu CM, Jayalalithaa has not been out of her house. However, she continues to run the Tamil Nadu government with the help of a few retired bureaucrats reports R Ramasubramanian.
On Wednesday, the former chief minister of Tamil Nadu J Jayalalithaa completed five months of self-imposed exile at her posh Poes Garden residence in Chennai.
Jayalalithaa has not left her home since October 18, 2014, after being released on bail in a disproportionate assets case. She returned home after spending 22 days in the Parapanahara prison in Bengaluru and was fined Rs 100 crore.
The one-time actress who entered active politics in 1982 has never been out of public life for so long.
"This is really painful. But she has taken a vow that she will come out of her home only after winning her appeal in the Karnataka high court," said C D Karuna, an All India Anna Dravida Munnetra Kazhagam worker and writer.
The only high-profile meeting Jayalalithaa has had in the last few months was with Union Finance Minister Arun Jaitley on Sunday, January 18. "She does not usually meet anyone on Sundays, so you can understand her desperation in establishing channels with the BJP," said DV Kannan, a senior Tamil journalist.
While several political parties questioned the propriety of a Union minister meeting a convicted person out on bail, the BJP and AIADMK maintained it was just a courtesy call. Political observers said the BJP's political compulsions, mainly managing Parliament in passing crucial bills, were responsible for the Jaitley-Jayalalithaa meet.
At a time when a united opposition has opposed the BJP on the land bill, the AIADMK has supported it in the Lok Sabha by voting with the government. The AIADMK is the third largest block in the Parliament with 37 Lok Sabha and 11 Rajya Sabha MPs.
"It's not clear how the BJP can help Jayalalithaa in the case, but as former prime minister Morarji Desai once said, 'the Indian government has the strength of 10,000 elephants, anything can happen'," said a senior police officer closely involved in the Jayalalithaa case.
Even though Jayalalithaa was disqualified as CM and the finance minister O Panneerselvam took over as chief minister, Jayalalithaa is running the government with the help of a few retired bureaucrats. The ruling party controlled Jaya TV continues to project Jayalalithaa as the 'people's CM' (makkalin mudhalvar). Her group of advisors include Sheela Balakrishnan, two of CM's secretaries -- KN Venkataramanan and M Sheele Priya -- and retired DGP K Ramanujam.
The other three are Chief Secretary Gyanadesikan and secretaries, A Ramalingam and P Ram Mohan Rao.
"These seven are actually controlling everything in the state administration. Panneerselvam is actually a dummy CM," said A Shankar, a whistle-blower and RTI activist from Chennai.
Gyanadesikan was elevated as chief secretary bypassing 12 senior officers. "The previous chief secretary was unceremoniously shunted out as he refused to toe the line of the other six. The serving officers are forced to obey the orders of those who attained their superannuation; we are helpless. But the frustration among IAS and IPS officers is growing," said a senior IAS officer on condition of anonymity.
But there are some who view this differently.
"The Cabinet form of governance, wherein the political leadership has the dominant role to play, vanished in Tamil Nadu a long time ago. Ministers are nothing but slaves here. There is a political vacuum in the state today. There is no CM because the elected chief minister was disqualified. The current CM can't take any decisions. But somehow you have to run the show and here comes the role of retired bureaucrats," said MG Deivasahayam, a retired IAS officer.
Jayalalithaa has her fingers crossed as she awaits the verdict, while her ministers, MLAs and other party functionaries are thronging temples and organising special pujas for their leader's acquittal.