'We feel that till statehood is not restored, the power sector should not be touched in J-K.'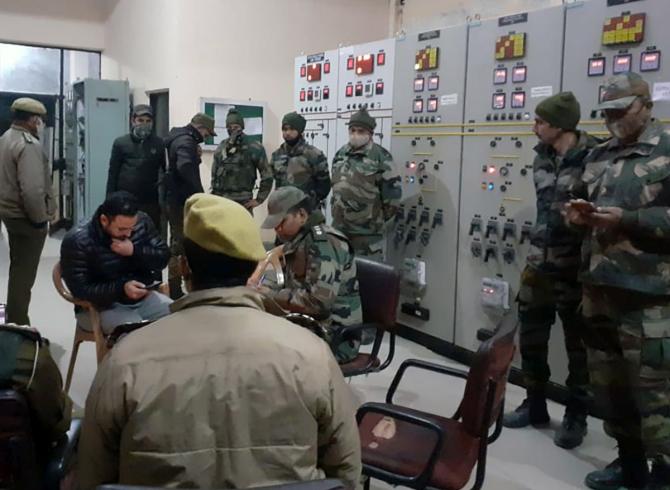 The Indian Army was called to restore power in the Union Territory of Jammu and Kashmir as the electricity situation turned from bad to worse after 20,000 power department employees went on an indefinite strike.
The electricity department are protesting delayed salaries and the Union government's plan to set up a joint venture between the Jammu and Kashmir Power Transmission Corporation Limited and the Power Grid Corporation of India.
Several areas of Jammu and Kashmir witnessed electricity outages after the electricity deparrtment employees began an indefinite strike on Saturday, December 18, against the government's privatisation move and failure of talks.
"The government of Jammu and Kashmir is behaving ignorantly with the employees of the power sector. We want that there should not be any venture with the Power Grid company because this is a question of the assets of Jammu and Kashmir," says Sachin Tickoo, general secretary, Jammu and Kashmir Electrical Engineering Graduates Association and convenor, Power Employees and Engineers Coordination.
"Tomorrow, if and when statehood is restored, what will J&K state will be left with if we give the power sector too to the central government?" Tickoo asked.
Earlier this year, the Centre had announced privatisation of power departments and utilities in Union Territories under the Atma Nirbhar Bharat Abhiyaan.
Union Power Minister R K Singh had then told Parliament then that the Union Territory of Jammu and Kashmir had commissioned a study to assess suitable options for privatisation.
Asked when other Union Territories had no problem in implementing the Centre's diktat, why does the power sector in Jammu and Kashmir have a problem in implementing the central policy in the power sector, Tickoo responds, "Nowhere in India has this experimentation begun yet. Moreover, the people of Jammu and Kashmir have been promised that their Union Territory will be transformed into statehood later on."
"Power is a concurrent subject," Tickoo points out. "We feel that till the time statehood is not restored, the power sector should not be touched in J&K."
In October, Union Home Minister Amit Anilchandra Shah during his visit to Srinagar had stated that Jammu and Kashmir's statehood would be restored after the delimitation process and elections in the province.
In August 2019, the Narendra Damodardas Modi government had revoked J&K's special status, Article 370, Article 35A and split the state into two Union Territories: Jammu and Kashmir and Ladakh.
Asked what apprehensions power sector employees had about privatisation of power discoms, Tickoo says, "They are doing privatisation of transmission sector (in J&K) and not the distribution sector. If this happens, then there will be extra burden on consumers."
Asked when he expects the deadlock to end, Tickoo says, "Talks are going on and we have kept our doors open."