The curative petition and other legal remedies still available to Yakub Memon are part of his rights as a prisoner condemned to death.
Does the Maharashtra government want to deprive him of these rights, asks Jyoti Punwani.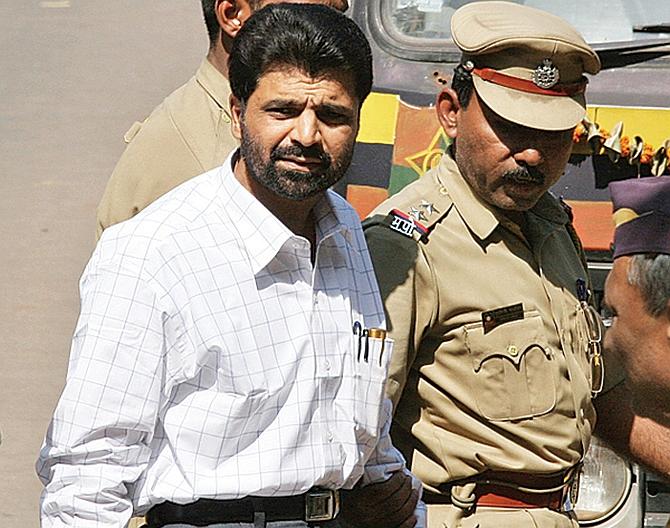 'Article 21 (right to life and liberty) inheres a right in every prisoner till his last breath and this court will protect that right even if the noose is being tied on the condemned prisoner's neck.' -- Supreme Court judgment in Shatrughan Chauhan vs Union of India, January 2014.
'Though judges of the highest court do their best... yet situations may arise, in the rarest of the rare cases, which would require reconsideration of a final judgment to set right miscarriage of justice.' -- Supreme Court judgment in 2002 which established the process of curative petitions.
Why is the Maharashtra government in such a hurry to see 1993 Mumbai blasts accused Yakub Memon hang?
It knows that his curative petition is yet to be considered by the Supreme Court; it is slated to be heard on July 21, Tuesday. His execution date was set by the TADA court way back in April, after his review petition was dismissed. But that is not the end of his story, and the government knows that.
The curative petition and other legal remedies still available to Yakub Memon are part of his rights as a prisoner condemned to death. Does the Maharashtra government want to deprive him of these rights?
Memon is not on top of the long list of pending executions in the country. Nor is he India's most hated criminal, unlike Ajmal Kasab, the Pakistani convicted of the November 2008 attacks on Mumbai, who was executed before he could approach the Supreme Court after the President rejected his mercy petition.
In fact, little is known about this former chartered accountant except that he is the brother of Tiger Memon, mastermind of the March 12, 1993 Mumbai bomb blasts.
Some facts about Yakub Memon need to be stated here.
There is no direct evidence against him. Only the statement of an approver, and confessions of co-accused who later retracted them, accuse him of being party to the plan to execute multiple bomb blasts in Mumbai. Such statements and retracted confessions have not been considered sufficient by trial courts to convict terror accused.
Tiger Memon made sure his entire family was in Dubai when the blasts took place on March 12, 1993. From there, they were shifted to Pakistan by the ISI. Yakub could have stayed on in Pakistan, living a life of luxury under the ISI's protective cover. Instead, he chose to return to India in July 1994 to clear his name, and convinced some of his family to do so too. Explaining his decision in a letter written from jail to the Chief Justice of India in July 1999 (a copy of which is with this writer), Yakub said he felt confident his innocence would be established in Indian courts, and that he could bring up his children as Indians.
The Indian government was party to his surrender. It also knew that he was bringing crucial proof of Pakistan's hand in the blasts, proof they could not have got otherwise.
The government betrayed his trust by tom-tomming in Parliament that he had been arrested, charging him and his family members under the Terrorist & Disruptive Activities (Prevention) Act, and opposing their bail. By now, Yakub has spent 23 years in jail, 13 as an undertrial, most of them in solitary confinement.
Yakub is the only 1993 blasts accused whose death sentence has not been commuted to life imprisonment. Those granted this reprieve by the Supreme Court include persons who planted the bombs.
Seeing his family members slowly disintegrate in prison, Yakub fell into depression. His letter to the CJI mentions that he could not remember the events of an entire year, and had become dependent on anti-depressants.
Despite these circumstances, Yakub managed to complete two degrees, one in English, the other in political science, while in prison, where he is reportedly known for his humility and consulted even by prison staff.
If his voluntary surrender despite living a comfortable life in Pakistan wasn't enough, then his conduct in prison should be sufficient proof that he is no hardened criminal beyond reform, a menace to society if left alive, and therefore deserving to die.
The Maharashtra government's eagerness to hang Yakub on July 30 despite knowing that he still has a chance to live, even if behind bars, brings to mind other controversial executions of the last few decades.
The first was that of Naxalite Dalit peasants Kishta Gouda and Bhoomaiah of Andhra Pradesh, executed secretly during the Emergency for having murdered two landlords. Seventy-five MPs had met the President asking that they be spared; human rights lawyer K G Kannabiran had got a last-minute stay on their execution in February 1975, but on December 1 that year, they were hanged, 'the first time in free India that political workers were hanged for political crimes,' said George Fernandes in a lecture held in their memory.
But Indira Gandhi didn't need an Emergency to flout execution norms. Kashmiri militant Maqbool Butt was hanged in February 1984 within three days of the President rejecting his mercy petition. His brother was whisked away by the police from Srinagar airport while on his way to Delhi to witness the execution and claim the body. Butt's remains were not handed over to his family.
The provocation for Butt's sudden execution was the killing of diplomat Ravindra Mhatre who had been kidnapped in Birmingham by Kashmiri militants demanding Butt's release.
Butt's crime? Killing a policeman in 1966.
In 1989, when Rajiv Gandhi was prime minister, came the execution of Kehar Singh for allegedly being part of the conspiracy to assassinate his mother, then prime minister Indira Gandhi.
The evidence was so flimsy that the International Commission of Jurists pleaded with then President R Venkataraman for mercy. Senior advocates Shanti Bhushan and Ram Jethmalani appeared for Singh; the case cost Jethmalani his membership of the Bharatiya Janata Party.
Arguing for Singh a day before his execution, Jethmalani said: 'If this court can't intervene then it is not just my client who will hang tomorrow. Something much more vital will die. It will not be Kehar Singh who will be hanged; it will be decency and justice.'
The ashes of Kehar Singh and co-accused Beant Singh were not handed over to their families.
A quarter of a century later came the most shocking execution of all -- that of Afzal Guru in February 2013, after being convicted of being part of a conspiracy to bomb Parliament 12 years earlier.
Not only was the evidence against him questionable -- a fact admitted by the Supreme Court -- but no one, not even his family, was informed before it took place. His remains too were not handed over to his family.
Three months before Afzal Guru's unlawful execution, Pakistani terrorist Ajmal Kasab was hanged. He was neither provided a lawyer to frame his mercy petition despite being entitled to one, nor was he informed that it had been rejected till it was too late -- on the eve of his execution.
This flouting of legal norms was for a reason -- and the government wasn't ashamed to spell it out. Then Union home minister Sushil Kumar Shinde and then Maharashtra chief minister Prithviraj Chavan, supposedly a stickler for rules, went on television to say that the secrecy over Kasab's hanging was so that human rights activists, some of whom had also filed mercy petitions on his behalf, did not get time to move court.
What was the government afraid of?
Kasab would have been sent to the gallows anyway: His crime fitted the rarest of rare category.
What did the government gain but cheap applause? It still hasn't got Kasab's masters, like it hasn't got Dawood Ibrahim and Tiger Memon, the masterminds of the 1993 blasts. Recent revelations show that it doesn't want to get Dawood.
What's common to these executions is not just the flouting of legal norms, but the message they have sent out, a message linked to the politics of those executed.
Be it Kishta Gouda and Bhoomaiah or Maqbool Butt, Kehar Singh or Afzal Guru -- they had either an ideological motive or a religious one, or one where politics was linked to religion. In the last two cases, the evidence remained inconclusive.
The message sent out is simple: The State will not tolerate any threat to it, be it through Naxalism, separatism or religious fanaticism -- legal norms be damned.
But fanaticism comes in many forms. Is it just a coincidence that while the majority of those executed since Independence have been Hindus, no murderer motivated by Hindutva has been executed?
Dara Singh, who burnt alive Christian missionary Graham Staines and his two minor sons in 1999 in cold blood, was sentenced to death in 2003. But the sentence was commuted to life by the Orissa high court and upheld by the Supreme Court, by the same judges who refused to commute Yakub Memon's death sentence.
The reason they gave for doing so was so controversial that the judges expunged them (external link) later.
BJP legislator Maya Kodnani and Bajrang Dal leader Babu Bajrangi were convicted to life imprisonment for killing 97 Muslims in Ahmedabad in 2002. Narendra Modi's government did not allow the SIT investigating the case to appeal for Kodnani's sentence to be enhanced to death; and the SIT for reasons unknown, dropped its plan to do so for Bajrangi.
There is been just one exception to this rule: The execution of Nathuram Godse and Narayan Apte in November 1949, after the mercy pleas filed by Godse's family to the Privy Council and the governor general were turned down. In a rare display of principle, their victim's sons, Manilal and Ramdas, pleaded that their sentence be commuted to life, as befitting their father's ideology.
Mahatma Gandhi might not have wanted his assassins to be executed. He would certainly not have liked what followed. Godse and Apte were cremated inside the Ambala Jail where they were hanged, and their ashes were furtively disposed of in the Gaghar river.
It's worth speculating why Godse and Apte have been the only Hindutva zealots to be executed since Independence. Did Prime Minister Jawaharlal Nehru and Home Minister Sardar Vallabhbhai Patel have the guts to go against the majority sentiment, or were they simply responding to the country's mood?
The Supreme Court admitted that its decision to send Afzal Guru to the gallows was in deference to majority sentiment (they called it 'collective conscience').
What of Maqbool Butt and Kehar Singh -- did most Indians want them to hang?
And is Yakub Memon being pushed to the gallows for the same reason?
What then of the crimes that led to the 1993 blasts? Those found responsible by two independent judicial commissions for the demolition of the Babri Masjid in December 1992 and the riots that broke out in Mumbai subsequently went on to rule us. Some 850 Mumbaikars were killed in the riots, two-thirds of them Muslim.
Yakub Memon's case has been a disturbing one. His brother Tiger Memon's words to him (as reported by Yakub in court): 'You are returning as a Gandhiwadi, but the Indian government will see you only as a terrorist' have come true.
The Supreme Court commuted the death sentences of the faceless planters of the 1993 bombs, describing them as pawns. The evidence against them was not flimsy, yet the court took into account their poverty, youth and the 20 years already spent behind bars. But no consideration was given to Memon, despite the flimsy evidence against him.
It seems Yakub Memon's despairing query from a jail cell has been answered. 'According to the prosecution, if one member does any wrong, the entire family can be punished and society can be shown that the justice is being done?'
If this 'justice' takes the form of Yakub Memon's unfair and hasty execution, we will no longer be able to ignore the question it will raise on the quality of our much-touted 'secularism' -- irrespective of which party rules.
ALSO READ: