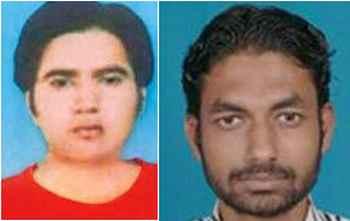 Why do the security agencies wait till the proverbial last minute before arresting terrorists when there is credible information about a threat to the elections? Rediff.com's Vicky Nanjappa finds out.
In the last six months, Indian agencies have captured most of the Indian Mujahideen's leaders. It started with the arrests of Yasin Bhatkal, the IM's co-founder, and his aide Assadullah Akhtar. The past week saw two major arrests: Tehsin Akhtar, an accused in the October 2013 blasts in Patna, and Waqas Ahmed, an accused in the 13/7 blasts in Mumbai.
Why do such arrests not take place for a long time, then suddenly we have a series of arrests in a matter of months, sometimes even days?
Tehsin Akhtar and Waqas Ahmed's arrests were described as a 'political stunt' by some, but that is not the way intelligence operations work.
Experts explained to Rediff.com that the Intelligence Bureau obtains over 50 to 100 intercepts every day. Some are considered, others discarded.
Occasionally, information lead to the terrorist's likely trail.
In such an event, intelligence agents monitor the comings and goings on very carefully at multiple locations.
Why did the agencies wait till the proverbial last minute before they arrested Tehsin Akhtar and and Waqas Ahmed, when there was credible information about a threat to the elections?
Had these arrests been carried out a month or so in advance, IB sources told this correspondent, it could have given the Indian Mujahideen time to regroup and go ahead with its diabolic plans to disrupt the poll process.
Terror modules have backup plans, and often it takes over a month for Plan B to be implemented if Plan A goes awry.
Carrying out an arrest close to the likely attack ensures that the terrorists do not get time to regroup and carry out what they were planning, the IB sources pointed out.
Intelligence agents sometimes arrest a terrorist but keep that information under wraps if they have a chance to capture the terrorist's associates. Announcing an arrest prematurely may give the associates time to escape.
Says one agent, "It is very easy to cast aspersions and say the arrests are political in nature. There is a style of operation and we change it for every task that we undertake. We ensure that the same style is not repeated in the next operation so that the terrorist does not get the better of us."
"Arrests are not carried out for public consumption," the intelligence agent added. "There is a logic behind trailing terrorists for a long period so that the maximum information is obtained before the arrest is carried out."
Image: Waqas Ahmed, left, and Tehsin Akhtar.