Identifying terror emanating from Pakistan as the "greatest threat" to regional peace and stability, India and Afghanistan have said that setting up an effective counter-terror framework to deal with the challenge will be a major focus at the two-day Heart of Asia conference beginning on Saturday.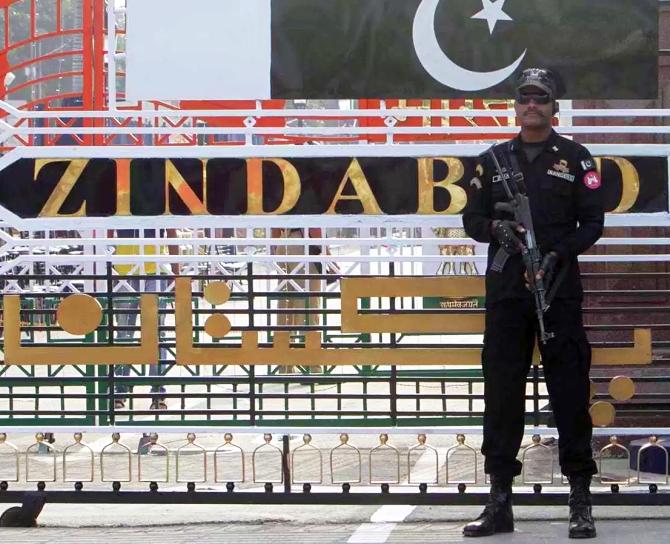 Being held in the wake of the brazen Nagrota terror attack, the annual conference of the Heart of Asia Istanbul Process, a platform to assist Afghanistan in its transition, will extensively deliberate on threat from terror networks operating from Pakistani soil and may push for some concrete action to deal with it.
The conference will be attended by representatives from over 30 countries including China, the US, Russia, Pakistan and Iran. Pakistan Prime Minister's Foreign Affairs Advisor Sartaj Aziz will represent Islamabad at the conference.
Asked during a briefing on Pakistan's willingness for a bilateral meeting with India on the sidelines of the conference on Wednesday, Joint Secretary in the MEA Gopal Baglay said, "We have not received any request for a bilateral meeting."
Prime Minister Narendra Modi and Afghan President Ashraf Ghani will jointly inaugurate the ministerial deliberations on Sunday where Indian delegation will be led by Finance Minister Arun Jaitley as External Affairs Minister Sushma Swaraj is ill.
"Terrorism is the biggest challenge which has beset the whole region. It (terror) is responsible for the situation in Afghanistan. It is a major threat to regional peace and stability.
"We have to discuss this question and we have to face it very squarely. I think the HoA Ministerial conference provides us with the opportunity required to face the challenge head on," Baglay said addressing a joint press conference with Afghan Envoy Shaida M Abdali.
On his part, the Afghan envoy said there was a need to take collective measures to fight terrorism and uproot the "breeding ground" of the menace and its "safe sanctuaries", in obvious reference to Pakistan.
"Terrorism is the greatest threat to the region and we expect the HoA to approve the regional counter terrorism framework that has been drafted by Afghanistan and circulated to HoA countries. We hope the conference will adopt it," he said, strongly condemning the Nagrota attack.
Abdali said Afghanistan was pushing for "binding" clauses in the framework to effectively contain terror infrastructure. He said terrorism is a multifaceted phenomena which requires a "multifaceted approach" and should include dismantling the "terror matrix", tackling drug trafficking and effectively dealing with radicalisation.
Asked what role HoA can play in containing terror, Baglay said specifics on what should be done and how to deal with those who support and glorify terrorists will be discussed.
"Threat of Terrorism is the biggest challenge to peace and stability to the region. There is support to it in our region and where the problem lies we all know. It needs to be sqaurely addressed," he said.
A declaration will be issued at the end of the conference and it is expected to focus on ways to deal with terror.
Asked how India was looking at the challenge and what steps it will push for to contain terror in the wake of the Nagrota attack, Baglay said these are matters of detail and under discussion at inter-governmental level.
India is also likely to ask contries in the region to show strong resolve to tackle terrorism.
Abdali said terrorism is "creation of the region and the solution lies in the region. Therefore the upcoming HoA is very well timed".
The Afghan envoy said terror must be dealt with effectively not only for sake of countries like India and Afghanistan but also for people in the country where "terrorism is nurtured."
The conference, whose theme is security and prosperity, will also deliberate on major connectivity iniatives including Chabahar project, a five nation railway project. There may be deliberations on TAPI (Turkmenistan–Afghanistan-Pakistan–India) gas pipeline project.
President Ghani is schedule to arrive on Saturday and he and Modi will have a bilateral meeting, possibly on that day itself.
Thanking India for providing the last of the four military helicopters to his country last week, Abdali said bilateral talks between the two leaders will be very important, adding security cooperation will be part of the discussion.
On HoA helping Afghanistan in its transition, Baglay said six baskets of Confidence Building Measures are being considered and India has tried to bring in more consultation in the groupings initiatives.
The Heart of Asia-Istanbul Process was launched in 2011 and the participating countries include Pakistan, Afghanistan, Azerbaijan, China, India, Iran, Kazakhstan, Kyrgyzstan, Russia, Saudi Arabia, Tajikistan, Turkey, Turkmenistan and the United Arab Emirates.
Swaraj had attended last year's conference in Islamabad. The platform was floated with an aim to encourage security, political and economic cooperation between Afghanistan and its neighbours.
The countries which support the initiative are Australia, Canada, Denmark, Egypt, France, Finland, Germany, Iraq, Italy, Japan, Norway, Poland, Spain, Sweden, Britain and the US. Four countries Uzbekistan, Latvia, Bulgaria and Austria are attending the conference as guests.
Photograph: Mohsin Raza/Reuters