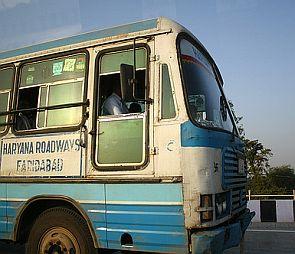 Haryana state transport buses refused to enter Delhi on Saturday in protest against the alleged 'high handedness' and 'improper issuance of challans' by Delhi Police.
"Around 1,000 buses, including 40 luxury Volvo buses, refused to enter Delhi through the Badarpur, Kundli, IFFCO Chowk and Bahadurgarh borders," said Haryana Roadways Workers' Union leader Sarbat Punia.

"A large number of Delhi Police staff, many of whom belong to Haryana, insist on free travel when they commute by Haryana Roadways buses.
"When bus conductors ask for tickets, our buses are challaned," he alleged.
He added that Delhi police challans about 100 Haryana Roadways buses daily in the national capital area.
The stir put commuters through significant amounts of trouble which also entailed them having to spend extra on travel.
Punia said that while they sympathise with the plight of commuters, they had no option but to register a protest.

Meanwhile, Haryana government has appealed to the union to call off the protest, saying that their grievances have already been taken up with Delhi authorities.
Director General of Haryana transport department, Arun Kumar, said that the greater impact of the problem was felt at the Badarpur and Kundli borders.
He added that roadways buses were entering Delhi through IFFCO Chowk where commuters had the option of availing metro railway services.
"Delhi police denies that challans were issued in an unfair manner... but the matter is yet to be resolved" Kumar said after a meeting attended by Delhi Deputy Commissioner of Police (traffic), Commissioner of Police (Gurgaon), General Manager of Haryana Roadways and union leaders.

"Delhi police... have assured us that the process of issuing challans would be filmed and a nodal officer (would also be appointed)... In case of an unfair challan, the grievance can be taken up with him," he added.
© Copyright 2021 PTI. All rights reserved. Republication or redistribution of PTI content, including by framing or similar means, is expressly prohibited without the prior written consent.