'The main reason people go to other countries is unemployment in Punjab'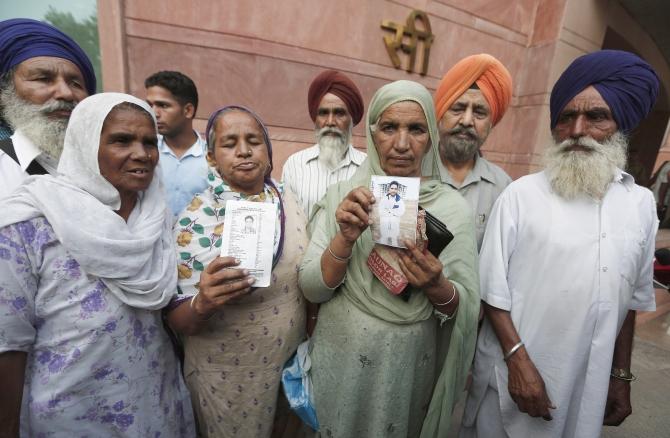 They left home dreaming of better lives and returned in caskets.
Yet, despite the deaths of Indian workers in Iraq, thousands of men in Punjab still hope to find a job in the war-torn land -- and mostly through illegal channels.
Of the 39 labourers who went to Iraq and were killed by suspected ISIS terrorists, 27 were from Punjab.
Travel agents in Chandigarh said people still plan to go to places such as Iraq for jobs and better wages, despite the risks that such troubled regions pose.
Many travel without valid papers, they said, calling for a strict enforcement of a licencing system to check the mushrooming of illegal travel agents in Punjab.
"The main reason people go to other countries is unemployment in Punjab," said Kuljeet Singh Hayer, president of the Punjab Travel Agents' Association.
"When they go through illegal travel agents, they get trapped," he said.
There are no specific figures on the number of travel agents helping people go to Iraq illegally, but experts in the industry said there could be thousands of such unlawful operators.
A Jalandhar-based registered agent who runs an approved recruitment and manpower consultancy firm said people pursued such jobs because the salaries of workers in Iraq were two or three times higher than those in places such as Dubai.
"Many are still going to Iraq and several are willing to take the risk of going to such countries to make money," he said to a query on whether the number of would-be workers to the Gulf country had fallen following the deaths of the 39 people.
The agent, who did not wish to be identified, said many international companies required labour for infrastructure projects being built or rebuilt in the war-ravaged country.
A construction worker could earn USD 800-1,000 per month (Rs 50,000-65,000) in Iraq as against monthly earnings of 1,200 Dirham (Rs 22,000) in Dubai, he added.
The Jalandhar agent, however, believed that those seeking to go out for work illegally were to be blamed as much as the agents who fleeced them.
"I feel, besides illegal travel agents, customers who want to go abroad through illegal means are also at fault. Despite knowing the dangers involved in going to Iraq, they still want to go there," he said.
Minister of State for External Affairs V K Singh, who had brought back the bodies of the Indians killed in Mosul in caskets earlier this month, had said there was no record of the 39 men, and of another who survived, in any Indian embassy as their travel to Iraq had been facilitated by illegal agents.
He had said strict action would be taken against such agents who put the lives of people in danger.
To curb the practice of illicit travel agents, the state government had framed the Prevention of Human Smuggling Act 2012 which was later renamed the Punjab Travel Professional Regulation Act, 2013, making registration mandatory for travel agents or those in consultancy and ticketing for a valid licence.
"Strict enforcement of this law is essential so as to stop gullible people from falling prey to unauthorised travel agents," said Hayer.
Only 1,088 travel agents are registered with deputy commissioners in the state while 38 are listed as "recruiting agent" with the Protectorate General of India, ministry of external affairs.
The Punjab police, which has sometimes been accused of colluding with the illegal agents, has now been taking tough action against them.
The police said they were holding regular campaigns to educate people about safe and legal emigration and added that 900 cases had been registered last year against fraudulent travel agents.
"We are regularly holding educational campaigns to make people aware about safe and legal emigration," said Additional Director General of Police Ishwar Singh, who is the nodal officer dealing with issues on emigration and the activities of unauthorised travel agents.
The Punjab government was "fully committed" to the task of curbing the activities of illegal travel agents in the state, he said.
Economist R S Ghuman stressed the youth lured by job offers often came from weaker sections.
"Most of the youth going to the Middle East are the offspring of small growers, artisans or people who belong to weaker sections and they work as drivers, labourers, carpenters and so on," said Ghuman, Professor of Economics at the Centre for Research in Rural and Industrial Development in Chandigarh.
According to some estimates, there are about 22 lakh jobless youth in Punjab, often referred as the wheat bowl of India.
"About 34 per cent farmers are small and marginal in Punjab and their farming has become unviable when it comes to income and employment generation," he said.
Punjab, which witnessed a green revolution in the mid-60s and where agriculture has been the mainstay of the people, has been lagging behind other states in terms of economic growth.
According to global analytics company Crisil, between 2013 and 2017, while Gujarat, Madhya Pradesh and Haryana recorded the highest growth in gross state domestic product in a sample of 17 major states, Punjab, Uttar Pradesh and Kerala were at the bottom of the graph.
"The overall state's growth has been lower than the national average growth since 1992 and investment to GSDP ratio has also been lower than that of the national average," Ghuman said, adding that there were fewer employment opportunities in agriculture, industry and government sectors.