This is the first protest in Bihar against the state government order directing schools, colleges and coaching institutes to remain closed till April 11 following a rise in COVID-19 cases.
M I Khan reports.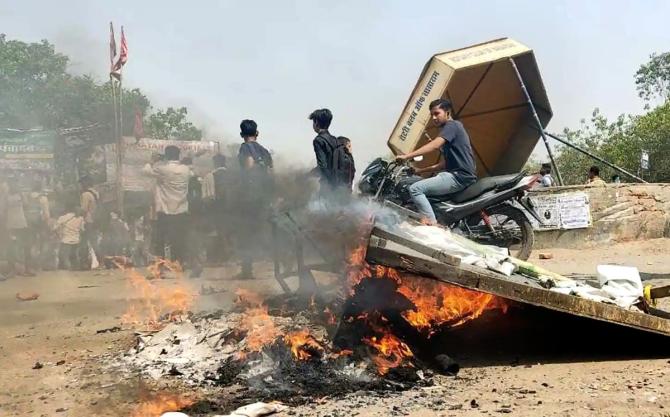 Angry over the closure of private coaching institutes by the district administration, in view of the upsurge in COVID-19 cases, hundreds of students staged violent protests in Bihar's Sasaram town on Monday, April 5.
Slogan-shouting students blocked roads for nearly two hours, attacked and damaged police and private vehicles, pelted stones and bricks and burnt tyres at several places to express their unhappiness at the decision to shut coaching institutes.
The students's protest was supported by the owners of coaching institutes and private schools, whose business has been hit hard by this decision.
This is the first such violent protest in Bihar against the state government order on April 3, directing all schools, colleges and coaching institutes to remain closed till April 11 following a rise in COVID-19 cases.
Private schools were planning to start their new academic session, including junior classes, from April 5-6.
The town police station officer in charge and five other police personnel were injured when students pelted stones on the road between the collectorate and post office.
After students vandalised government properties and attacked some shopkeepers, the police resorted to a lathi charge and used tear gas to disperse the protestors.
According to the police, a group of students attacked the vehicle of Abhishek Anand, an executive officer at the Nagar Parishad, when he went about enforcing the government order to close coaching institutes.
Nine students, allegedly involved in the violent protest, have been arrested. Additional police forces have been deployed in the town even as most shops and markets remained closed due to the increasing tension.
On April 4, the Coaching Association of Bihar expressed dismay over the state government directive to close all educational institutions.
A coaching centre manager said thousands of coaching centres, including hundreds alone in Patna, remained badly affected since last year due to the lockdown.
"When the situation seemed to be improving this year," he told this correspondent, "the state government suddenly issued orders to close down. Coaching centres help students and give teachers a livelihood."
"If coaching centres are forcibly closed, it is bound to end education in the state as schools and colleges have been closed."
The government's decision was challenged by a group of coaching institute owners in Patna on April 4 when they announced that they would keep their coaching centres open.
Patna District Magistrate Chandrasekhar Singh threatened to lodge cases against such coaching centres. 'We will implement the government order and will act against violators,' Singh said.
According to Bihar's health department, COVID-19 cases rose 11 times in the last six days.
There were only 74 positive cases reported on March 30 in the state. The number rose to 864, including 372 in Patna, on April 4.
COVID-19 cases are rising and, if not checked in the next few days, the situation may turn from bad to worse, a senior health official in the state warned.
After holding a review meeting with the crisis management group, Chief Minister Nitish Kumar ordered an increase in testing, tracing and treatment.
In view of the surge in COVID-19 cases, the Bihar Public Service Commission and the Bihar Judicial Services -- the BJS exam was scheduled from April 8 to 13 -- have been postponed.