Lt Gen. (retd) Rajendra Nimbhorkar, who carried out surgical strikes, recounts the details.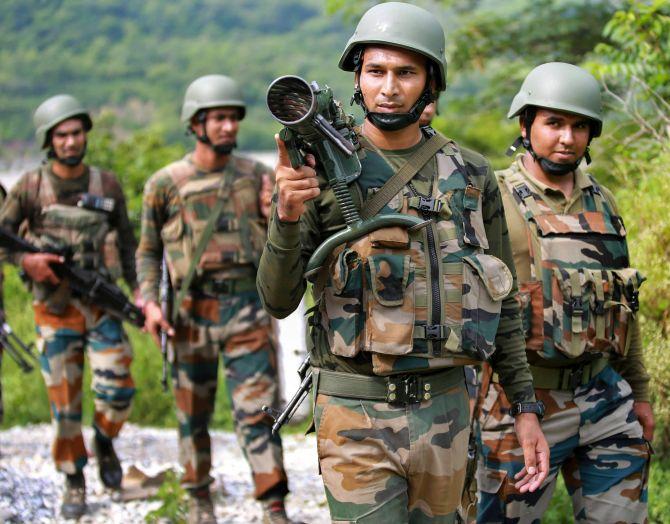 The Indian soldiers who carried out surgical strikes across the Line of Control in September 2016 used an unusual weapon apart from firepower: leopard urine and feces.
Apparently, it kept away the village dogs that could otherwise have given away the soldiers' movement in the darkness.
The detail was recounted by Lt Gen. (retd) Rajendra Nimbhorkar, who was the head of the 15 Corps that looked after the security of the LoC in the Jammu region, and played a key role in the planning of the attack.
Speaking at a function organised by the Thorle Bajirao Peshwe Pratishthan (trust) in Pune, where he was felicitated on Tuesday, Nimbhorkar said the planners had to bear in mind that the dogs in the villages along the LoC could alert the enemy troops.
"When I was the brigade commander in the Noushera sector (earlier in his career), I had observed that there were often leopard attacks on the dogs there and the dogs stayed away from the area at night fearing leopards," Nimbhorkar said.
"When the strikes were being planed, we took the possibility of the presence of dogs into consideration...the dogs could have barked when our troops were crossing the LoC.
"So our soldiers spread leopard urine and feces along the route, which helped keep the dogs away," Nimbhorkar said.
He also said that extreme secrecy was maintained while planning the attack.
"Then defence minister Manohar Parrikar had given us a week's time to execute the plan and accordingly, I had shared the plan with the troops, but did not reveal the locations to be targeted.
"The locations were shared with the troops only a day prior to the attack," Nimbhorkar said.
The strikes were carried out by paratroopers and infantry soldiers. Nimbhorkar said the time of the attack -- 3.30 am -- was chosen to ensure maximum damage to the enemy.
"We had studied the pattern of the terrorists' activities at their launching pads and decided that 3.30 am was the perfect time to launch the assault.
"Before the decided time, our troops had reached the area after crossing the difficult terrain, away from the enemy eyes. We managed to destroy three launching pads and kill 29 terrorists," he said.
According to the army, Pakistan-based terror outfit Lashkar-e-Tayiba was severely hit in the surgical strikes carried out on the intervening night of September 28-29, 2016.
© Copyright 2021 PTI. All rights reserved. Republication or redistribution of PTI content, including by framing or similar means, is expressly prohibited without the prior written consent.