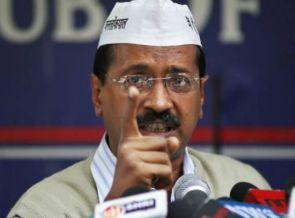 Launching a scathing attack on the Modi government and Congress over the AgustaWestland chopper scam, Delhi Chief Minister Arvind Kejriwal on Saturday said the prime minister does not have "enough courage" to arrest Sonia Gandhi and that the two parties have an "alliance in corruption".
Questioning the Congress on the issue of PM's alleged "fake" degree, Kejriwal also said that the two parties had a "setting" that the Bharatiya Janata Party government will not arrest Gandhi in the chopper scam and the Congress will not raise the matter of Modi's educational qualification.
"The Italian Court order also has names of Sonia Gandhi, Ahmed Patel, certain officers and Congressmen, but Modi is not able to gather enough courage to arrest Sonia Gandhi, to ask her even two questions, to interrogate her...
"Modi ji you have been made PM to take action not to leave the task for Italy court... Our chest would also be of 56 inch if you would have sent her to jail... when my PM says that Italy's court is taking Gandhi's name not and not him.... I want to ask Modiji why are you scared of her?" Kejriwal said, addressing a rally at Jantar Mantar.
Questioning the progress of the investigation in the chopper deal, Kejriwal alleged that there hasn't been an "inch" of movement on the probe, despite the Modi government coming to power on the assurances that the corrupt will be taken to task.
"What investigation did they do in AgustaWestland case in two years? The Italian government completed investigation, filed the cases in court, judgment came and those who were involved in paying bribe were sent to jail."
"When Anna agitation started, people wanted to change the government...they knew that both Congress and BJP are two sides of the same coin, but Modi ji gave such wonderful speeches before Lok Sabha polls that people's hopes were build that corruption will end," Kejriwal said.
Noting that during the poll campaigns, Modi said that he will take action against Congress president's son-in-law Robert Vadra for alleged irregularities in the land deal, but despite being in power for two years, and having state governments in Haryana and Rajasthan, he (Vadra) hasn't been interrogated even once.
"Modi had said that the corrupt will be sent to jail. It has been two years and not a single person has been sent to jail...the country has been cheated and hence we had to again gather against their 'alliance' four years after we had gathered at the same place to protest the corruption of these two parties," he said.
Kejriwal said while the CBI raided his office, it could not even interrogate Vadra.
'They got a CBI raid conducted on me but could not get anything beyond four mufflers in a day long raid. But there is no raid on Sonia Gandhi. Why is Modi scared of her? Before elections he used to say Vadra is Congress' son-in-law, now it looks like even Modi has adopted him.
"The papers of his (Vadra) land scam are lying in Rajasthan. They have government in Haryana, Rajasthan and Centre. What are they waiting for? Why is there no action against him? CBI hasn't called him even once because Modi doesn't have courage.
"You arrest her, interrogate her for two days, the truth will come out automatically.
"Amit Shah says Sonia ji please you tell us who all took bribe. Manohar Parrikar says Sonia ji you please tell who all have taken bribe. Is any interrogation conducted like this? If you would have told earlier that you both (Congress and BJP) were hand in glove nobody would have voted for you," Kejriwal said.
He said that both parties possessed 'secrets' of each other and claimed that the details of Modi's degrees were given to them by Congress leaders from Gujarat, who were not 'permitted' to raise the issue earlier by the Gandhi family.
"There is a very good setting. Modi has assured Congress that he will just abuse them but not arrest Gandhi in Agusta issue and Sonia Gandhi has assured him that his degree's issue will not be raised by Congress.
"UPA was in power for 10 years and during those years they have kept secrets of Modi's all scams. Modi knows that if Gandhi is arrested, Vadra is arrested, his secrets will also be in public domain," he said.
Again raising the degree issue, Kejriwal said the country will continue to respect him if he accepted that his degree was 'fake', but people will not tolerate fraud and forged degrees.
He said his party MLAs were arrested over trivial issues and demanded that Modi should also be treated like former Delhi law minister Jitendra Singh Tomar, who was arrested in an alleged fake degree row.
"His one such secret is his degree. He said in his affidavit that he did BA from DU and MA from Gujarat. I am not saying you need to be educated to be PM, people without degrees can also be talented... If he is 12th pass, we have no issues... if he says that the country would still respect him... but if he does cheating and fraud, forged degrees, country will not tolerate,' he said.