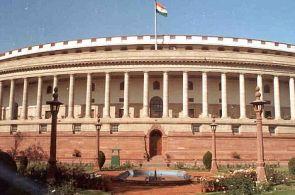 The All India Anna Dravida Munnetra Kazhagam, Trinamool Congress and Biju Janata Dal appear to be unwilling to have seats in Lok Sabha along with Congress which has the largest number of seats in the non-governmental side.
Parliament sources said the AIADMK, Trinamool Congress, BJD, whose numbers together add up to 91 in the opposition side are not keen about the idea of sitting next to the Congress.
Speaker Sumitra Mahajan, who has to get the seating arrangement in place through the Lok Sabha Secretariat, is trying to sort out the issue for which a number of meetings have already been held.
While the Congress, which has been making a strong pitch for the Leader of the Opposition post in the House, has 44 members, AIADMK has 37, Trinamool Congress 34 and BJD 20.

Image: The Parliament in New Delhi