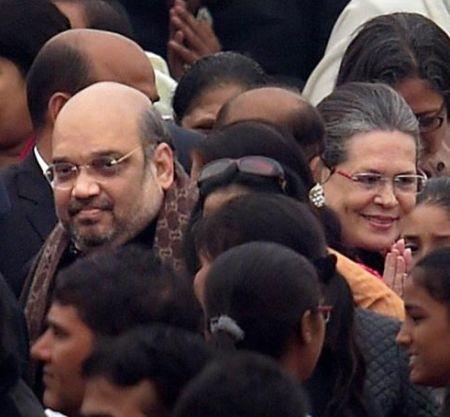 Bharatiya Janata Party chief Amit Shah on Thursday launched a sharp attack on Congress chief Sonia Gandhi over the VVIP chopper scam and asked her to name those who received the "kickbacks".
"All I want to ask her is that those who gave bribes are in jail in Italy, then where are those who received the kickbacks? Who were in power at that time? They are responsible and they should bring out the truth. It should be disclosed before the people of the country," he said.
Taking a jibe at Gandhi over her remarks on Wednesday that she does not fear anybody, Shah said she is "right" and that is why such "scams" keep coming out in the open.
"That is why when the National Herald corruption case happens, you say you do not fear anybody. When the AgustaWestland case occurs, you say you do not fear anybody... I want to tell her that we in Bharatiya Janata Party are afraid of the Constitution, rules and public norms," he told a group of journalists.
"I think she should come out of this mindset about whether she fears anybody or not and make it clear before the people that when it has been proved by an Italian court that bribe was given, then who received the money. Who is responsible?" he asked.
Taking a dig at the United Progressive Alliance government, he said it was a "rare dispensation" as scams under it were reported when it was in power and they continue to be reported even two years after it was voted out.
Gandhi had on Wednesday rejected as "baseless" allegations linking her and party leaders to bribes in the chopper deal, calling these an attempt at character assassination.