On Sunday, Prime Minister Narendra Modi expanded his Cabinet and inducted 21 new ministers. Of these, 4 – Manohar Parrikar, JP Nadda, Suresh Prabhu and Birender Singh were appointed as Cabinet ministers.
Other than this, Modi has inducted 17 other ministers of state. Here's a quick look at them:
Rajyavardhan Singh Rathore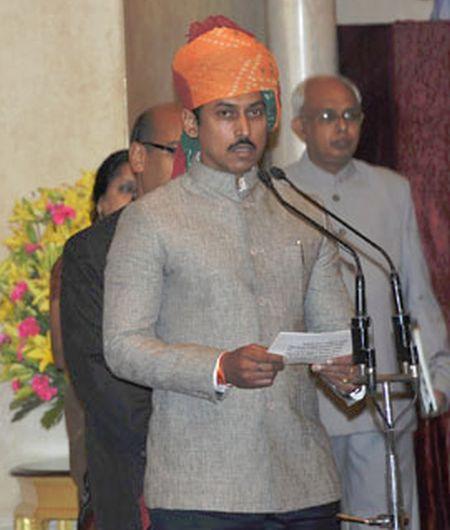 Having excelled in shooting ranges, ace marksman Rajyavardhan Singh Rathore
has now hit target in the political arena as well, getting a berth in the Narendra Modi government as a Minister of State in his maiden stint as an MP.
43-year-old Rathore, who rose to fame when he won a silver medal in the 2004 Olympics in Athens finishing second in the double trap shooting event, made a successful transition to politics, winning the Lok Sabha polls from Jaipur Rural constituency earlier this year.
He had decided to take a shot at politics last September when he joined BJP after taking voluntary retirement from the army as a Colonel.
After passing out of the NationalDefenceAcademy, Rathore served the army for 23 years. Besides his Olympic silver medal, Rathore also won a gold medal and set a new games record of 192 targets out of 200 at the 2002 Commonwealth Games in Manchester, which stands to this day.
Rajiv Pratap Rudy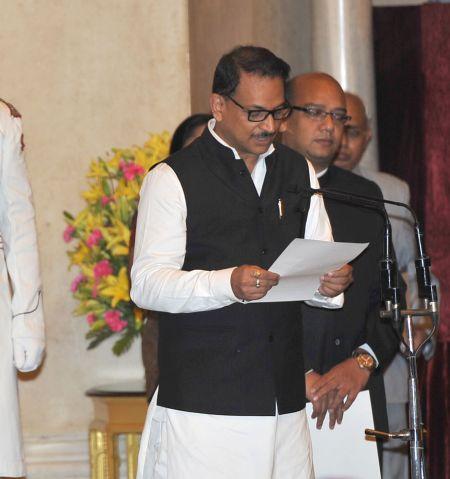 A pilot-cum-politician, Rajiv Pratap Rudy returns to the Union Council of Ministers riding on BJP's success in the assembly polls in Maharashtra after the articulate leader played a key role in the party's victory in the politically crucial state.
52-year-old Rudy comes from politically significant caste of Rajputs whose votes will be crucial for BJP in its aim to capture power in Bihar. He was first made a Minister of state for Commerce and Industry in Atal Behari Vajpayee Ministry in 2001 and become Civil Aviation Minister with Independent Charge two years later.
Mukhtar Abbas Naqvi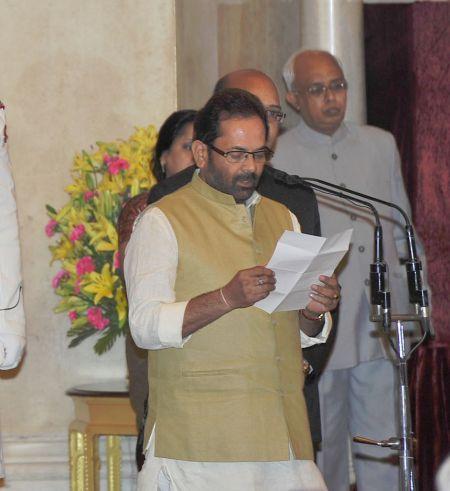 Mukhtar Abbas Naqvi, a prominent Muslim face of the BJP, stages a comeback to the Union Council of Ministers, 15 years after his stint as MoS Information and Broadcasting in the Atal Bihari Vajpayee government. A two-time Rajya Sabha member, Naqvi, 57, is one of the vice-presidents of the BJP and has been a spokesperson of the party for a long time.
The BJP has on several occasions used Naqvi's services to explain the party's stand on minorities, especially Muslims. A member of various key Parliamentary committees, Naqvi has been a prominent speaker for the party in the Upper House.
Babul Supriyo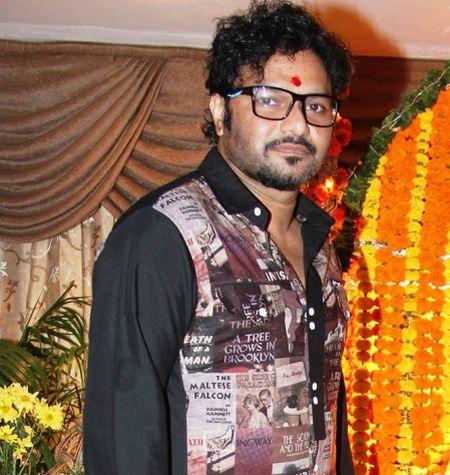 Babul Supriyo may not have achieved the stardom he would have aspired as a singer but his political career has taken off big time as the first-time MP was inducted as a minister in the Narendra Modi government.
Supriyo is one of the only two BJP MPs from the politically crucial state of West Bengal where the saffron party is working hard to emerge as an alternative to Chief Minister Mamata Banerjee-led Trinamool Congress and Left parties.
The induction of the 44-year-old, who has also dabbled in acting, into the government will give West Bengal representation in the Centre and also gel with Prime Minister Modi's thrust on empowering youth.
Jayant Sinha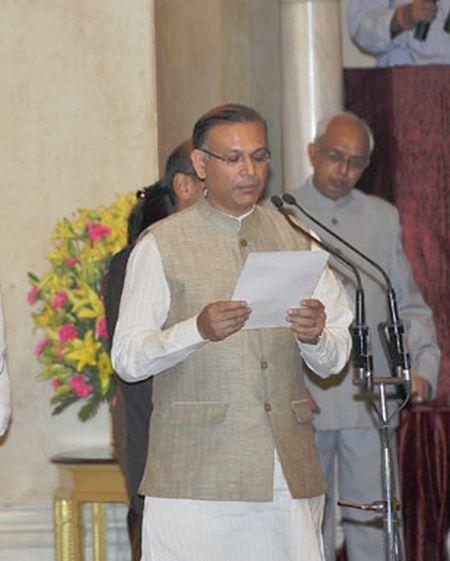 He went to IIT Delhi and came out with flying colours, and from there he went to the Harvard Business school to enter the corporate world. Today, Jayant Sinha, son of BJP veteran and former Finance Minister Yashwant Sinha, is a member of the Narendra Modi's Council of Ministers.
51-year-old Jayant, an investment fund manager and management consultant so far, was elected to the Lok Sabha in May this year from Hazaribagh in Jharkhand, a seat once represented by Sinha senior. He has been associated with the corporate world for nearly 25 years before he entered Parliament as a first-time MP.
Besides campaigning for his father, Jayant has worked with party veteran Murli Manohar Joshi and Arun Shourie on the BJP's manifesto during the 2009 Lok Sabha elections.
Giriraj Singh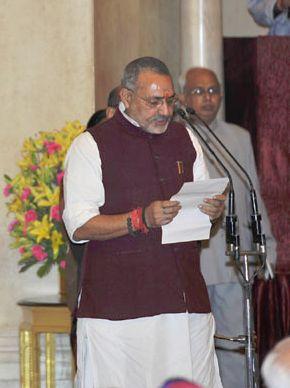 Giriraj Singh, who is known for his fiery and at times controversial statements, has found a berth in the Narendra Modi ministry as a representative of Bhumihars, who backed the party in Bihar and felt let down due to lack of representation in the Council of Ministers.
The 62-year-old BJP MP from Nawada had caused some embarassment to the party during the campaign for Lok Sabha polls when he suggested that Muslims unhappy with Modi should go to Pakistan, forcing the party's prime ministerial candidate to issue a rebuke.
But Singh, a first time MP, is also one of the early Modi loyalists in the party and often took on the then Bihar Chief Minister Nitish Kumar over his antipathy towards Modi despite being a member of Kumar's cabinet.
It is believed that he enjoys the PM's affection due to his unqualified support for Modi when the party was still divided over whether to elevate him as its prime ministerial candidate or not.
Vijay Sampla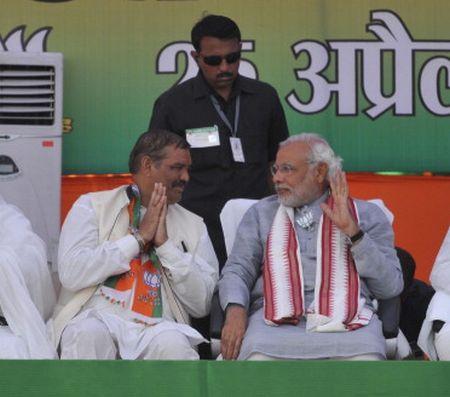 Vijay Sampla, who was once a plumber, scaled new heights with his induction in the Narendra Modi ministry that is apparently aimed at 2017 assembly polls in Punjab where the BJP hopes to play the Dalit card to woo the Scheduled Caste community.
After Shiromani Akali Dal leader Harsimrat Kaur Badal, 53-year-old Sampla, a prominent Dalit leader and a first-time MP, is the second Lok Sabha MP from Punjab to become a Union Minister. Sampla won the recent Lok Sabha elections from the reserved Hoshiarpur seat. Sampla is a matriculate who had in the past worked in the Gulf as a plumber before setting up his own business in Punjab.
YS Chowdary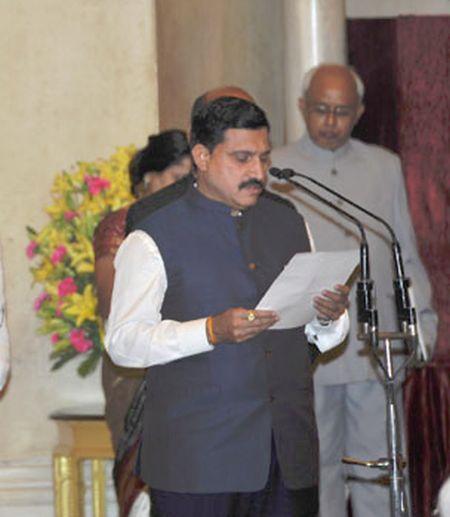 Industrialist-turned-politician Yalamanchili Satyanarayana alias 'Sujana' Chowdary's proximity to Chandrababu Naidu during the Telugu Desam Party chief's stint as chief minister of undivided Andhra Pradesh in the mid-1990s has earned him a berth in the Union Council of Ministers.
One of the main fund-raisers of TDP, 53-year-old Chowdary rose in the party's hierarchy and in recognition of his contribution to the party, Naidu in 2010 offered him a Rajya Sabha seat. Chowdary, who hails from Krishna district in coastal Andhra and belongs to the Kamma community, earned a masters' degree in engineering, and soon after he established his own engineering business, making fans.
Hansraj Ahir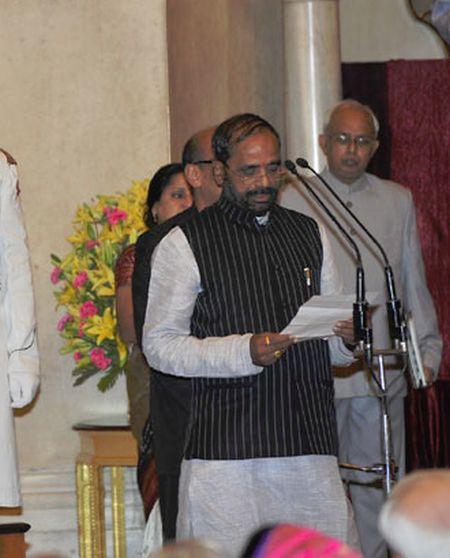 BJP MP Hansraj Gangaram Ahir got his birthday gift two days earlier with his induction in the Narendra Modi ministry in apparent recognition of his role in relentlessly highlighting irregularities in coal allocation that brought the previous United Progressive Alliance regime to its knees.
The Lok Sabha MP hailing from Chandrapur in Maharashtra is credited along with Environment minister Prakash Javadekar in unearthing the coal scam which was a major campaign issue for the BJP in its march to power.
Bandaru Dattatreya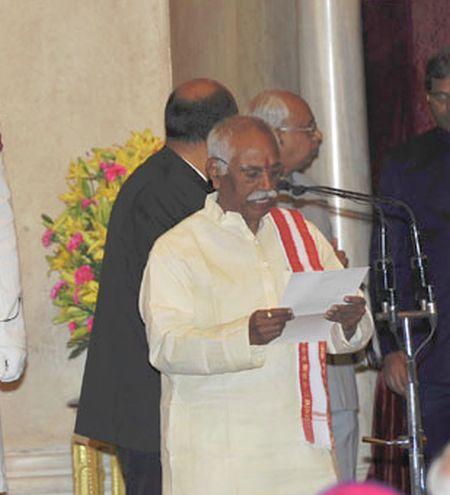 A prominent leader of the saffron party in undivided Andhra Pradesh, Bandaru Dattatreya rose through the ranks from being a full-time Rashtriya Swayamsevak Sangh pracharak to become the lone representative of the new state of Telangana in the Union Cabinet.
The four-time MP from Secunderabad, Dattatreya earlier served as the Union Minister of State for Urban Development, Poverty Alleviation and Railways in the A B Vajpayee Cabinet during 1998-99 and 2000-04.
Dattatreya held Independent charge of the Urban Development Ministry from 2003 to 2004 and was member of Lok Sabh from 1991 to 1996, 1998-99 and 1999-2004. However, he had lost the 2004 and 2009 Lok Sabha elections.
Dr Mahesh Sharma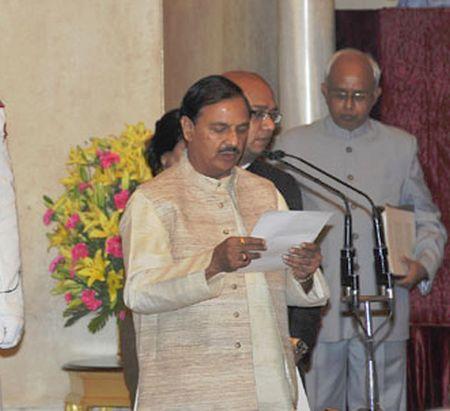 From being a medical practitioner to winning the Lok Sabha elections this year from Gautam Budh Nagar in UP, it has been a long journey for Mahesh Sharma who took oath as Ministers of State (Independent Charge) in the Narendra Modi government.
55-year-old Sharma had snatched the Gautam Budh Nagar Lok Sabha seat from the Samajwadi Party this year.
A doctor by profession, he holds an MBBS degree and is also the Chairman and Managing Director of Kailash Healthcare Limited which is situated in Noida.
From September 1, this year, he is also a member of Parliament's Standing Committee on Health and Family Welfare. A staunch follower of RSS since childhood, he actively associated with ABVP during his student days and thereafter joined BJP as an active member.
Ram Kripal Yadav
Ram Kripal Yadav, once a close aide of Lalu Prasad and known as 'Hanuman' of the Rashtriya Janata Dal chief for remaining by his side in good and bad times, had rebelled to join BJP just before Lok Sabha polls.
Not only did he defeat Lalu's daughter Misa Bharti from Patliputra, 57-year-old Ram Kripal, who has never been a minister at the Centre or in Bihar, became part of Modi ministry.
His induction in the Union Council of Ministers is seen as a strategy of BJP to make a dent in Yadav vote bank in the Assembly polls next year in Bihar.
Sadhvi Niranjan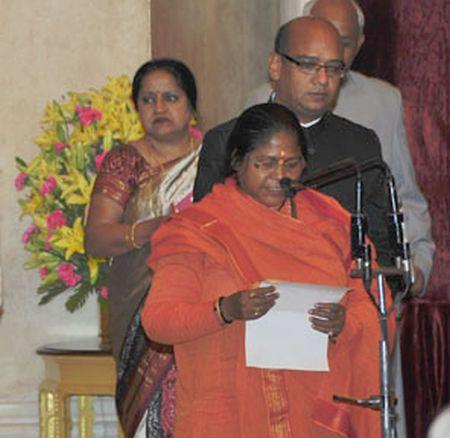 Sadhvi Niranjan Jyoti, who was sworn in as an MoS in the Narendra Modi government, is known as a religious preacher who helped BJP make inroads among the Dalit and backward classes in the politically-crucial state of Uttar Pradesh.
She contested and won from the Fatehpur seat in UP and her candidature is widely acknowledged to have got the BJP the support of the Kashyap and Nishad communities.
Born in 1967, Jyoti had unsuccessfully contested on a BJP ticket in the 2002 and 2007 assembly elections before going on to secure a win in 2012.
Ram Shankar Katheria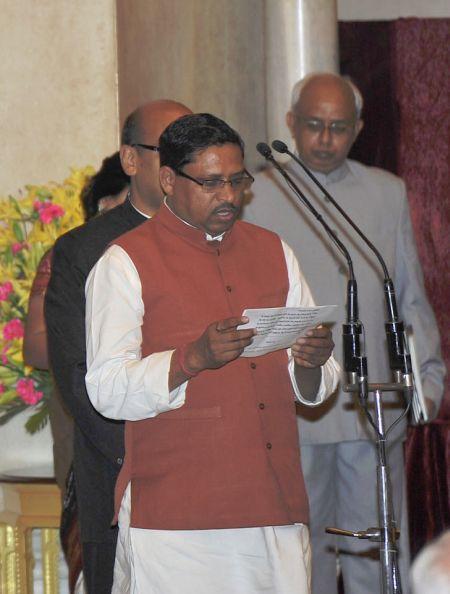 A PhD holder and a writer with books on social issues and Dalit upliftment, among others, Dr Ram Shankar Katheria's elevation as a Minister of State in the BJP-led government is being seen as a move which would help the party in the states of UP and Punjab.
The 50-year-old MP, who is in his second stint in the House of the People, hails from Uttar Pradesh and is also the in-charge of the party's affairs for Punjab. Katheria won from the Agra (SC) constituency in the last Lok Sabha polls.
Educated at Kanpur University, Katheria holds an MA and a PhD.
Sanwar Lal Jat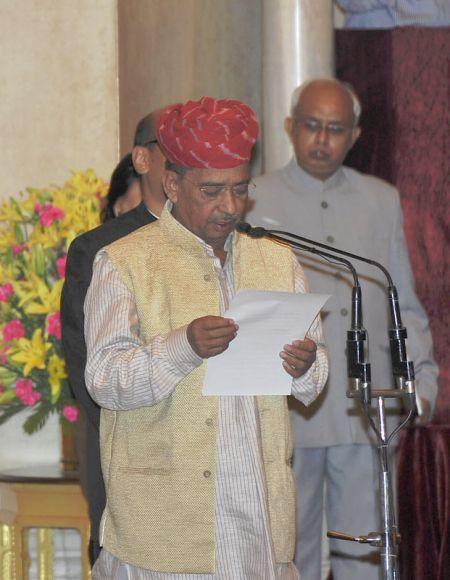 Sanwar Lal Jat, who was inducted in Narendra Modi ministry, is a close confidant of Rajasthan Chief Minister Vasundhara Raje and had made his Lok Sabha debut this year by defeating state Congress chief Sachin Pilot in Ajmer.
The 59-year-old professor-turned politician has been a five-time MLA and till recently held the water resources portfolio in Rajasthan government.
During Raje's previous term between 2003-2008, he held portfolios of irrigation and Indira Gandhi Nahar Pariyojana among others. He was also part of the Bhairon Singh Shekhawat ministry in 1993.
Haribhai Parthibhai Chaudhari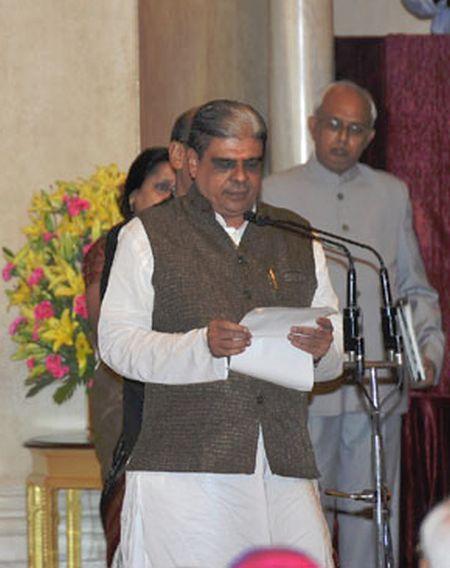 Haribhai Parthibhai Chaudhari, who stormed the traditional Congress bastion of Banaskantha 16 years ago and maintained a strong hold over it winning the Lok Sabha seat four times, bagged a ministerial berth at the Centre.
An active member of RSS, the four-time MP joined BJP during late 1980s and held several key positions in the party unit in Gujarat, including the post of VP in 2005.
60-year-old Chaudhari, who will be a Minister of State in the Narendra Modi government, did his post-graduation in commerce and started working as a diamond trader at an early age. Later, he shifted to Banaskantha to start his own business.
Chaudhari first came into limelight after winning the 1998 Lok Sabha polls for the very first time on a BJP ticket. He was again elected in 1999 from Banaskantha.