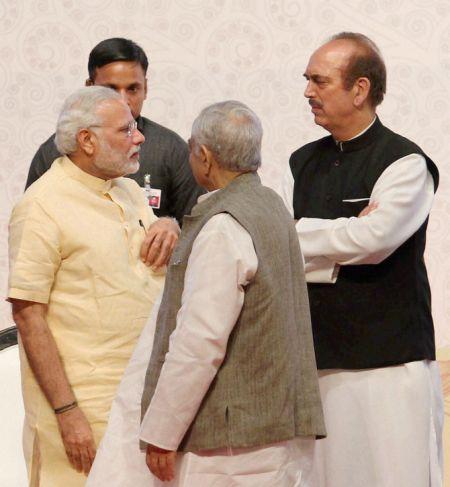 Everything you wanted to know about Prime Minister Narendra Modi but didn't know who to ask. Read on!
Who are the five Union ministers considered close to Prime Minister Narendra Modi?
Who are the five junior ministers who have Modi's eyes and ears?
Who are the five senior Opposition leaders in whom the prime minister has trust and often interacts with?
What is Modi's daily routine like?
Answers to these questions were collected by this correspondent after interacting with at least 10 to 15 insiders in South Block and also at 7, Race Course Road. While authentic, by no means is this list official.
Among the ministers, Arun Jaitley (finance), Rajnath Singh (home), Nitin Gadkari (highways and shipping), Ram Vilas Paswan (food and PDS) and Ravi Shankar Prasad (communication and IT) are the ones the prime minister consults on a daily basis and whose views are taken seriously.
Among the junior ministers are Nirmala Sitharaman (commerce and industry), V K Singh (statistics, external affairs), Jitendra Singh (PMO), Rajiv Pratap Rudy (parliamentary affairs) and Sarbananda Sonowol (sports and youth affairs).
An analysis of the prime minister's phone calls to leaders of opposition in the past one week indicates that Modi speaks to, and likes counter-arguments from, Mamata Banerjee, Sharad Pawar, Mulayam Singh and Chandrababu Naidu. In the past one month, YSR Congress chief S Jaganmohan Reddy has managed to break into this circle.
Among senior officials the NSA Ajit Doval meets Modi often, even twice in a day. Modi also speaks regularly to Cabinet Secretary Pradeep Kumar Sinha and Principal Secretary Nripendra Mishra.
Modi speaks to BJP chief Amit Shah four or five times a day, and it is well known the PM is keen on being up-to-date with political developments.
Modi's day begins early. After his morning routine which includes yoga asanas and pranayama, he is ready by 6.30 am after which he reads a few newspapers. At 8 am he reaches his
office in 7 Race Course Road, to make or return important phone calls. He then disposes of a few important file, and from 9 am on his daily appointments begin.
Every day Modi meets at least 50 to 65 individuals and attends three meetings, after which he decides the following day's programmes. By 10.30 am Modi reaches his office in South Block.
When Parliament is in session, Modi reaches the House by 10.45 am, in time for his roster duties in the Rajya Sabha and Lok Sabha.
At the end of the day, from 9.30 pm to 11 pm, the prime minister phones his close friends in states and also in overseas. Modi sets apart 30 minutes daily to focus on international affairs.
Image: Prime Minister Narendra Modi with Jammu and Kashmir Chief Minister Mufti Mohammed Sayeed and senior Congress leader Ghulam Nabi Azad during 100th birth anniversary celebrations of the late Girdhari Lal Dogra in Jammu on Friday. Photograph: PTI Photo.