Sushma Swaraj does not follow anybody, Gadkari is happy to track only two, while Parrikar has only 117 tweets.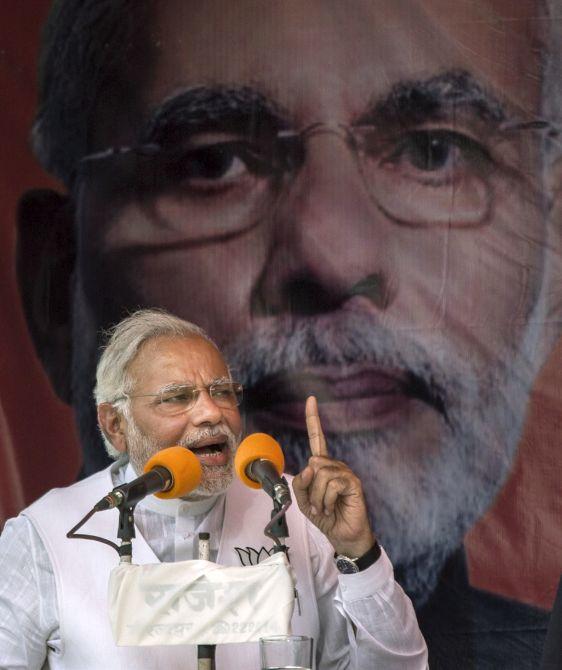 Prime Minister Narendra Modi's personal Twitter handle follows 1,213 individuals, organisations and entities, up from 1,045 in June 2014. Photograph: Kevin Frayer/Getty Images
The National Democratic Alliance government at the Centre is known for its affinity for social media, but some of the ministers seem to have gone against the wave. In the past year since the NDA government came to power, the cyber world of political networking has thrown up many notable trends, according to an analysis by Business Standard.
Prime Minister Narendra Modi's personal Twitter handle follows 1,213 individuals, organisations and entities, up from 1,045 in June 2014, while the Prime Minister's Office follows 173, against 60 soon after the NDA government took charge. In contrast, External Affairs Minister Sushma Swaraj doesn't follow anybody on Twitter, not even the PM. Modi, however, follows Swaraj's tweets.
Even as Swaraj has been consistent through the year in not following anybody, Road Minister Nitin Gadkari has along the way decided not to be much of a follower. Now, Gadkari follows only two -- Modi and the Bharatiya Janata Party -- down from 12 last June. The 10 he has stopped following are mostly BJP leaders.
Apart from Swaraj and Gadkari, almost every Cabinet minister has BJP president Amit Shah and Finance Minister Arun Jaitley in their Twitter tracking list, along with Modi.
ALSO READ: Top 10 world leaders who reap the power of hashtag
In terms of number of entities they follow, Jaitley is going slow, too. The FM follows 162, up from 161 in June 2014. So is Home Minister Rajnath Singh, who's following only eight, up from three in the initial days of the NDA government.
While the home minister followed PMO, BJP and the ministry of home affairs earlier, now he's tracking Modi along with foreign heads of states such as Barack Obama and Shinzo Abe.
Defence Minister Manohar Parrikar has not really taken off on Twitter. Parrikar, who joined the Cabinet late, follows only 10 including Modi, top ministers, and chief ministers of Madhya Pradesh, Rajasthan and Chhattisgarh.
Other prominent ministers have shown an uptrend in following people and organisations -- Nirmala Sitharaman, the commerce minister, is following 384, up from 310 earlier, Ravi Shankar Prasad, the communications minister, is up to 183 from 132 almost a year ago, Dharmendra Pradhan, the petroleum minister, is following 452 from just 37 in June 2014, Harsh Vardhan, the science & technology minister, is up to 133 from 69 before, and Smriti Irani, the human resource development minister, is up to 223 from 138 last year.
Even though Sushma Swaraj doesn't follow anyone on Twitter, the external affairs minister has 2.61 million followers. Photograph: Kena Betancur/Getty Images
Irrespective of who or how many they track, many ministers -- including the PM -- have acquired millions of followers. Modi has 12 million followers, the PMO 5.88 million, Swaraj 2.61 million, Jaitley 2.11 million, Irani 1.7 million and Rajnath 1.43 million. Those with lower count of followers include Vardhan with 618,000, Pradhan with 538,000, Parrikar with 514,000, Prasad with 461,000, Sitharaman with 453,000, Piyush Goyal with 337,000 and Gadkari with 334,000.

One surprise entry in many of the BJP leaders' Twitter list is Delhi Chief Minister Arvind Kejriwal of the Aam Aadmi Party. Those following Kejriwal's tweets include the PMO, Goyal, Pradhan and Vardhan. The other opposition leaders that some of the BJP ministers follow are Kapil Sibal, Shashi Tharoor, Manish Tewari and Rajeev Shukla of the Congress.

The presence of industry is rather low-key in the list of entities that the NDA ministers follow. Ratan Tata, Anand Mahindra and Kiran Mazumdar Shaw are followed by Modi. Ministers' lists do not show any other name from India Inc. Jaitley follows Tata, and so do Goyal, Prasad and Pradhan. Like the PM, Goyal tracks Mahindra and Shaw, too, while Prasad follows Mahindra apart from Tata.
The Twitter list of the Modi Cabinet also reflects the international thrust of this government. Tweets of US President Obama and Japanese PM Abe are being followed by most ministers; the Elysee Palace -- the official residence of the French President is among those Modi and the PMO follow; office of the Russian President is also on many lists.

As for the number of tweets, Irani is only behind Modi. Irani, who joined Twitter in April 2010, has 6,982 tweets, against Modi's 7,653. Modi had joined in January 2009. Swaraj, who joined in November 2010, has tweeted 3,072 times, while Jaitley, who started his account when this government was formed, has a count of 857.

Parrikar has the lowest number of tweets at 117. His last tweet was in March.