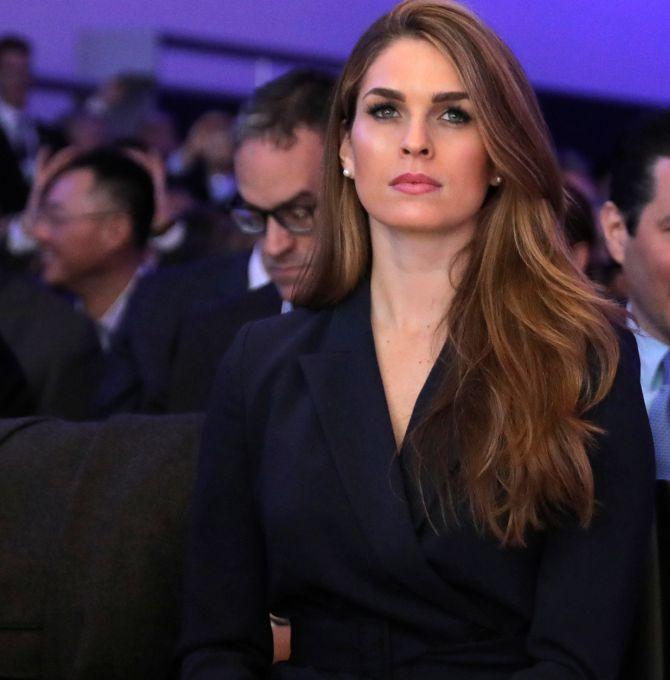 Hope Hicks, one of Donald Trump's longest-serving and trusted aides, on Thursday announced her resignation as the powerful communications director, in a major blow to the US President and the embattled White House amidst the intensifying inquiry into alleged Russian meddling in the 2016 election.
The 29-year-old former model, though considered a political novice, was known as one of the few aides of Trump who understood his style and could influence his views.
Her surprise resignation came a day after she testified before the House Intelligence Committee she testified for eight hours on allegations related to the Russian interference during the presidential campaign.
During her testimony, Hicks told the panel that in her job, she had occasionally been required to tell white lies but had never lied about anything connected to the investigation into Russia's interference in the election, US media reported.
Although Hicks maintained an unusually low profile over the past three years, she recently attracted scrutiny after Special Counsel Robert Mueller escalated his probe into potential collusion between the Trump campaign and Russia.
She is leaving the White House after serving Trump for three years in various capacities. This included being his campaign spokesperson and Director of Strategic Communication when Trump was sworn in as the president on January 20, 2017.
"There are no words to adequately express my gratitude to President Trump," Hicks said in a statement.
"I wish the President and his administration the very best as he continues to lead our country," she said.
President Trump praised Hicks for her outstanding work.
"She is as smart and thoughtful as they come, a truly great person. I will miss having her by my side but when she approached me about pursuing other opportunities, I totally understood. I am sure we will work together again in the future," he said.
The White House did not announce the exact day of her departure but said it could be sometime in the next few weeks.
Hicks's first association with the Trump family was working with Trump's eldest daughter, Ivanka, on her personal apparel and licensing brand about six years ago.
Hicks had no political experience when she joined Trump's tumultuous campaign for the White House.
Hicks initially served as a press secretary within the White House, before taking on the role of communications director after a series of high-profile departures last year.
Hicks led strategic messaging for administration priorities such as the historic passage of tax reform and worked with Press Secretary Sarah Sanders to stabilise the press and communications teams after initial phases of transition.
The White House said Hicks is a "valued adviser and counselor to the president and other senior administration officials".
Hicks' proximity to the president, and presence on his campaign from its infancy, placed her in the spotlight as a potentially key witness to the FBI's inquiry.
Hicks also became engulfed in the scandal involving Rob Porter, who served as Trump's staff secretary until he was forced to resign this month amid accusations of domestic violence by both of his ex-wives.
Hicks's first association with the Trump family was working with Trump's eldest daughter, Ivanka, on her personal apparel and licensing brand about six years ago.
'Hope Hicks is loved & admired by all who know her. It's with a heavy heart, but tremendous gratitude, that I wish her well in her next steps,' Ivanka tweeted.
Hicks's departure will coincide with those of other people who have been close to the Trump family members in the White House.
Reed Cordish, a policy adviser and friend of Trump's son-in-law Jared Kushner is leaving his role; Josh Raffel, a press aide whose initial portfolio was primarily focused on Kushner and Ivanka
Trump, is also leaving; and Dina Powell, who had been a deputy national security adviser who was close to Kushner and Ivanka Trump, left weeks ago.
Their absence will deprive Trump and his daughter and son-in-law of many of the aides who served as crucial buffers and sounding boards as a turbulent and politically uncertain year begins, The New York Times reported.
Sanders said Hicks would leave behind a void which nobody can fill.
"She is in a league of her own and no one can replace her... and coming to work wont be the same without her," she said.
In a little over 13 months of the Trump administration, Hicks is the fourth individual to resign as the White House Director of Communications. The other three being Sean Spicer, Mike Dubke and Anthony Scaramucci.
Photograph: Carlos Barria/Reuters