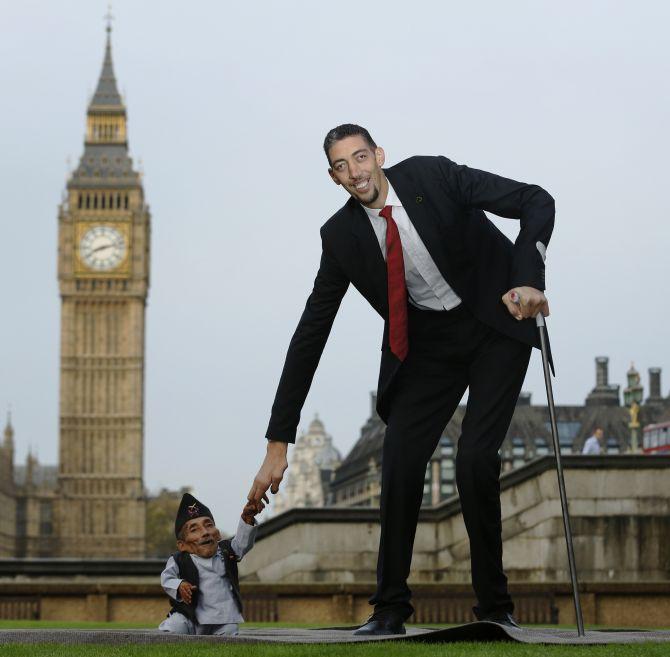 The long and short of this meeting was to mark Guinness World Records Day. The world's tallest and shortest men shook hands for the first time on Thursday.
Sultan Kösen, 31, an 8-foot-3 Turkish giant, and Chandra Dangi of Nepap, 75, who stands a mere 1-foot-9 — about as tall as six stacked cans of beans — hit it off and said they plan to stay in touch.
"I hope from now on we become really good friends and do more things together," Sultan said. "I'm inviting Chandra to Turkey. Hopefully, he will come."
The two met at St ThomasHospital in London as part of a celebration for the 60th anniversary of Guinness World Records.
Sultan, a part-time farmer, became the tallest man in the world in 2009 when he beat Xi Shu of China, who was 7 feet, 8.95 inches tall. Sultan's shoe size is 25 and his hands measure 11.22 inches from the wrist to the tip of the middle finger.
On the flip side, Chandra's shoe size is 2.
Chandra said he had been confined to a small part of Nepal and is thrilled he's been able to travel now that he's gained international attention for his tiny size.
Image: The world's shortest man Chandra Bahadur Dangi greets the tallest living man Sultan Kosen to mark the Guinness World Records Day in London. Photograph: Luke MacGregor/Reuters