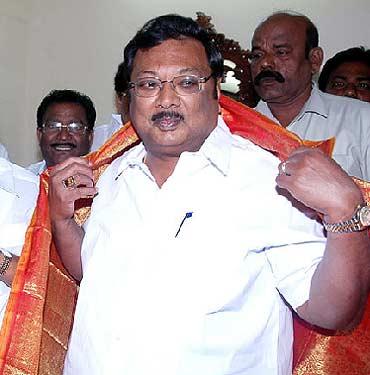 Following the fallout with the Dravida Munnetra Kazhagam, Congress president Sonia Gandhi told outgoing fertiliser minister M K Alagiri that she was taken by surprise after the DMK withdrew support from the United Progressive Alliance.
"We expected your father (DMK chief M Karunanidhi) to speak to the prime minister or to me before withdrawing support," she told Alagiri. This conversation happened at the Prime Minister's Office inside Parliament House, when Alagiri went to hand over his letter of resignation.
Alagiri told rediff.com that he was surprised that the Prime Minister Manmohan Singh went on standing after receiving him. Alagiri added that the prime minister asked him to wait for some time as Sonia was expected to arrive at the PM's chambers.
D Napoleon, minister of state for social justice and empowerment, who accompanied Alagiri, was also surprised to see the prime minister holding Alagiri's hand and reminiscing on how Karunanidhi had first telephoned him to convey that the DMK would support Sonia's candidature for the post of prime minister, and it was he who first rejected the notion that Sonia was a foreigner.
On Union Finance Minister P Chidambaram's statement that the Centre was surprised about the happenings in Chennai -- between the time the three Union ministers (Chidambaram, Kamal Nath, and Manish Tewari) met and until Tuesday morning, Alagiri refused to give a detailed account, but stated that senior DMK leaders were also surprised about the sudden development.
"Parliamentary Affairs Minister Kamal Nath and Chidambaram came to my seat in the Lok Sabha, and asked me why the DMK had withdrawn its support. They showed me the SMS about my father's statement in Chennai," he said.
When asked about how the three-page press statement was kept ready and how it could have been typed overnight between Monday and early hours of Tuesday and who dictated the script, Alagiri said he crosschecked with Karunanidhi's personal assistant K Shanmuganathan, who denied typing the statement. Alagiri supporters blame it on DMK leader T R Baalu who must have got the letter in Tamil typed in at his house -- with the active support of M K Stalin (Alagiri's brother).
They also claim that it was Stalin who took the script to his father at 8 am which was kept under wraps until it was released at 11 am. After analysing these facts, Alagiri reconciled and went for dinner on Tuesday. He said that some mediapersons called him and informed him that Baalu was coming to Delhi with the withdrawal letter.
A visibly angry Alagiri said, "It was Baalu's highhanded approach to have driven straight to President Pranab Mukherjee without informing me. I am the DMK's only cabinet minister."