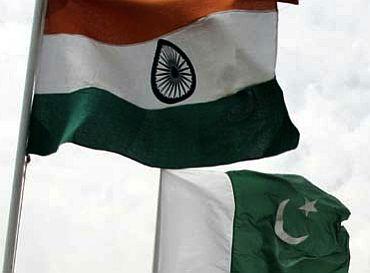 Bharatiya Janata Party general secretary Ram Madhav had on Friday said that the Rashtriya Swayamsevak Sangh believes that India, Pakistan and Bangladesh will one day reunite again not by war but through "popular goodwill", comments that were made public on the night Prime Minister Narendra Modi made a surprise stopover in Lahore for a meeting with Nawaz Sharif.
"The RSS still believes that one day these parts, which have for historical reasons separated only 60 years ago, will again, through popular goodwill, come together and Akhand Bharat will be created," he told Al Jazeera, the Doha-based channel.
The BJP general secretary said, "As an RSS member, I also hold on to that view."
In 2012, then Gujarat chief minister and the incumbent Prime Minister Narendra Modi gave a candid interview to Shahid Siddiqui, editor of the Urdu weekly Nai Duniya.
He, however, clarified, saying, "That does not mean we wage war on any country...we annex any country. Without war, through popular consent, it can happen."
The following are excerpts of the interview wherein the then Gujarat CM spoke about the possibility of an 'Akhand Bharat'.
It will only be good for Pakistan when they become a part of united India...what has been cut rejoins India.
Samjraayavadi people have started a movement in Pakistan itself for a United India. The movement has started in Pakistan itself because they believe that if Pakistan, Bangladesh, Afghanistan and Hindustan become one, then the Muslim majority will increase and it will be easier for Hindustan to become an Islamic country. That is their dream of a United India. The movement is being started in Pakistan only to create tensions in India, not as a yearning for the way India was once.
The basis of your party itself has been the idea of United India (Akhand Bharat)...
I had made a small suggestion. I'll tell you... We call this Sanskritik Bharat. The dream of a United India is that we stay one, stay noble and don't disintegrate into smaller pieces. And this is not a wrong dream. Would you want the country to split further?
The interview can be read in its entirety HERE.
The BJP distanced itself from Madhav's 'Akhand Bharat' remarks, clarifying though the leader was entitled to his views, for the party and government India and Pakistan were two sovereign nations.
With inputs from PTI.