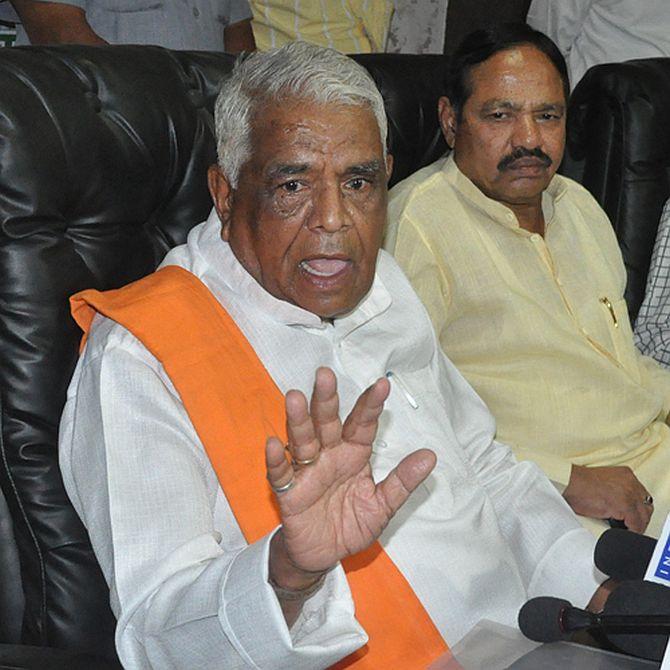 Madhya Pradesh Home Minister Babulal Gaur is in the news again. And this time too, for the wrong reason.
Addressing a state-level party convention on Sunday, Gaur disclosed that the wife of a Russian leader was curious about how he wore the dhoti without a zip or a belt.
"I told her I can't teach you how to wear it, but I can certainly teach you how to remove it, but that too later, not now,'' local newspapers quoted the veteran leader as saying during the event.
Gaur further recounted the time when a Russian woman kissed him on the forehead and that he had to make an effort to prevent other women from following suit.
"Russian women are healthy. Had that photograph (of a woman kissing his forehead) been available locally, the BJP would not have given a ticket in the first place,'' he told the gathering.
READ: Bigmouths who have embarrassed the Modi sarkar
When his comment had the audience in splits, he went on to describe the dhoti incident that made some party leaders and workers a little uncomfortable.
When the media sought his explanation for the comments, he brushed the queries aside saying, "I have said what I had to say.''
Gaur is known to create controversies. In June last year, he described rape as a "social crime", professing "sometimes it's right and sometimes it's wrong". The Bharatiya Janata Party had dismissed his comments as an expression of his personal views, and not the party's.
Months before that, he had professed that there are fewer cases of rape in the South because women there dress more "decently" and are more religious.