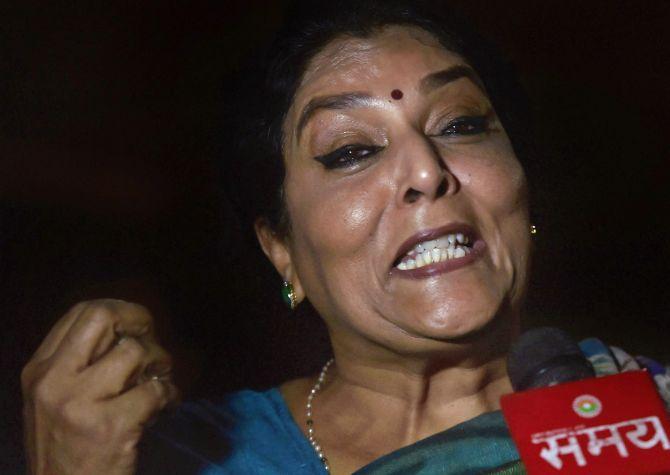 Prime Minister Narendra Modi on Wednesday took a dig at feisty Congress MP Renuka Chowdhury, saying her laughter reminded him of epic serial 'Ramayana'.
While replying to a debate on the motion of thanks to the President's address in the Rajya Sabha, Modi claimed the concept of Aadhaar was mooted in 1998 by the then home minister L K Advani, who spoke about a universally used national identity card.
As Modi sought to shear the previous Congress government of the credit for Aadhaar, Chowdhury burst into a guffaw, drawing disapproval of Chairman M Venkaiah Naidu.
"If you have some problem, go to a doctor, please," an irritated Naidu told Chowdhury.
Smiling broadly, Modi requested Naidu not to restrain the Congress MP.
"It is for the first time after the Ramayana serial that we are having the good fortune of hearing such laughter today," Modi said without elaborating, but apparently hinting at a negative character in the serial.
Chowdhury objected to Modi's comment but that was not mentioned in the official records of the proceedings.
Information and Broadcasting Minister Smriti Irani stood up to counter Chowdhury but what she said could not be heard in the din.
Photograph: Manvender Vashist/PTI Photo
© Copyright 2023 PTI. All rights reserved. Republication or redistribution of PTI content, including by framing or similar means, is expressly prohibited without the prior written consent.