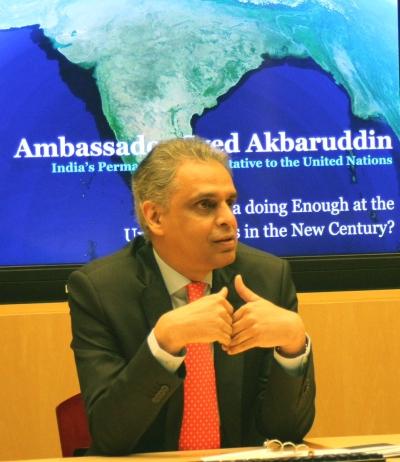 A day after the National Investigation Agency filed a chargesheet against Jaish-e-Mohammed chief Masood Azhar in the Pathankot attack, India took on Pakistan at the United Nations and called on the hostile neighbour to leave behind its ways of terrorism, with the warning saying that, "what you sow will bear fruit".
Speaking at the United Nations Security Council, India's permanent envoy to the United Nations Syed Akbaruddin in a veiled attack on Pakistan, said that safe havens being provided to terrorists must be dealt with in order to bring sustainable peace.
"We need to address, as an imperative, the support that terrorist organisations like the Taliban, Haqqani Network, Daesh, Al Qaeda and its designated affiliates such as Lashkar-e-Tayiba and the Jaish-e-Mohammed which operate entirely outside the fabric of international law draw from their shadowy supporters outside Afghanistan," he said.
Quoting poet Rumi, Akbaruddin said "what you sow will bear fruit. If you've any sense my friend, don't plant anything but peace," which seemed to be a clear message to Islamabad to refrain from stooping to terrorism.
The NIA on Monday filed a chargesheet in the NIA special court against senior commanders of Jaish-e-Mohammed including its Chief Maulana Masood Azhar, for their involvement in the terrorist attack at Pathankot Airbase on 2nd January, 2016.
The NIA has filed charge sheet against four accused persons namely:
1. Maulana Masood Azhar: Chief of the terrorist organisation Jaish-e-Mohammad, resident of Bahawalpur, Pakistan.
2. Mufti Abdul Rauf Asghar: Deputy Chief of Jaish-e-Mohammad and brother of Maulana Masood Azhar, resident of Bahawalpur, Pakistan.
3. Shahid Latif: Launching commander, resident of Mor Aminabad, Gujranwala, Pakistan.
4. Kashif Jan: Main handler of Pathankot attackers, resident of Charsada, Pakistan.
They have been charged for commission of offences under sections 120B, 121, 121A, 302, 307, 364, 365, 367, 368, 397 of the Indian Penal Code, sections 16, 18, 20, 23, 38 of the Unlawful Activities (Prevention) Act, 1967, section 25, 27 of the Arms Act, 1959, Sections 3(b) of the Explosive Substances Act, 1908 and section 4 of the Prevention of Damage to Public Property Act, in the chargesheet.
It was established during investigation that the terrorists entered into a criminal conspiracy to infiltrate into the territory of India and to commit terrorist attack and wage war against the Government of India.
In pursuance of the said criminal conspiracy, the accused persons, their leaders, handlers and co-conspirators including but not limited to Maulana Masood Azhar, Mufti Abdul Rauf Asghar, Kashif Jan and Shahid Latif, set up training camps in Pakistan and the PoK area, for recruitment and training of terrorists, in order to carry out terror attacks on the Indian soil.
The key to peace in Afghanistan
Akbaruddin said that sustainable peace can be brought in Afghanistan by denying safe heavens to the terrorist groups in its neighbourhood.
"If we are to bring sustainable peace to Afghanistan, groups and individuals that perpetrate violence against the people and the Government of Afghanistan must be denied safe havens and sanctuaries in Afghanistan's neighbourhood," he said.
Akbaruddin said that India welcomes the key message of Special Representative of the Secretary-General Yamamoto highlighting the positive and supportive role that regional countries and neighbours of Afghanistan need to play.
"It is apparent that our efforts at rebuilding institutions, infrastructure and networks in Afghanistan are being undermined; schools are being destroyed; mosques bombarded and religious gatherings targeted," said Akbaruddin.
He said that it was evident that those who perpetrate these heinous crimes have survived and thrived only with support and sanctuaries on the outside.
Akbaruddin said a milestone was achieved earlier this year, by signing the trilateral transit and transport agreement among India, Iran and Afghanistan for provision of year-round and reliable connectivity to Afghanistan via Chahbahar in Iran.
He said there are many promising projects like the TAPI gas pipeline, TAT railway line and the CASA 1000 and to achieve the benefits of these projects it is essential that trade and transit agreements that Afghanistan enters into are fully activated.
He asserted that a well connected Afghanistan will have great potential to engage the energies of its youth and attract its talents back from foreign lands and denying such an opportunity and connectivity to Afghanistan is to deny Afghanistan all opportunities of prosperity and peace that this entails.
Akbaruddin emphasised on the need to replace the connectivity that terror networks have established by creating roads, trade networks and ideas for peace and prosperity.
"Afghanistan's National Unity Government has India's full support for strengthening its defense capabilities to fight terrorism directed against it. We believe that the path to reconciliation in Afghanistan should be through an Afghan-led and Afghan-owned process in adherence to the internationally accepted red lines, reflecting the aspirations of the people of Afghanistan," he said.