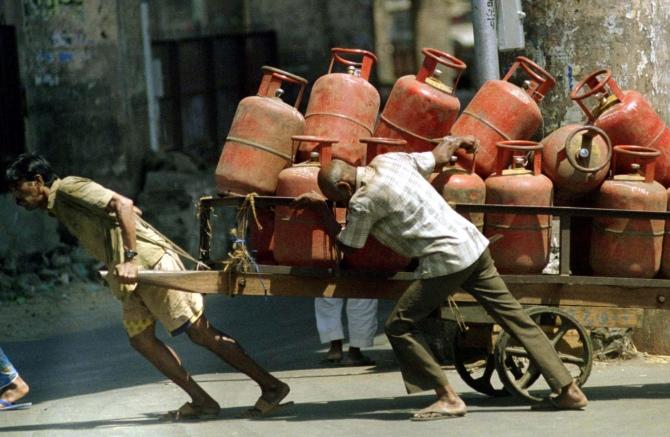 Essential services such as banking and public transport maybe impacted on Wednesday with 10 central trade unions going ahead with their one-day nationwide strike.
So how is it going to affect the common citizen?
Who has called the strike?
The 10 trade unions participating in the strike are: the Centre of Indian Trade Unions, Indian National Trade Union Congress, the All India Trade Union Congress, the All India United Trade Union Centre, the Trade Union Coordination, the Hind Mazdoor Sabha, Committee, the Self Employed Women's Association, the United Trade Union Congress, the All India Central Council of Trade Unions and the Labour Progressive Federation.
The All-India Bank Employees' Association and coal unions could also join the strike against the 'anti-worker' policies of the National Democratic Alliance government.
---
So what does that mean?
No gas, BSNL, MTNL: Expecting a gas cylinder deliver boy at your doorsteps on Wednesday? Don't bother. He won't turn up. Gas deliveries, telephone services, insurance offices, and post are unlikely to be available for the next two days.
Essential services such as water supply, electricity will continue as routine.
Banks will be shut: Banking services are likely to be affected, with bank employees also announcing to observe the strike. Nine employee unions in banks are participating in the strike.
So postpone any bank-related work for Wednesday. Cheques and other transactions may not be cleared instantly.
---
What all is working?
Taxis/auto-rickshaws
Taxi unions in Mumbai have said that they won't be participating in the strike, so taxi operators are expected to remain functional. Same goes for the auto-rickshaws.
Trains
The suburban train service is likely to remain operational. Though protesters may try to block the tracks, so they could be running late. Indian Railways too is expected to function normally.
Bus services
Bus services in major metro cities such as Mumbai, New Delhi, Kolkata and Chennai are expected to functional normally.
Hospitals
Relax, hospitals will remain open through the bandh.
---
Image: Two men cart a heavy load of gas cylinders up a Mumbai street. Photograph: Reuters