Mumbai has not seen scenes like what it witnessed on Sunday when Balasaheb Thackeray's cortege made its way to Shivaji Park.
Will Uddhav Thackeray, Balasaheb's political heir, use this huge surge of support to revive his party's electoral fortunes, wonders Abhishek Mande.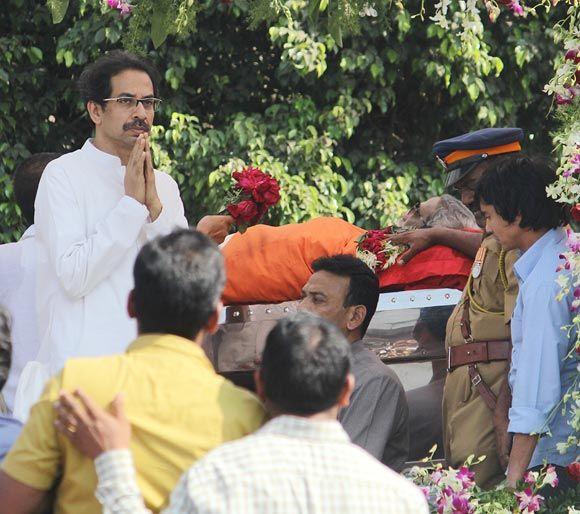 As the mortal remains of Shiv Sena chief Balasaheb Thackeray are consigned to the flames at Mumbai's Shivaji Park, the question that has been on political pundits and activists minds in the city for some years will rear its head yet again.
Only this time, it cannot be ignored for the man on whose charisma the Sena was born and reached its pinnacle is no more.
What happens to the Shiv Sena after Bal Thackeray is a question often asked, but rarely ever been answered. Perhaps it first came up in 2006 as Thackeray's nephew Raj left the party to form the Maharashtra Navnirman Sena because he felt the Sena, the party he was born into, was now being run by 'petty clerks' and as a result had 'fallen from its former glory.'
Some may insist it to be true -- the Sena did not hold the kind of sway it did, for instance, in the 1990s. And yet the city of Mumbai, whose municipal corporation that the Sena continues to rule today, came to a standstill hours after Thackeray breathed his last. The smallest of business to the largest of Mumbai malls downed shutters, some out of respect, most out of fear.
If anyone ever doubted the Sena's clout in India's commercial capital, that doubt should have been cleared in the last 24 hours.
In the years to come, the Sena will have to ask itself if it sees itself as a party that can only win municipal elections or whether it sees itself playing a larger role in Maharashtra politics.
Soon after the Sena's unsuccessful run in the 2009 Maharashtra assembly election, Dr Rajeshwari Deshpande, professor at the department of politics and public administration, Pune University, pointed to a flux within the Sena, a fact that holds truer now more than ever.
"This whole process (of uncertainty) had begun a long time ago," Professor Deshpande said. "It has become more prominent now because of the dramatic sequence of events that have unfolded recently," adding that the Sena is bound to face more challenges now in the absence of Balasaheb Thackeray's charisma.
She is, however, quick to point out that the ups and downs that the Sena has seen in recent years are normal in the growth cycle of any political party. It is Balasaheb Thackeray's towering personality that makes one want to see it as an exception to the rest, she feels.
Balasaheb, Thackeray and charisma are three words that have been thrown around rather liberally lately. These are probably the words that will haunt the mild-mannered Uddhav Thackeray, besides, of course, the constant comparisons that everyone loves to draw between him and his father.
According to Dr Venkatesh Kumar, a professor in political science at the Tata Institute of Social Sciences, Mumbai, even though the void that Balasaheb Thackeray has left behind cannot be filled, Uddhav will have little or no option but to carry forward the legacy that has been handed down to him.
It will be a tough job, Dr Kumar feels, but insists it is one that can be done citing the example of Y S Jaganmohan Reddy, the late Andhra Pradesh chief minister Dr Y S Rajasekhara Reddy's son.
"Dynastic politics continues to work in a country like India. Uddhav has to convert the sympathy amongst the Sainiks into votes. Had this happened closer to the elections, it may have been easier, but it can be done," Dr Kumar tells Rediff.com
"Uddhav has to devise a mechanism and convince the people at large to stay on course with him and inspire them to go all out during the assembly election in 2014. He has to become more communicative, get into mass-based politics and ensure that the attrition levels within the Sena stay low. Much depends on his leadership now."
Even as comparisons between Balasaheb Thackeray and Uddhav get more pronounced, Dr Kumar points out that perhaps the greatest challenge for Uddhav is to find his own voice, that offers a sort of continuum to his father's legacy and at the same time is distinct from it.
The socio-economic conditions today are far different than what they were when Balasaheb Thackeray rose to prominence, Dr Kumar points out, adding that it is not possible to resurrect the Sena on the same issues that were raked back in the 1960s or 1980s.
Issues related to youth and employment as well as growth, skills development, jobs and encouraging entrepreneurship within the Maharashtrian community will drive the voters towards the Sena, Dr Kumar feels.
"Everyone is moving away from the politics of hatred to the politics of development," he says, adding, "It is a good time for him to go beyond his father's brand of politics."
Charisma, Dr Kumar believes, isn't necessarily something you have to be born with. "Look at Nitish Kumar," he says, "He started out as a backroom boy and look where he is now. Charisma can be developed."
This, however, is easier said than done, especially when you have someone like Raj Thackeray who many see as the true heir to the Thackeray legacy. The fact that a discussion on the Shiv Sena's future is incomplete without Raj, a man who is no longer a part of the party, says something about Uddhav's leadership and the difficult road leading to the 2014 assembly election for the Shiv Sena.
Among the many permutations that are being spoken about, Vaibhav Purandare, author of The Sena Story, a biography of the party, and a senior editor at the Hindustan Times newspaper, points out to three -- one, a pre-poll alliance; two, a post-poll alliance that would follow a series of friendly fights where one party will not field candidates in constituencies where the other one is strong, and three, where the two cousins join hands for good.
"The last, however, is the least likely considering the dynamics between the cadres of both parties," believes Purandare.
Dr Deshpande adds two more possibilities -- that of the Maharashtra Navnirman Sena becoming a parent party of sorts since "a rebellion party has a better chance to grow" as well as "because it has the leadership factor (in Raj Thackeray) going for it."
The other possibility, she says, is that both Senas continue the status quo.
"Maharashtra has enough space for a lot of political parties. So it is not possible for the Shiv Sena to implode entirely. It will continue to exist, albeit as just one of many parties," she says.
During our conversation, Professor Deshpande insisted on seeing the Shiv Sena as just another political party rather than seeing it as some sort of gravity-defying phenomenon. "Once you get that, you will also see that the problems within the Sena are not very different from those other parties face," she says.
A serious issue, according to her, is that the Shiv Sena -- and indeed Uddhav -- must address is the lack of the party's reach beyond Mumbai and Thane.
"The Sena has not been entirely aware of the reality outside Mumbai," she says. "A very complex situation is unfolding in rural and semi-urban Maharashtra as well as in villages that are being fast urbanised, where the social reality is changing fast."
"Unfortunately," Dr Deshpande adds, "no political party has a clue. The connect between the people and the parties is eroding fast," she says, "This is a sorry situation and the Shiv Sena and Uddhav are just part of it."
Dr Nitin Birmal of the Dr Ambedkar College in Pune, agrees. Reaching out to rural Maharashtra, he feels, will hold the key to the Shiv Sena's future.
"The agricultural economy in Maharashtra is not working well and it was not something Bal Thackeray looked into seriously while he was alive. The Sena will have to work towards regaining its hold on Marathwada and Vidarbha," he says, adding that it will be crucial to cultivate a leader like Narayan Rane, the former Sena chief minister who left the party to join the Congress, in the Konkan if they want to regain this province.
Cultivating leaders is also something Dr Venkatesh Kumar talks about. "Reaching out to the public is one thing," he says, "Reaching out to one's own cadres is another. Bal Thackeray nurtured and mentored party workers like Chhagan Bhujbal, Narayan Rane and Manohar Joshi among others who became dominant figures in their own right. Identifying such potential and grooming them will remain a key task for Uddhav."
This Dussehra, Balasaheb Thackeray broke a four decade-long tradition. Instead of addressing the Shiv Sena's annual rally at Shivaji Park in person, he spoke to his supporters via a pre-recorded speech on video that was played at the venue.
In the video, Thackeray looks a shadow of his former self. The dramatic gestures and his trademark firebrand personality are missing. He sat on a couch and spoke; in parts he almost pleaded.
Towards the end of the video he folds his hands and does something you would never expect him to do -- he makes a request.
Balasaheb Thackeray urges Shiv Sainiks to stand by his son Uddhav and grandson Aditya 'the way you stood by me all my life.'
It was evident to anyone watching the video that he knew it would be his last address to the public. Even for someone who isn't a supporter, it is difficult to view it dispassionately.
By some estimates, several hundreds of thousands of people gathered at Shivaji Park where in a first of sorts, a leader will be cremated in a public ceremony in Mumbai. Whether Uddhav Thackeray will ride on this huge surge of support will be an answer we will know in a few months from now.
Image: Uddhav Thackeray alongside his father Balasaheb Thackeray's body. Photograph: Hitesh Harisinghani/Rediff.com