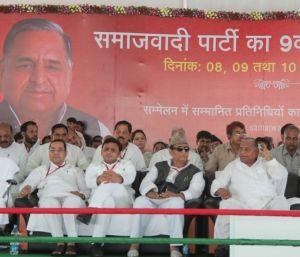 Vulgar display of extravagance seems to be a commonality between political rivals Samajwadi Party and the Bahujan Samaj Party.
The Samajwadi Party's ongoing 3-day national convention, that began on Wednesday, saw Lucknow plastered with party posters and elaborate arrangements made for the mega show. The valedictory rally on Friday is expected to draw 100,000 party men.
The party's red and green posters, banners and hoardings lined the 5 km route from its state headquarters to the Janeshwar Misra park in Lucknow's posh Gomti Nagar locality. Video-walls and giant-sized LED displays showing the Yadav clan were also installed at strategic points along the route.
Nearly 10,000 hoardings and posters were put in Lucknow by senior party leaders and ministers.
Interestingly, internal differences in the family were also visible with Mulayam's second son Prateek Yadav and his wife Aparna Yadav shown only on two hoardings. It is an open secret how the chief minister had been opposing Prateek's entry into politics.
The SP ensured "proper cooling" of the dais with as many as 14 pillar air-conditioners for the privileged gathering. Arrangements of a state-of-the-art lounge with 7 pillar ACs and 2 ultra modern washrooms were made for VIPs. A number of smart AC Swiss cottages were also specially put up for the top leaders.
Unscheduled power cuts may be common in parts of the state but the event organisers left no stone unturned to lavishly light up the venue. Heavy security arrangements were in place with close-circuit cameras installed at every corner of the venue.
While party as well as government sources flatly deny any use of the official machinery, the opposition was up in arms to accuse the Akhilesh Yadav government of "blatant misuse of the state's official resources" in making a success of its multi-crore event.