Democratic presidential nominee Hillary Clinton on Monday took a dig at the tax return expose of her Republican rival Donald Trump by questioning his business credentials.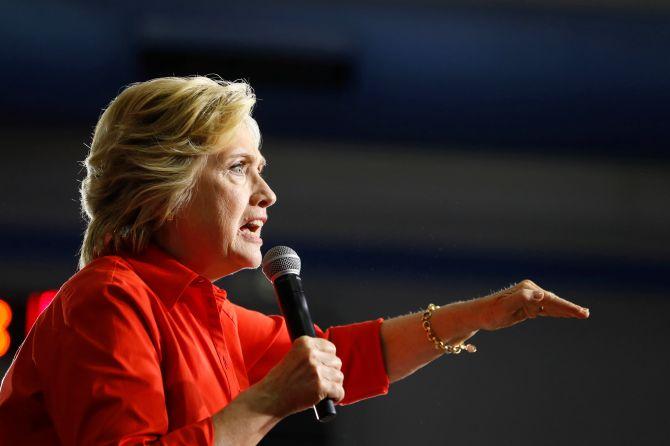 "Here's my question: What kind of genius loses $1 billion in a single year?" Clinton asked commenting on a New York Times expose according to which Trump 1995 tax returns showed a loss of nearly USD 1 billion, as a result of which he might not have had paid his income tax for as many as 18 years.
"While millions of American families, including mine and yours, were working hard, paying our fair share, it seems he was contributing nothing to our nation," Clinton alleged making Trump's tax story a center piece of her speech in Toledo, Ohio.
"He talks us down, makes disparaging comments about our country, calls our military a disaster. It's not, but it might have been if everyone else had failed to pay taxes to support our great men and women in uniform," she said.
Clinton asked how someone can lose such a vast amount of money.
"How anyone can lose a dollar, let alone a billion dollars, in the casino industry is beyond me," she said.
"He didn't lift a finger to help protect his employees, or all the small businesses and contractors he hired. They all got hammered while he was busy with his accountants trying to figure out how he could keep living like a billionaire," she said.
The White House did not directly respond to the allegations against Trump but said it raises the issue of tax code and simplification.
"Well I think it's difficult for anybody to draw a firm conclusion about that, without having an opportunity to take a look at all of the data. And I recognize that's the subject of some dispute on the campaign trail," White House Press Secretary Josh Earnest said.
"What I will say is, Trump's tax strategies aside, the president believes that we could do some very helpful things for the economy, by closing loop holes that only benefit the wealthy and well connected. And using the revenue from those closed loop holes to invest in things like infrastructure, invest in community college for every hardworking American student," Earnest said in response to a question.
In an investigative report, The New York Times had said Trump declared a USD 916 million loss on his 1995 income tax returns.
"The 1995 tax records, never before disclosed, reveal the extraordinary tax benefits that Trump, the Republican presidential nominee, derived from the financial wreckage he left behind in the early 1990s through mismanagement of three Atlantic City casinos, his ill-fated foray into the airline business and his ill-timed purchase of the Plaza Hotel in Manhattan," the report said.