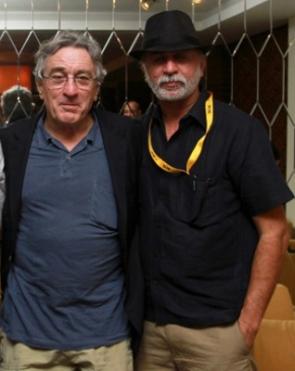 The change of government in Goa changed THiNK's character. Literary or intellectual luminaries were replaced by big-ticket celebrities, says Sunil Sethi
In the furore over Tarun Tejpal's journey to Goa for police interrogation someone has forgotten to take down the THiNK adverts at Dabolim airport.
"India's Most Thought Provoking Event," announces the prominent glow sign above the baggage trolleys.
"Three Legends in One Frame," -- over images of Robert de Niro, Amitabh Bachchan and Garry Kasparov -- "Just 3 Of Our Incredible Speakers at THiNK 2013."
What do Goans think of Tejpal, his alleged sex crime and the unravelling of his THiNK fest at the Grand Hyatt resort?
Not a lot, it would seem from conversations with locals this week.
"It became the sort of big, corporate, glamorous event that outsiders host in Goa, exclusive rather than inclusive," says journalist Vivek Menezes, who attended the first edition in 2011.
Well-known Goa-based writers such as Amitav Ghosh and Maria Aurora Couto gave it a wide berth altogether.
Divya Kapur, who runs the popular bookstore Literati, a hub of literary life, ran the THiNK bookshop in 2011 but declined thereafter.
"The Grand Hyatt is the symbol of Coastal Regulation Zone environmental violations in Goa and it seemed ironic that Tehelka would choose it as the venue. I didn't want any truck with that," she said.
But the THiNK-fest story is a little more complicated.
The Congress government led by Digambar Kamat, linked to illegal mining interests, solidly supported the first THiNK with subsidies and sponsorships to the tune of Rs 50 lakh. It was reported at the time that Tehelka had also suppressed a planned expose on the mining mafia.
Kamat's government (he also held the mining portfolio for 12 years) was roundly defeated by the Bharatiya Janata Party's Manohar Parrikar in March 2012, winning a clear majority of 24 out of 40 assembly seats. Not long afterwards, as a result of action by Parikkar, the Supreme Court banned all iron ore mining in Goa.
The change of government also changed THiNK's fund-raising strategy and character. The venue remained unchanged but more corporate sponsors were drawn in.
Literary or intellectual luminaries were replaced by big-ticket celebrities: V S Naipaul, Thomas Friedman, Salman Khurshid and Shashi Tharoor in 2011 by the likes of Bob Geldof, Robert de Niro and Amitabh Bachchan in 2012-13.
The smart set from Delhi, Mumbai and Bangalore were courted and paid Rs 35,000 per head to partake of the festivities. Free attendance by Goans was gradually curtailed. It was welcomed in the first year but less so this November.
Locals had to register online two months in advance and the window was narrow. They were segregated from paid audiences in the front rows and not invited to the evening entertainments. THiNK came to be viewed as a clubby, in-house event -- a celebration of the thinking rich, not the stinking rich.
Goans are accustomed to high-flying festivities; their livelihoods depend on fiestas and fuel the state's precious tourist economy. Meanwhile, the total ban on mining, now a year old, has led to loss of jobs and begun to hurt the exchequer.
Parrikar is now pressing the Supreme Court to come up with a regulatory framework so that legal operations can resume. Reputedly a man of personal probity, he is also trying to purge his administration's reputation for rampant corruption and graft in land deals. However, many regard this as an impossible task at village panchayat and municipal levels.
The THiNK sex scandal, therefore, presented Parrikar with a heaven-sent opportunity to act with speed. It helps promote his appeal as a chief minister eager to rid Goa's image as a hotbed of sex and crime and also emphasises the kind of favours bestowed by the previous government.
Like all inhabitants of seasonal resorts, Goans make a clear distinction between insiders and outsiders. In their parallel set of norms, they can be cosmopolitan yet clannishly insular, hospitably easygoing yet mildly xenophobic.
I asked my long-time taxi driver, a devout man who attends mass regularly, his opinion of the Tarun Tejpal case and was met with guffaws of contempt.
"Small-fish crime. Sir, remember that Charles Sobhraj was found here and Scarlett Keeling killed."
Pointing to the Mandovi's broad estuary he added, "In our sea you will find all kinds of fish."
Image: Tarun Tejpal with Robert de Niro at THiNK 2013 ' Photograph Courtesy: http://thinkworks.in