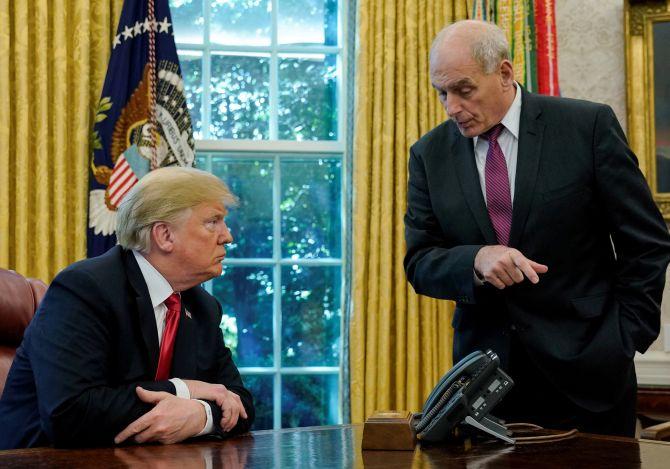 White House Chief of Staff John Kelly will step down by the end of the year, President Donald Trump has announced, becoming the latest top-level official to quit the administration amidst reports that relations between them have soured beyond repair.
The 68-year-old retired Marine Corps general has been President Trump's Chief of Staff since July 31, 2017 when he replaced Reince Priebus, who resigned, in the first seven months of the Trump administration, Kelly was the secretary of Homeland Security.
"John Kelly will be leaving -- I don't know if I can say 'retiring'. But, he's a great guy. John Kelly will be leaving at the end of the year," Trump told reporters at the White House on Saturday.
"We will be announcing who will be taking John's place...I shall be announcing that over the next day or two. But, John will be leaving at the end of the year. He has been with me almost two years now," Trump said.
Nick Ayers, the 36-year-old chief of staff to vice-president Mike Pence, is Kelly's likely successor.
There were reports that the relationship between Trump and Kelly had deteriorated to such an extent that the two were no longer on speaking terms.
Kelly, who was brought in by Trump after he fired Reince Priebus, has been instrumental in bringing in a sense of discipline inside the White House.
Kelly was one of the several generals appointed by Trump to key roles, including defense secretary Jim Mattis, and former national security advisers Michael Flynn and HR McMaster.
According to a report in The Wall Street Journal, the relationship between Kelly and Trump had completely broken down, leading the president to tell an associate to 'stop calling John' and to instead 'call Nick, he's my guy'.
Veteran journalist Bob Woodward wrote in his bestselling book Fear that Kelly called Trump an 'idiot' at the head of a 'Crazytown' administration.
Kelly is said to have used the description repeatedly and also allegedly said that 'it's pointless to try to convince him of anything'.
Kelly, however, denied such reports and stayed in post.
CNN reported this week that Kelly and Trump were no longer even speaking to each other.
It said Trump wanted a chief of staff with more political expertise, to help him handle the inevitable investigations and legislative battles with next year's Democrat-controlled House, and to prepare for the 2020 election.
In France in November for events marking the 100th anniversary of the end of the first world war, Kelly visited an American cemetery outside Paris while Trump remained in the city, the White House said rain made a presidential visit impractical.
Kelly's exit from the White House is the latest in a series of reshuffles in the Trump administration.
On Friday, Trump said he will nominate William Barr his attorney general, replacing Matthew Whitaker who was named acting attorney general only a month ago. Whitaker replaced Jeff Sessions for the top Justice Department post.
Sessions was fired on November 7 after he was attacked and ridiculed for months by the president.
Trump appointed State Department spokeswoman Heather Nauert as the US' next ambassador to the UN, replacing Indian-origin Nikki Haley who said in October that she would step down at the end of the year.
McMaster was replaced on March 22 with John Bolton as the national security adviser.
Scott Pruitt, the Environmental Protection Agency chief quit on July 5.
Former secretary of state Rex Tillerson was fired by Trump on March 13 after rifts between them. On Friday, Trump tweeted that Tillerson was 'dumb as a rock' and 'lazy as hell'.
James Comey, the FBI director, who led the Russia probe before Mueller, was fired by Trump in May last year.
Michael Flynn resigned in February last year as Trump's national security adviser.
Earlier in the day, Trump nominated General Mark Milley as his next Chairman of the Joint Chiefs of Staff, the nation's top military advisor.
If confirmed by the Senate, Gen Milley would replace General Joe Dunford who is scheduled to retire next summer. Milley currently is Chief of Staff of the Army.
Trump described Gen Milley as a 'great gentleman and a great patriot'.
© Copyright 2021 PTI. All rights reserved. Republication or redistribution of PTI content, including by framing or similar means, is expressly prohibited without the prior written consent.