Mayank Mishra reports on how the Trinamool Congress government in West Bengal has been extending patronage to the ruling party cadre.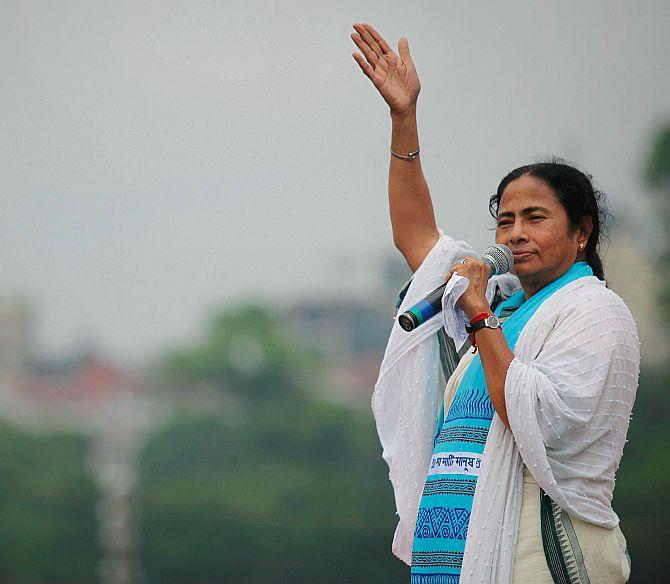 "Why should I be afraid of anyone? Gunmen move around with me all the time. Besides, I am the secretary of a local club and I run some schools here," says a Trinamool Congress leader in Bolpur, the home to the prestigious Visva-Bharati University, describing the levers of power he controls, making him an influential leader in the area.
And controlling a 'club', hitherto known to be a place for recreational activities, is one of them.
The nature of clubs has changed in many parts of West Bengal and so has membership in them.
It is not uncommon to find four people playing carrom under a shade even in posh localities of Kolkata, claiming to belong to a club.
The change has come about following the state government's announcement of giving a grant in excess of Rs 100 crore to 7,000-odd clubs last year.
Registered clubs with their audited accounts are eligible to get an annual grant of Rs 2 lakh in the first year and Rs 1 lakh subsequently.
The stated objective, while announcing grant for clubs, was to build 'infrastructure for sporting facilities'. But political observers say it is nothing more than extending patronage to ruling party cadre.
"You will suddenly realise that the number of clubs has suddenly increased. Most of the members of such clubs are TMC workers.
The club is a vehicle for them to spread their influence locally," says a Delhi-based commentator, who has closely tracked West Bengal politics for decades.
Assuming each club has at least 10 members; grant to 7,000 clubs means directly reaching out to nearly 70,000 people. Since many of them are party workers, this group has been extensively used during elections, say political observers.
No wonder that in a recent rally in Kolkata, TMC leader and state Chief Minister Mamata Banerjee specially took names of local clubs and wished everyone on Durga Puja six months in advance.
Another recent addition to everyday life in West Bengal has been the introduction of a group of, what is pejoratively described as 'half police'.
Whether it is the sleepy town of Nalhati, historically important Behrampur or metropolitan city of Kolkata, members of civil police volunteer force are omnipresent. In most places, they are entrusted with the task of regulating vehicular traffic.
They brave people's ridicule as they are neither full cops with authority to enforce rules and regulations, nor do they have any authority to issue challans.
"There is a saying that you pay for full pants, not half pants. Half police is like half pant you can ignore and be happy," says Vishwanath Mukherjee, a resident of Paripat village near India-Bangladesh border in North 24 Parganas district.
"We are just supposed to take note of violation of any kind and inform the police station about it. Other than that, we have no power," says Mihil Mal of Nalhati town in Birbhum district. He and his associate Gulam Hasnat were busy regulating traffic on the busy stretch of Nalhati town.
Mal joined the civic police volunteer force in 2013 along with many others. A state Cabinet decision the same year mandated the recruitment of 130,000 personnel as part of civic police volunteer force.
Nearly 120,000 people were recruited in 2013 and their basic job was to assist the police force in holding elections, organising festivals and in disaster management. They get a salary of Rs 5,500.
"We have been promised a salary hike soon. We have also been assured of continuation of job till we attain the age of 60," Gulam Hasnat tells us even as he was getting ready to wind up his work for the day after six hours of duty.
The duty hour has been reduced recently to help them cope with the intense summer heat.
The idea of civic police was mooted towards the fag end of the Left Front rule and some volunteers were recruited as "green police".
However, once the TMC got the power in 2011, it went into an overdrive, recruiting several thousands of volunteers.
Political observers say most of the volunteers are ruling party workers.
"The state government had vacancy of 200,000 permanent positions in 2015. Instead of filling those posts, the government has been hiring contract workers. Suitably placing party workers is easy through the contract route as the recruitment procedure in such cases is lax. But, it creates layers in government organisation impacting its functioning," says the Delhi-based commentator cited above.
Those who have studied till Class VIII and are in the age bracket of 20-30 are eligible to be recruited as civic police volunteers. The selection is done on the basis of interview and selected ones are required to undergo a training of 10 days.