"Hello, are you safe?" Sercan Unsal, a Turkish-origin person settled in Delhi, utters these words every few minutes as he rings relatives and friends in Earthquake-hit Türkiye and disconnects soon after hearing the answer from the other side in affirmation.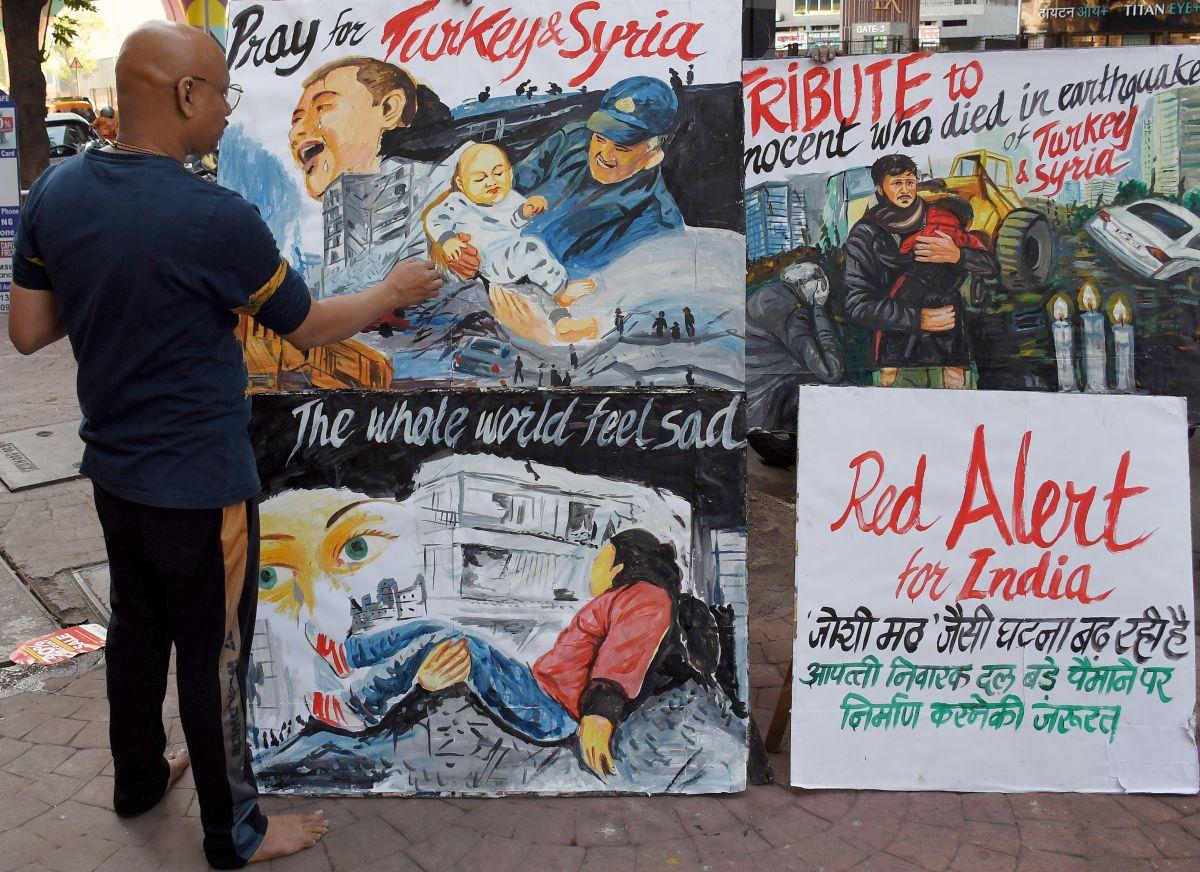 "As the rescue operation is underway, I don't want to occupy the phone lines. There is no electricity and people living there are also facing network issues. We just want to ascertain whether they are well and fine. I ask them 'Are you safe'. If they say 'Yes', I cut the call," 45-year-old Unsal, who owns a Turkish restaurant in Delhi, told PTI.
The 7.8 magnitude earthquake on Monday and multiple aftershocks killed more than 5,000 people and flattened thousands of buildings in Türkiye and neighbouring Syria. The quake was centred in Türkiye's southeastern province of Kahramanmaras and felt as far away as Cairo.
Turkish-origin people living in India are trying to stay calm despite knowing that their home country would take several years to overcome the devastation.
Some are still oblivious of the whereabouts of their loved ones, Unsal said. A few Turkish-origin people have left for the country after they did not hear back from their family members, claimed Unsal.
Some are calling their loved ones sitting here anxiously waiting for reply and watching the news continuously for updates.
Unsal shifted to Delhi 25 years back while most of his family is in Türkiye. Soon after the earthquake reports came in, he telephoned his family members.
"I heave a sigh of relief knowing my family and in-laws are safe. We are fine, yet not fine," Unsal said.
With every passing hour, Unsal, who lives here with his son, is receiving reports about the demise of friends, a school teacher and his family, and several of his neighbours are still missing.
"It is very heartbreaking to know. Every time I call, I get to know about so and so's death and it is devastating to know that my country where I spent my childhood is facing this," Unsal rued.
There is also regret among the Turkish diaspora as they feel they are sitting while most of their family members are on roads without roofs and have to witness the tragic and heart-wrenching scenes.
"We are sitting safely at home. Thousands of miles away...our family members back home do not have place to spend chilly nights and many of their friends are still missing. It is making us restless," he noted.
Around three friends have left for Türkiye as they did not hear from their family members, he informed.
"My friends' families live in Hatay and their houses have been demolished. Their family is not responding which is why they left for the country," Unsal informed.
Unsal thanked India for extending help to the country. "I welcome India's move to send help to the country. I want to thank the government. It fills my heart."
Fidan Duman, another Turkish-origin person living in Delhi, is overwhelmed with emotions as devastating news keeps on pouring from his country.
Talking to this PTI, Duman, a civil engineer who lives with her two children and husband in the capital, said in a heavy voice "though my family is safe, my friends and other acquaintances are still nowhere to be found".
"I wish I could talk to you more but I am in no position. My country is in great pain. My family is safe but so many people are dying," she said.
India on Monday decided to immediately dispatch search and rescue teams of the National Disaster Response Force, medical teams and relief material to Türkiye following Prime Minister Narendra Modi's instructions to offer all possible assistance to the country.
© Copyright 2023 PTI. All rights reserved. Republication or redistribution of PTI content, including by framing or similar means, is expressly prohibited without the prior written consent.