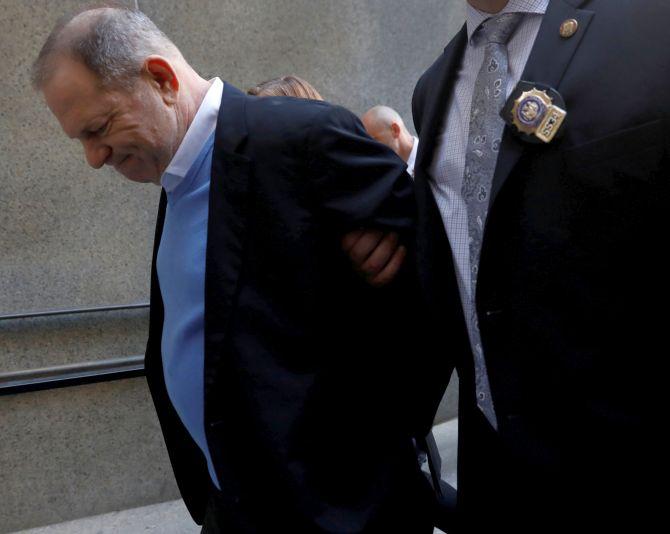 Disgraced Hollywood mogul Harvey Weinstein has been accused of sexually assaulting a Polish model and actor.
According to People Magazine, the woman, identified as Jane Doe, has filed a lawsuit, claiming that former The Weinstein Company boss subjected her to abuse for over a decade beginning in 2002 when she was 16.
The woman claimed she met Weinstein at an event, and then three days later, went to his apartment in the SoHo neighborhood of Manhattan for what she believed was a business lunch.
The suit alleged that Weinstein 'lured her to his apartment and sexually assaulted her, and he continued to emotionally abuse and sexually harass her for nearly a decade'.
She alleged Weinstein 'aggressively and threateningly' demanded sexual relations with her and that he forced her to touch his genitals despite her protests, according to the court documents.
She is the 10th woman to file a class action lawsuit against Weinstein, the Weinstein Company and Miramax, accusing them of assault, battery and racketeering.
In a statement, Weinstein's attorney Ben Brafman dismissed the new allegations as 'preposterous'.
Once one of the biggest power centres in Hollywood for independent cinema, Weinstein had a spectacular fall from grace after a New York Times investigation unveiled his history of sexual misconduct.
The number increased further in another investigation by Ronan Farrow for the New Yorker.
More than 80 women, including prominent Hollywood celebrities such as Gywneth Paltrow, Angelina Jolie, Salma Hayek, Ashley Judd, Uma Thurman and Asia Argento, have publicly accused Weinstein of sexual misconduct, including rape with some allegations dating back to decades.