Over 1,800 dead in just over a week! The bristling summer continues to claim lives across India as temperatures soar between mid-to high-40 degrees. And there's no respite in sight for at least the next couple of days.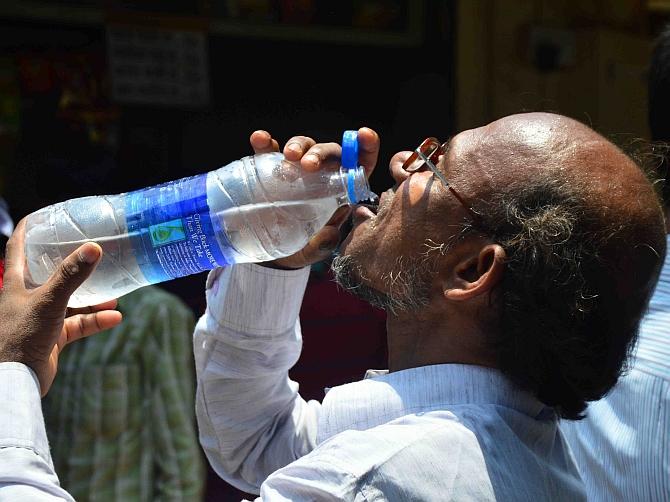 Reports of heat wave deaths continue to come in from all over India, especially the worst affected states of Andhra Pradesh and Telangana. On Thursday, the death toll climbed to 1826, with 414 lives being claimed by the scorching sun in Andhra Pradesh and Telangana since Wednesday.
In Andhra Pradesh, the toll rose to 1334 on Thursday, 314 more than yesterday. The death figure in Telangana today stood at 440 against 340 yesterday. So far, 43 deaths have been reported from Odisha, 7 seven from Gujarat and two from Delhi.
Telangana saw the death of 100 people since yesterday.
"As per information available till 7 pm on Thursday, the toll has risen to 440," said a senior official of the Telangana disaster management department in Hyderabad. Yesterday, the figure stood at 340.
Since April 15, Nalgonda district has witnessed 126 deaths, followed by Karimnagar (95), Khammam (82) and Mahabubnagar (37).
The heat has also claimed 35 lives in Medak district, 22 in Adilabad, 17 in Nizamabad, 12 in Warangal and seven each in Hyderabad and Ranga Reddy districts.
"As per information available till 8.30 pm, the toll (in Andhra Pradesh) has reached 1334," officials of Andhra Pradesh Disaster Management Department said. Prakasam accounted for maximum number of 305 deaths followed by Guntur -- 197, East Godavari -- 158, Vizag -- 157, Vizianagaram -- 128, Nellore -- 102, Krishna district -- 66, Chittoor -- 56, Kadapa -- 34, Kurnool and Anantapur -- 28 each, West Godavari -- 18 and Srikakulam -- 57.
Delhi saw the maximum temperature of 41.1 degrees celsius, which was a notch above the normal.
On Wednesday the day temperature had settled at 41.8 degrees celsius while the minimum temperature was recorded at 24.8 degrees celsius.
Heat wave conditions also continued to sweep swathes of Haryana and Punjab with maximum temperatures on Thursday again hovering between 41-44 degrees celsius at most places, giving no respite to people.
Hisar in Haryana was the hottest at 43.8 degree C, up two notches above normal while Bhiwani also sizzled at 42.6 degrees celsius.
Ambala recorded a maximum temperature of 41.5 degree C, up one notch above normal.
Chandigarh braved yet another hot day as the maximum temperature settled at 41.6 degree celsius, up three notches above normal, the MeT Department report said.
In Punjab, Ludhiana recorded 41.8 degreed celsius, Amritsar 41.4 degrees celsius and Patiala 41.4 degrees celsius.
The plains of Uttar Pradesh also continued to reel under severe heat with day temperature appreciably above normal in Allahabad, Kanpur, Jhansi divisions, Varanasi, Moradabad, Agra divisions and normal in the remaining divisions across the state.
Allahabad recorded the highest maximum temperature at 45.8 degree Celsius, the MeT office said.
The weather conditions have also resulted in frequent power cuts.
Some patients complained that authorities were not doing enough to restore electricity.
"There is no electricity since 10.00 am and there is no help from the side of the management or anyone else. Two patients are sharing one bed and nobody is bothered," said an unidentified person at a hospital in east Godavari.
Y K Reddy, who heads the Meteorological Department in Hyderabad, told NDTV that the scenario is unprecedented in recent history.
"It's double the usual duration," he said.
According to reports, authorities have cancelled doctors' leave and advised people not to head outside after noon to avoid the worst of the heat.
"Hospitals are overflowing with heatstroke victims," Ajay Lekhi, president of the Delhi Medical Association, said.
"Patients are complaining of severe headache and dizziness. They are also showing symptoms of delirium," he added, describing a common symptom of severe dehydration.
Some parts of the country though got some respite on Thursday with reports of thunderstorm occurring at isolated places over Assam, Meghalaya, Nagaland, Manipur, Mizoram, Tripura, West Bengal, Sikkim, Odisha, Jharkhand, Uttarakhand, Himachal Pradesh, Jammu and Kashmir, east Madhya Pradesh, Vidarbha, Chhatisgarh, Telangana, Tamil Nadu and Kerala.
Worrying signs of climate change
Blamed on dry continental air blowing in from Iran and Afghanistan, the heat wave is forecast to subside later this week before monsoon rains bring relief to parched areas of the east and south.
But climate researchers say more heat waves were expected as globally temperatures had risen by an average .8 degrees in the past 100 years. Night-time temperatures are rising too, with Ahmedabad and Delhi recently reporting 39 and 36 degrees centigrade.
According to Delhi-based Centre for Science and Technology, the intense heat wave condition that is sweeping across India currently could be another manifestation of an extreme weather event.
A heat wave is declared when the temperature is five degrees or more than the average temperature recorded on that particular day over the last three decades. Cities feel the brunt of the elevated temperatures, because of the magnified effect of paved surfaces and a lack of tree cover -- this is known as the 'urban heat island effect', CSE said in a statement.
"Compared to 2010, heat wave conditions in 2015 so far have been of a shorter duration, yet with a higher death toll. This could be due to the sudden change in temperatures after a prolonged wet February and March that had kept the temperatures cool," said Arjuna Srinidhi, programme manager, climate change, CSE.
"The number of heat wave days may go up from about 5 to between 30 and 40 every year. There is also enough evidence of extreme weather events being on the rise. This year, we saw the wettest March in about 50 years, and we have already seen the second major flood in Kashmir in a period of six months. These are all extreme weather events," Srinidhi added.
Image: Sahil Salvi