Louisiana Governor Piyush 'Bobby' Jindal may not have been among the top 10 Republican presidential hopefuls at the first GOP primary debate in Cleveland, Ohio. But he sure did make a strong pitch for his candidature, ripping apart President Barack Obama and forcefully putting across his thoughts on contentious issues like immigration and foreign policy. Aziz Haniffa/Rediff.com reports.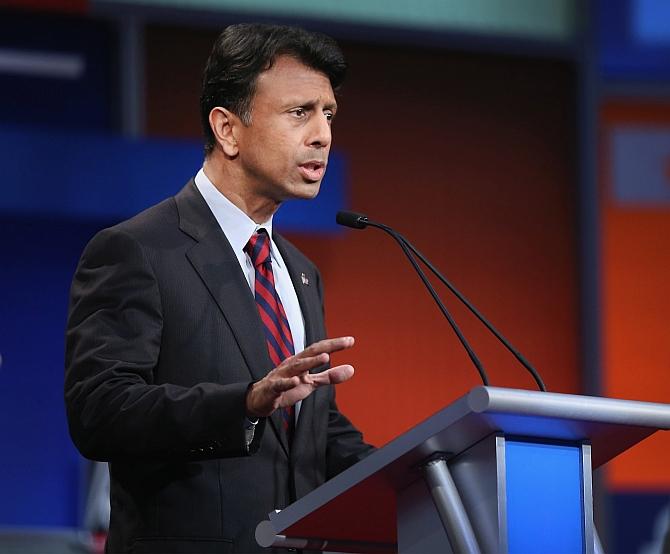 Republican Louisiana Governor Piyush 'Bobby' Jindal, 44, who has been bringing up the rear in the polling of the 17 Republican party presidential candidates, as expected, did not make it for the first Top 10 debate hosted by Fox News on Friday, and was relegated to the second tier 'Happy Hour' debate among the remaining seven, where he reiterated his contention that he is no hyphenated American.
Translation, he is not an Indian-American but a pure, unadulterated 100 per cent assimilated American.
In the debate -- sans an audience, unlike the prime time debate that had an audience of over 5,000 people -- also hosted by Fox News at the Quicken Loans stadium in Cleveland, Ohio, which preceded the Top 10 debate, Jindal also asserted his far right conservative credentials, railing against President Barack Obama, Democratic front-runner Hillary Clinton, radical Islamic terrorism, abortion, and promised, that if elected, his first executive order would be to protect 'Christian business owners and individuals,' against discrimination if they discriminated against same-sex couples who decide to patronize their business.
Attacking all the other Republican candidates and singling out former Florida Governor Jeb Bush, Jindal said: 'We have got great talkers running for President, and we have already got a great talker in the White House.'
Thus, he declared, 'We cannot afford four more years of on-the-job training,' and argued, 'We need a doer not a talker and we also need to nominate a candidate who endorses our own principles.'
Jindal said, 'Jeb Bush says we got to be willing to lose the primary, in order to win the general. Let me translate that -- that is the establishment telling us to hide our conservative principles to get the Left and the media to like us.'
He asserted, 'That never works,' and warned, '(If) We do that again, we will lose again and we will deserve to lose again.'
Jindal said, 'One principle for example, we have got to embrace is on immigration -- we must insist on assimilation. Immigration without assimilation is an invasion.'
He exhorted that 'we need to tell folks who want to come here, they need to come here legally. They need to learn English, adopt our values, roll up their sleeves and get to work.'
Jindal said, 'I am tired of hyphenated Americans and the division.'
Then in his signature rapid-fire style of talking, using phrases that has been part of his campaign spiel since he declared his candidacy, declared, 'I have got the backbone, I have got the bandwidth, I have got the experience to get us through this.'
Jindal said, 'I am asking folks not just to join my campaign but join a cause. It is time to believe in America again.'
But that the outset, one of the Fox moderators, Martha MacCallum reminded him that his approval numbers in his own state of Louisiana were in the doldrums and downright embarrassing at an anemic 30 percentage points.
She told him, 'In a recent poll, that showed you in a head to head with Hillary Clinton in Louisiana, she beat you by several points.'
Consequently, MacCallum asked, 'So, if the people of Louisiana are not satisfied, what makes you think that the people of nation would be?'
Clearly on the defensive, but defiant, Jindal snapped, 'I won two record elections,' adding, 'The last time I was elected Governor, I won a record margin in my state. But, we got a lot of politicians that will kiss babies... do whatever it takes to be popular. That's not why I ran for office.'
He explained that he ran for office 'to make the generational changes in Louisiana,' and claimed, 'We have cut 26 per cent of our budget. We have 30,000 fewer state bureaucrats than the day I took office.'
Jindal continued, 'I do not think anybody has cut that much government anywhere, at any time. As a result, eight credit upgrades, as a result a top 10 state for private sector job creation.'
He also said, 'We have fought for statewide school choice -- where the Dollars follow the child instead of the child following the Dollars.'
Jindal also noted that 'we have been the most pro-life state six years in a row. My point is, I won two landslide elections, I made big changes.'
'Our country is tired of politicians who read the polls and fail to lead,' he said, and blamed 'both Democrats and Republicans, who have got us in the mess we are in -- a $18 trillion of debt, a bad deal with Iran, we are not standing with Israel.'
Jindal said, 'The American people are looking for real leadership and that is what I have done in Louisiana and that's what I will do for America.'
When asked how, if elected president, he would fight the Islamic State terror outfit, he said, 'To start with, unlike President Obama, I will actually name the enemy that we confront,' and mocked Obama saying, 'We have got a president who cannot bring himself to say the words, Radical Islamic Terrorism.'
Jindal said Obama, 'loves to criticize America, apologize for us, criticize medieval Christians. How can we defeat an enemy, if our Commander-in-Chief, does not have the moral honesty and clarity to say that Islam has a problem and that problem is radical Islam -- to say that they have got to condemn not just generic acts of violence but the individual murderers who are committing these acts of violence.'
'We have got a president instead, who says we are going to change hearts and minds. But you know what, sometimes you win a war by killing murderers, evil terrorists.'
Jindal said, 'We are going to take the political handcuffs off the military, we will arm and train the Kurds, we will work with our Sunni allies, they will know we are committed to victory.'
He also defended his decision not to accept federal money for Medicaid expansion under Obamacare, and said other Republican governors like John Kasich of Ohio were wrong to do so.
Jindal said, 'Under President Obama and Secretary Clinton, they are working hard to changing the American dream into the European nightmare. They do celebrate more dependence on the government.' 'Give (Vermont Senator) Bernie Sanders (who is also running for the Democratic nomination challenging Clinton) credit -- at least, he is honest enough to call himself a socialist. Barack Obama, Hillary Clinton, they are no better.'
Jindal warned that 'if we were to expand Medicaid for every uninsured person we would cover in Louisiana, we would kick one person out of private insurance or remove their opportunity for private insurance.' 'We are going to have too many people in the cart than pulling the cart.'
Jindal said, 'This is not free money -- we paid federal taxes. We are borrowing money from China today. Yesterday, the president stunningly admitted that we don't have leverage with China to get a better deal with Iran because we need them to lend us money to continue operating our government.'
'The president of the United States, admitting that he is weakening our government position on foreign policy standing because he cannot control spending in DC.'
On the final question, where the candidates were asked what executive orders they would issue and dismantle, Jindal said he would prosecute and cut off funding for sanctuary cities 'that are harbouring illegal aliens and finally making sure the IRS is not going after conservative or religious groups.'
He also said, 'I will sign an executive protecting religious liberty -- our first amendment rights -- so Christian business owners and individuals don't face discrimination for having a tradition view of marriage.'
Whether Jindal's performance will help him poll better and get him a place in the Top 10 for the next debate is up for conjecture.
But, he has been spending virtually all of his time and campaign dollars he has received from his sugar daddies in Iowa and New Hampshire, where he has been camping out almost from the time he declared his candidacy, holding town hall meetings, speaking to conservative voters and donors and religious groups, obviously with his strategy being that if he can turn in a half-way decent performance and do well in the Iowa Caucus -- which kicks off the primary election -- and in New Hampshire, what many analysts believe is a quixotic campaign where he has absolutely no chance of even sniffing at the GOP nomination, may still be sufficiently significant to make him politically relevant.
Image: Republican presidential candidate Louisiana Gov Bobby Jindal fields a question during a presidential forum hosted by FOX News and Facebook at the Quicken Loans Arena. Photograph: Scott Olson/Getty Images