MEA says Salahuddin's interview shows the freedom enjoyed by terrorists in Pakistan.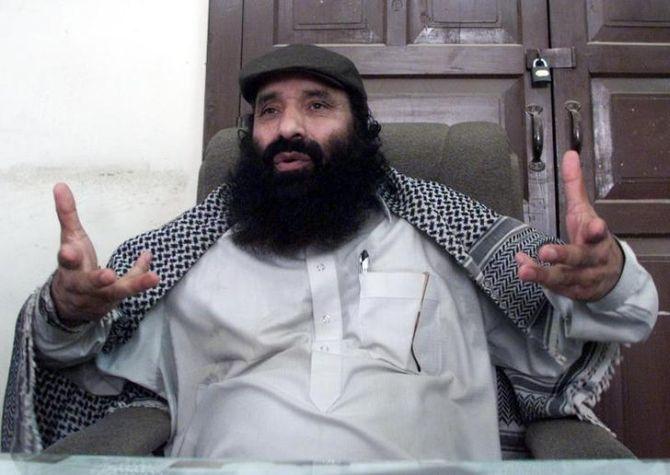 The Ministry of External Affairs on Monday said the interview given by 'global terrorist' Syed Salahuddin, leader of Hizbul Mujahideen, highlights the unabashed manner in which terrorist organisations and leaders enjoy freedom of operations in Pakistan.
In response to a query regarding a recent TV interview by Salahuddin in Pakistan where he admitted of carrying out terror attacks in India, the MEA official spokesperson said, "The brazen admission by Syed Salahuddin of perpetrating terrorist attacks on India and having the capacity to carry out such attacks at any place and time in India is a further proof of Pakistan's continuing policy of cross border terrorism."
"His confession of assistance in such activities from Pakistan also affirms the complicity of Pakistan's state structure in using terrorist proxies as a matter of policy against the neighbours," the spokesperson added.
The MEA expressed deep regret that senior Pakistan functionaries continue to justify and defend the activities of such internationally designated terrorist entities and leaders who are responsible for killing thousands of innocent civilians over the past three decades.
"The interview only highlights the unabashed manner in which terrorist organisations and leaders enjoy freedom of operations in Pakistan, including access to terror financing and procurement and supply of weapons for terrorism," the statement read.
"Pakistan must give up its policy of cross-border terrorism, fulfill its obligations under international resolutions and stop all activities of terrorists from the territory under Pakistan's control," it further said.
Salahuddin, who has been branded as a 'global terrorist' by the United States, admitted in a TV interview to having carried out terror attacks on Indian soil.
"Till now our focus was on Indian occupation forces. All the operations that we have done or are underway, we focus only on the installations of these occupational forces," Salahuddin said in an interview with Geo TV.
Asserting that Kashmir was his 'home', the Hizbul chief stated that the Valley was witnessing an uprising since the killing of Burhan Wani.
Further revealing that he has many supporters in India, Salahuddin admitted to purchasing weapons from international markets, adding that he has the capacity to deliver weapons at any place if he is paid for it.
Informing that he carried out many 'operations' in India, Salahuddin stated that the international scenario changed after 9/11.
"If we would have taken our operations out of Kashmir at that time, India would get a chance to label Kashmir-e-Tehreek a terrorist organisation. We have support and we can target any place in India, at anytime," he said.