'We ask all Americans to stand against homophobia as well as against Islamophobia.'
Ritu Jha/Rediff.com reports from the US.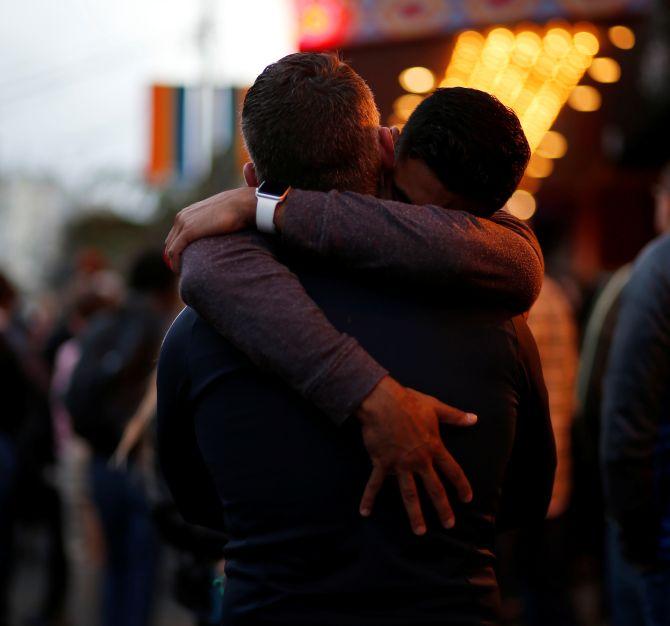 IMAGE: Ahmed Zaeem embraces Billy Quimby while attending a candlelight vigil in San Francisco for victims of the Orlando attack. Photograph: Beck Diefenbach/Reuters
When Almas Haider heard on the news that a man had gone on a rampage and killed people at an Orlando nightclub, she cringed the same way many Muslims do when they learn that someone who share their faith has killed people.
The Orlando tragedy has been especially difficult for Haider to process because she is the president of KhushDC, a South Asian lesbian, gay, bisexual, transgender, and queer support and social group in Washington, DC.
Islamophobia and anti-LGBTQ violence are both rampant in America, and tragic events like these provoke a backlash on both fronts.
In wake of the shooting at the Pulse nightclub in Orlando, various US LGBTQ organisations are asking for a renewal of a national discussion on strengthening gun control.
'As LGBTQ Muslims, we know there are many of us who are living at the intersections of LGBTQ identities and Islam. At moments like this, we are doubly affected.'
"We shouldn't have one individual represent an entire community," Haider told Rediff.com, describing her displeasure about the coverage of the Orlando tragedy, adding that clubs and social places won't be comfortable welcoming them.
"I am Muslim and also a queer woman and those two things are not separate or different," she added, "I feel this violence is not just (directed) at the queer community. Now I am afraid to go and to be in places that I thought were safe like clubs or social events."
"I don't feel I will be welcomed even though this is my community because I am a Muslim."
"I am concerned people could choose this opportunity to continue to support Islamophobia and use it to further any policies or programme that target the Muslim community," she said.
IMAGE: A vigil in California to mourn the victims of the Orlando attack. Photograph: Beck Diefenbach/Reuters
"We are all very concerned and are working with local organisations to host community dialogue at LGBT centres," Haider said. "So we can come together as a community and unite with different races. Our main concern is the safety of our members and our community."

"All members of the LGBTQ community are our family members and anyone hurt is a loss for us, whether in Orlando or anywhere else," Mohammed Shaik H Ali, chairperson, Trikone-Bay Area, a LGBTQ community organisation, told Rediff.com
Asked about plans for the Pride Parade in San Francisco on June 25-26, Ali said, "A hate crime is always on our minds, but we will not let fear rule us. We will be vigilant, but also make sure we win over with our show of strength."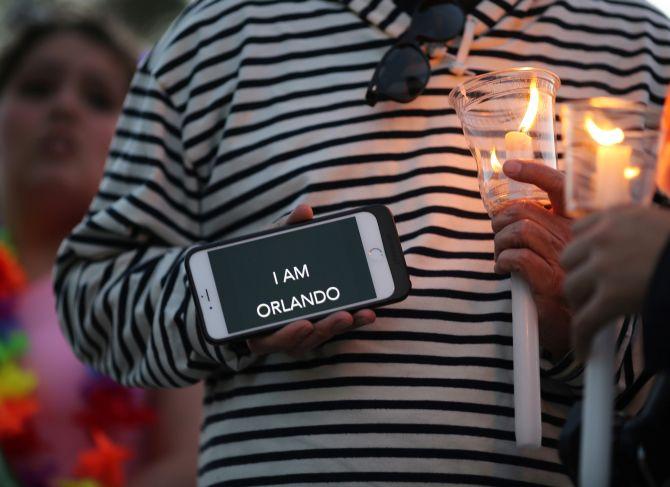 IMAGE: William Delis holds a smartphone with a solidarity message during a rally to protest the Orlando massacre. Photograph: David McNew/Reuters
Another LGBT organisation, the Muslim Alliance for Sexual and Gender Diversity in the US, said through a press note, 'Our thoughts and prayers are with the victims and their loved ones. Although the facts are still emerging, as LGBTQ Muslims, we feel compelled to speak out at this time of a national tragedy to appeal for solidarity and to ask that there be no rush to assign blame to any individual or group beyond the shooter.'

MASGD, which works to support, empower and connect LGBTQ Muslims in the US, further stated that there is no religious justification or precedent in Islam for mass shootings targeting any population, regardless of identity, nor is there justification in American law or values.

'This tragedy is a reminder of the terrible harm that can result from the wide availability of guns and explosives. The proliferation of guns facilitates acts of violence by individuals whose own values conflict with those of most Muslims and most Americans which hold human life to be sacred,' MASGD stated.

'With that in mind, we call for a renewal of the national conversation around strengthening gun control,' it added.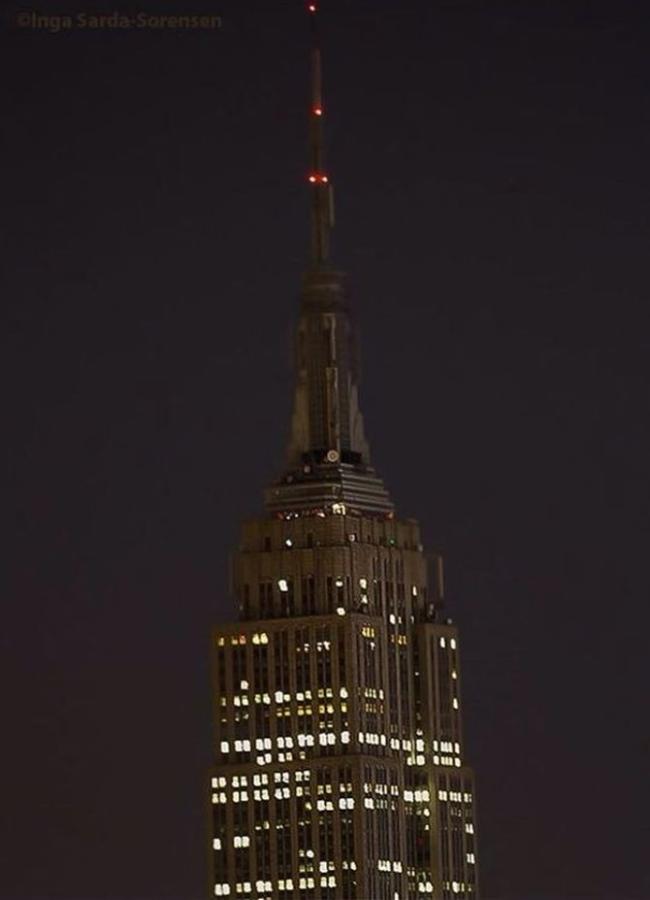 IMAGE: The Empire State Building went dark in sympathy for the victims of the Orlando tragedy. Photograph: @isardasorensen/@EmpireStateBldg/Twitter
'This tragedy cannot be neatly categorised as a fight between the LGBTQ community and the Muslim community,' MASGD said. 'As LGBTQ Muslims, we know that there are many of us who are living at the intersections of LGBTQ identities and Islam. At moments like this, we are doubly affected.'
'We reject attempts to perpetuate hatred against our LGBTQ communities as well as our Muslim communities,' MASGD added. 'We ask all Americans to resist the forces of division and hatred, and to stand against homophobia as well as against Islamophobia and anti-Muslim bigotry.'