Buildings fell like packs of cards and many people, rendered homeless by a devastating 7.8-magnitude earthquake and several powerful aftershocks in Turkiye, died due to freezing temperatures, an anguished Kubra Halici said from Istanbul.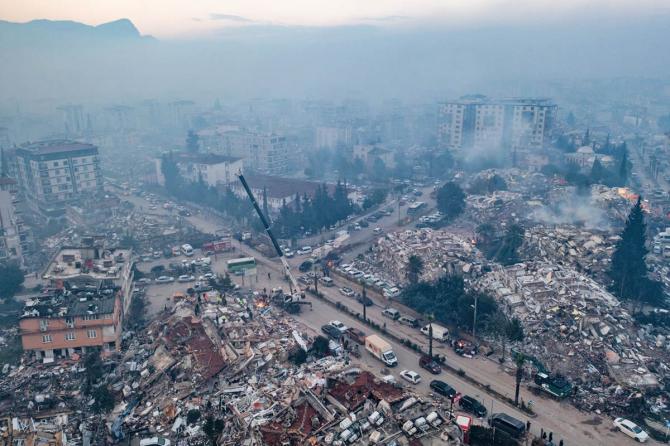 An architectural history scholar, the Turkish national said, "Though we were far from the epicentre, we felt the shocks."
"I and my family members are safe but my country is torn to pieces," she said.
"Ten provinces have been affected and we are seeing only scenes of death and destruction in the local and international media. Houses and buildings fell like packs of cards. Several people who were trapped under the debris died due to severe cold, and even many of those who survived the catastrophe but were rendered homeless died due to freezing temperatures," Halici said.
The deadly earthquake, which struck on Monday, killed thousands of people and flattened thousands of buildings in Turkiye and neighbouring Syria. It was centred in Turkiye's southeastern province of Kahramanmaras and was felt as far away as Cairo.
Turkiye's death toll has risen to 6,957, the country's disaster management agency has said, bringing the overall total to 9,487, including fatalities reported in neighbouring Syria, since Monday's earthquake and multiple aftershocks, according to international media reports.
Countries across the globe are rushing humanitarian aid and manpower to provide succour to the people of Turkiye and Syria.
The 7.8-magnitude quake and a cascade of strong aftershocks that followed ripped through the region, the deadliest seismic event in over a decade, leaving a trail of death and destruction. Emotionally moving footage emerging in media of rescue workers pulling out survivors, including babies and children, out of mountains of rubble, gave a ray of hope to people as the two countries attempt to climb out of this massive crisis.
"I am safe but I do not feel fine. Deaths, sick and injured people in the affected areas and worried fellow citizens elsewhere in Turkiye, it's a living nightmare for us. Many people we know are not able to reach out to their family members as the powerful 7.8 quake and the magnitude 7.5 quake that followed destroyed our country. We are touched that many countries are helping us," Halici said.
India on Tuesday sent to Turkiye relief materials, a mobile hospital and specialised search and rescue teams in four C-17 Globemaster military transport aircraft to support the country's rescue efforts.
On Wednesday, India handed over six tonnes of relief materials, including essential medicines and medical equipment, to earthquake-hit Syria.
Halici shared posts and stories on rescue and relief works and how others can extend financial and other aid to her quake-ravaged country on her social media handle.
"Ten provinces of Turkiye have been affected by this disaster, especially in the eastern and the southeastern regions, and it will be a herculean task to rebuild our country. I have never seen a disaster like this in my life," she said.
Turkish President Tayyip Erdogan has decided to declare a state of emergency for three months in the affected provinces.
"We have decided to declare state of emergency in order for search and rescue operations to be carried out rapidly," the official Twitter handle of the Presidency of the Republic of Turkiye tweeted on Tuesday, as rescuers raced against time to search for other survivors even as bad weather hampered their efforts.
© Copyright 2023 PTI. All rights reserved. Republication or redistribution of PTI content, including by framing or similar means, is expressly prohibited without the prior written consent.