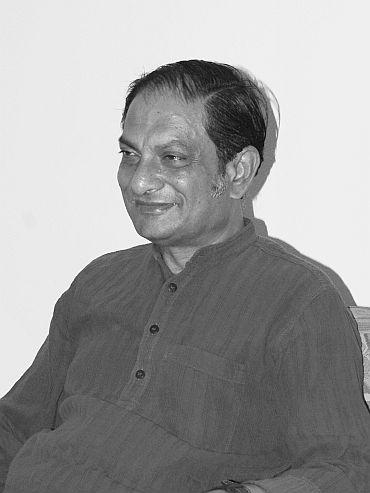 Reiterating that he does not condone any form of violence -- neither state nor non-state actors -- social activist Dr Binayak Sen Friday said that the Supreme Court judgment on Salwa Judum will become "the foundation of our democratic polity."
Sen was speaking at a function organised by the Forum for protection of Democratic Rights, which is a body formed by different lawyers of Delhi.
Post function, when rediff.com asked him about the Anna Hazare-led anti-corruption protest, the only thing Sen said was, "I condemn the way the police arrested Anna Hazare."
Sen was speaking about his work at Chattisgarh, the Salwa Judum movement and his subsequent arrest at the function, which focused on how colonial laws like sedition,  preventive arrests etc. was being used indiscriminately by a "repressive state."
Chattisgarh is affected by famine and poverty and popular belief would lead you to believe that this exists because of Naxal activities. However, Sen told rediff.com that it is not only the Naxalite or Maoist-affected areas that are seeing famine or poverty.
"It is our ignorance that we do not realise that a large part of our population is living in a state of constant famine. We believe that poverty and famine exists only in Naxal-affected areas, but the truth is that famine exists across our country. According to the data given by the National Nutrition Monitoring Bureau, 37 per cent of adults in India have a Body Mass Index under 18.5.
A BMI under 18.5 means chronic under-nutrition. If we disaggregate this figure, over 50 per cent of the STs and over 60 per cent of the SCs have a MBI below 18.5. The World Health Organisation says that any community with over 40 per cent BMI under 18.5, is living in a famine state," Sen told rediff.com.
Talking about the tribals of Chattisgarh, Sen said that these communities are able to survive only because of their access to common property resources like water, land, forest, etc.
So, when the government shifts them from their land for private companies, then their survival is at risk. Describing the circumstances of his arrest, Sen said that he started hearing stories about the Salwa Judum around 2005.
"I was the general secretary of the People's Union for Civil Liberties then. We started our investigations and found out that people were forced to leave their villages and join the  program," he said.
"It was not a democratic program as the government later declared. We did our investigations in the open and the administration itself gave us an outlay of their plan for Salwa Judum, its budget, etc. It never was a spontaneous people's movement, as the government would later claim," Sen added.

Sen said that during PUCL's investigations, instead of rectifying the situation, the administration got angry with the Human Rights organisations.

"The DG of the police said in a press conference 'PUCL ko toh hum dekh lenge'. In May, 2007, I was arrested. When stories broke that the police had intercepted a courier, I was in Kolkatta. Despite not having to, I returned and I was arrested. For three years, the police produced evidence in the trial court. No reference or cross reference was made to the statements of the police witnesses. We had a video recording of the police search at  my house, which shows that all the evidence was taken away in an open bag. The judge refused to see this evidence," Sen said.
Sen said, "Something strange is going on in Chattisgarh. During my trial, the judge repeated exactly what the police said. The entire judgment did not give a single cross-reference to statements by police witnesses."
Image: Dr Binayak Sen