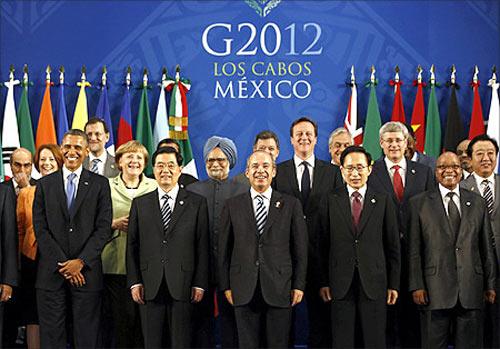 'Politics is turning into gift politics. You are distributing computers, mobiles, tablets while not focusing on production that could provide jobs so that people can sustain themselves...'
'This way you will create a class which is dependent on the State and that will keep growing.'
Badri Narayan, one of India's leading out-of-the-box thinkers, in a hard-hitting interview.
"The Indian State is unable to hear the voices of the grassroots. People are represented by NGOs who carry laptops, travel in AC cars and they bring the reality to Manmohan Singh or Rahul Gandhi. So where are the grassroots?" asks Badri Narayan, one of India's leading out-of-the-box thinkers.
"The Indian State that existed in the 1970s, 1980s was pro-people. But now in the name of pro-people, India has become a market-dominated State," Badri Narayan, professor of social history and anthropology at the G B Pant Institute of Social Science, Allahabad, tells Rediff.com's Archana Masih.
Narayan -- who has also been the Smuts Fellow at Cambridge; a Fulbright Senior Fellow; visiting professor at the Massion De Sciences De La Homme, Paris -- takes a hard look at the state of the nation, including the emergence of unethical politicians and why the Congress party has become fragile in an eloquent two-part interview, the first of which we publish today.
UPA II has been criticised immensely for bringing in a governance deficit? How has that impacted the country?
It has had a negative impact because the State is not there. How the government is managing to function is amazing! They are just making policies, throwing money and are not able to see how these policies are being implemented.
In NREGA, it is said that 60 per cent was lost in corruption while 40 per cent reached the marginalised people. If the implementation would have been right, imagine what positive effect it would have had!
Do you think Indian politics is the Indian economy's greatest adversary where the national interest gets subsumed by vote-bank politics?
Absolutely! The group which is ruling society is not bothered about the marginalised. Five per cent is ruling 95 per cent of the population.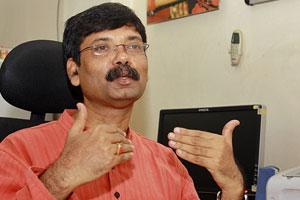 Left: Professor Badri Narayan. Photograph: Rajesh Karkera/Rediff.com
Is there a vision deficit?
There is confusion. They are not close to grassroot reality. They are working in a domain where they listen to the community that has a voice and make policy based on that -- like the NGOs.
Rahul Gandhi mostly trusts NGOs. It is not his fault because he thinks they are the real people.
Meanwhile, the grassroots have no leaders of their own to represent them, so others represent them to Manmohan Singh or Rahul Gandhi. So they make policies based on their suggestions like self help groups, micro finance, right to food -- their feedback for this comes from NGOs.
The problem with NGOs is that they work in civil society. They look at reality from above. In this matter (Bihar Chief Minister) Nitish Kumar is very sharp. In one scheme, he is giving a goat and radio and to repay the loan the person has to give a goat to someone else as repayment.
The fact that people may need a goat is something Manmohan Singh can't think of. He can think of giving reservation to Dalits, but can't think that people might need a radio instead of a mobile or TV. So one has to understand the grassroots' requirements.
Most policies are being made on civil society voices. And civil society is not tuned to grassroot realities. Because even at the grassroots there are multiple levels -- there is one level that needs a goat, one level that needs a school, one level that needs college, transport etc.
One has to understand the multi-layered requirements of society and make policies accordingly.
Social scientist Dr Ashis Nandy says most politicians in government today are technocrats, compared to the leaders of the past who were grassroot people.
Mayawati is a Dalit, but thinks the Indian village she saw 20 years ago is the same today and the Dalits are the same, not realising that in that time the Dalits have also changed. Their aspirations have increased.
But Mayawati says 'I will not take advice from anyone else because after all who can understand the Dalits better than me. I am a Dalit ki Beti (daughter of a Dalit).
Dynamically, society is changing very fast and you have to understand change. They (India's leaders) are losing grip with the community because they don't have any link with the community. They don't interact with their own community any more.
On the other hand are the technocrats across parties and there is a reason for them because the whole debate of politics has become very technocratic in nature like FDI etc. So you need experts because market debates have become a part of politics.
Earlier, if you could deliver a good speech, had good contact with the community, you became a leader. Now if you are able to market your image and are a technocrat, an expert in something you can become a politician.
There is a big market for economists to become politicians, so where is the 'grassroots' in politics anymore?
The nature of politics has changed, it is going to become expert-centric politics, technocrat-centric politics and the grassroots will not have much meaning.
The people are being represented by civil society, NGOs who are also similar kind of people -- carrying laptops, mobiles, travel in AC cars and they represent the reality to Manmohan Singh or Rahul Gandhi.
Rahul Gandhi (the Congress general secretary) has made an attempt to meet people in the villages. Has that not made any difference?
Rahul is trying hard. But he is not able to reach these people and those who go to him are not the right people. If some NGO goes to him, he listens to them because he is good by heart. He has no network of his own because they don't have their own community leaders.
If you (the grassroots) don't have a voice of your own, others will represent you. Someone from the Musahar community once told me something metaphorically -- 'People in high places do not hear us and if they hear us they don't understand us and if they happen to understand us they don't do anything for us.'
There is a disconnect between the two languages -- the NGO language is different from the grassroots language and the NGO language as the State language.
In a way what you are saying is that NGOs are driving the agenda these days...?
...of governance and they are creating a wide gulf between the grassroots and the State. The State thinks it is doing things for the people, but it is not so.
Is India's economic disparity the greatest hurdle to its success?
Bilkul (Absolutely!). The Indian State is unable to hear the voices of the grassroots, in spite of their goodness, in spite of their civilising mission approach. They cannot hear it because the elitists are speaking the language of the technocrats and policy is being made based on that.
Take NREGA. It is a policy to distribute money for work done. What will those people do after that? What will you do when that money gets over?
There has been no effort to develop their capability, that they could do something else or train them in a vocation which could have helped them.
Politics is turning into gift politics. You are distributing computers, mobiles, tablets while not focusing on production that could provide jobs so that people can sustain themselves.
What will he do with a mobile phone in times to come or with the unemployment allowance... This way you will create a class which is dependent on the State and that will keep growing.
Is India becoming an excessively welfare State?
You can't even say that because if welfare was done properly, then there would have been change.
Democracy is standing as a bribe-giving space where you are bribing the people -- 'Vote for us and we will give you cycles, rice, TVs etc.'
Politics is not conscious-driven, it does not makes you self dependent.
India is always compared to China on the development, infrastructure fronts. Has India not used its demographic dividend as it should have?
We are emerging as a superpower bhagwan bharose. The situation is not creating hope.
China is working with a mission. We are working with a mission for the market. How to increase/grow the market and how to formulate policies according to that?
The market consists of the corporate sector which is influencing policy and for such debates you need politicians like that and those kind of people have entered politics too.
The character of every party has changed. They are also working like corporate CEOs.
India is growing as a market State. The market rules!
The earlier mission of development of the people exists, but only superficially, but that is also market driven. Whatever reaches the people goes via the market.
The State that existed in the 1970s, 1980s, even up to Rajiv Gandhi's time, was a very pro-people kind of State. Now in the name of pro-people, it is a market-dominated State. It has its good and bad. It has trickled down to some sections of society, but one has to see how much of a long drawn sustainable development has been created.
Why has Prime Minister Singh been ineffective in his second term?
There is no coherence. Nobody listens to anyone. Those who can lobby for the market are very dominant in the Congress.
The Congress is in a very contradictory situation. It was made for the welfare of the people, that was their mission, but now these groups are becoming dominant. They are using social justice for campaigning for the market.
Sonia (Gandhi, the Congress president) and Rahul have to strengthen the Congress, yet they cannot negate the market because they are products of modernity, but they also worry about the development of the marginalised. So it is very difficult to reconcile these two trends.
That is why the Congress is becoming very fragile -- because of this change in politics.
We hear that many populist social schemes that have been undertaken by the government have been because of Sonia Gandhi's push.
It is because of Rahul and Sonia's pressure that the Congress has been able to do some development measures.
A group of unethical, amoral politicians have developed not only in the Congress, but in the BJP (Bharatiya Janata Party) who have no commitment for the people.
It is unfortunate that the Anna Hazare movement, the counter politics to this, has fallen into the same trap of power -- so where does hope lie?
We talk of democracy -- but ultimately have to find hope in Sonia, in Rahul, in Atal Bihari Vajpayee because they have a moral, ethical position.
Dr Singh is an honest person, but he is working for others, not for himself. It has become difficult for the Congress to balance pressures of the new liberal economy and that is why it has become fragile.
Please read Part 2 of the interview: 'Corruption should be legalised'
Lead Image: Prime Minister Manmohan Singh with other leaders of the G-20 nations at the G-20 summit in Los Cabos, Mexico, in June. Photograph: Jason Reed/Reuters