A group of Indian-American businessmen initiated the action against Wendy Doniger's controversial book which Penguin India agreed to pulp recently. Rediff.com's Arthur J Pais finds out more.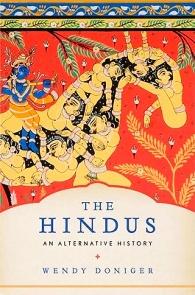 The court case in India against Wendy Doniger's book The Hindus was in a way initiated in Atlanta, Georgia, by a group of Indian-American businessmen including Dhiru Shah, who have been fighting against several controversial books on Hinduism by Western thinkers and professors in recent years.
The group of Indian-American businessmen have also been fighting what they perceive as a bias and distortion against Hinduism in school texts across America.
"People in India may not have the time to read books such as The Hindus or the Ganesha book by Paul Courtright," says Shah. "Here there are businessmen, professors and students of Indian origin who read them carefully. Many of them have good knowledge of Sanskrit and Hinduism. We also alert people in India to be careful of these books."
He felt these books and the portrayal of Hinduism in American texts was causing embarrassment and tension, particularly to Diaspora children.
"As it is, our children have a tough time in a multicultural society," he said. "They don't have to face ridicule from fellow students who have heard or read wrong things about India and Hinduism."
Shah and a handful of activists in Atlanta drew a list of alleged errors in Doniger's The Hindus and also reflected on its interpretations.
"We gave the list to the people involved in the litigation against Penguin in India," Shah said.
Asked if the group had supported the India group financially, he said, "I did not give any money. Some people might have sent money on their own, but I do not know of such efforts."
Paul Courtright, the author of Ganesa: Lord of Obstacles, Lord of Beginnings, was also a student of Wendy Doniger who had written its preface. The book published some 20 years ago had remained 'obscure' till it was reprinted in India, and Hindu activist Rajiv Malhotra wrote a blistering article against it in an Indian-American publication.
Then a group of students and a professor from Louisiana successfully petitioned the Indian publishers to withdraw the book.
T R Rao, a computer science professor at the University of Louisiana in Lafayette, who gave up reading the book halfway, told the Atlanta Journal Constitution newspaper that he found it 'excruciating'.
Courtright said he realises his book has offended some Hindus, but he would continue to defend his study. He said the context in which he studies Hinduism is different from the context of religious communities.
Shah said Emory University, where Courtright taught, refused to meet with the protesters several times, but a year later, met Shah and a handful of people from the city.
"We strongly made our views known," he said. "They were not going to withdraw the book from their library or any such thing. Courtright is still there and he went around the world telling everyone how his scholarly freedom was challenged. But he does not teach any more courses on Hinduism."
The fight against American school textbooks and works similar to Doniger's book will continue, Shah said.
"The outcome of legal cases in California about the textbook will confirm that American textbooks give a distorted picture about India and Hinduism," he said.
"Two cases were filed by two Hindu groups and in both cases the court's verdicts were in favour of the Hindu groups. Hindu scholars/academics/writers are against the type of shoddy, biased, distorted and misleading scholarship and books written about Hinduism by American academia which includes some Ivy League professors calling themselves as 'experts' on Hinduism."
It was not right to call the court case against Penguin in India an effort by Hindu political groups, and particularly the Rashtriya Swayamsevak Sangh, Shah said.
Shah produced a letter by Bharat Gupt, a retired Delhi University professor, who in a statement said, 'The tone of all Doniger defenders is to stereotyping Dinanath Batra (the main petitioner against Doniger) as an RSS man. This is keeping the whole debate away from the real issues regarding culture and history. Here, they are presuming that all those who object to the existing books written under a given dispensation of Nehruvian secularism and the dominating Marxist version of history are all RSS men and that the prevailing Discovery of India (by Jawaharlal Nehru) version of history and culture is perfect and true. Nobody seems to question why the debates which should have happened in the universities and schools are not taking in those places and why Batra has to go to court.'