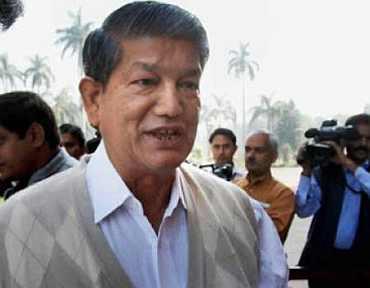 Political temperatures shot up in Dehradun on Friday abruptly after the arrest of Bharatiya Janata Party MLA from Mussoorie, Ganesh Joshi in the Shaktiman case, with the entire place agog with rumours that the BJP was trying to woo disgruntled Congress legislators to prove that the party had been reduced to a minority.
Giving a measure of credence to the rumours, Congress MLA Ganesh Godiyal claimed he and his legislator friends had been approached by state BJP leaders with "hefty" offers to help trigger the collapse of the Harish Rawat government.
"BJP is trying to taint the name of Uttarakhand. They have offered hefty amounts to me and my friends to help cause the fall of our government," Godiyal told reporters outside Vidhan Sabha.
"They are asking us to take whatever we want but help dislodge the government," he alleged.
However, there was no threat to the state government as there is no question of any of the Congress MLAs jumping ship, he said.
Leader of Opposition and Pradesh BJP president Ajay Bhatt rubbished the allegations, saying it was not in the character of his party.
"We have gone for a division of votes on the budget every year and there is nothing unusual about it. It is not in our character to destabilise democratically elected governments," he said.
Rawat asserted there was no threat to his government as it enjoyed "the trust of the people and the blessings of lord Kedarnath and Badrinath."
The Congress has a strength of 36 MLAs in the 70-member Uttarakhand assembly. The ruling party also has the support of six members of the Progressive Democratic Front, while the BJP has 28 MLAs.
Later, state BJP president Ajay Bhatt met Governor K K Paul and sought a direction from him to let arrested party MLA Ganesh Joshi to take part in the proceedings of the state assembly on the last day on Friday of its ongoing budget session.
However, it does not look likely that Joshi will be able to take part in the proceedings as he is in Shuddhowala prison.