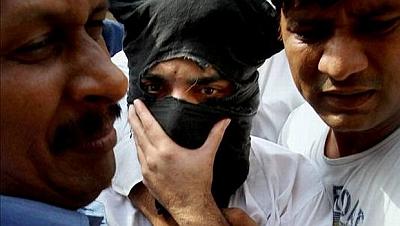 Trial against suspected top Lashkar-e-Tayiba terrorist Abu Jundal, an alleged mastermind of the 26/11 Mumbai attacks, should be conducted through video conferencing as he faces threat to his life, NIA told a Delhi court on Friday.
The National Investigating Agency said Jundal alias Sayed Zabiuddin Ansari, currently lodged in Arthur Road jail in Mumbai, cannot be produced in court as the Maharashtra government, in its May 2013 resolution, apprehends that he could be assassinated or kidnapped by rivals during his transit from jail to court.
However, Jundal's counsel advocate M S Khan told District Judge Amar Nath that if the trial is conducted through video conferencing, his defence would be adversely affected.
Khan said he would not be able to properly communicate with his client through video conferencing which would affect his defence in the case.
He, however, said he would write a letter to Jundal to seek his instruction on the issue, after which the court posted the matter for further hearing on August 5.
The NIA, in its application in the court, has requested that the proceedings in the case lodged here was required to be expedited and the trial should be commenced through video conferencing.
NIA had chargesheeted Jundal in Delhi for allegedly conspiring to carry out terror activities in India, including the 26/11 Mumbai terror attacks and Aurangabad arms haul case.
In its plea, NIA had referred to the resolution passed by Maharashtra government saying it "exclude personal appearance of the accused Sayed Zabiuddin Ansari....after taking into consideration the request of Commissioner of Police, Mumbai to exclude the above-mentioned accused person from personal appearance before court in various cases registered against him due to possibility of assassination bid on the life of accused by rival group or a bid to kidnap."
The agency had also said the resolution was challenged by Jundal before Bombay High Court, but his plea was dismissed.
"By virtue of order passed by state government...and order of divisional bench of Bombay high court... the jail authority is not producing accused Sayed Zabiuddin Ansari ... inspite of the production warrant issued by this court directing jail authority to produce the accused before it to answer the charges levelled," the NIA had said.
The court in Delhi is scheduled to hear arguments on charges in the case in which NIA has chargesheeted Jundal for offences punishable under the IPC and Unlawful Activities (Prevention) Act for allegedly attempting to recruit men through the internet for the banned LeT and conspiring to carry out terror activities in India.
Jundal is alleged to be one of the masterminds of 26/11 Mumbai terror attack in which the lone convict Ajmal Amir Kasab was hanged. Jundal was alleged to be one of the persons directing the terrorists during the attacks from a so-called 'control room' in Pakistan-occupied Kashmir.
He is also facing trial in the 2006 Aurangabad arms haul case lodged under the provisions of the Maharashtra Control of Organised Crime Act.
In its charge sheet filed against Jundal, NIA had alleged that in and around 2005, Jundal, along with his absconding associate Faiyaz Riyaz Ahmad Kagzi, had joined LeT.
In November 2005, they went to Nepal to meet LeT commander Abdul Aziz and received a three-day training of bomb assembling and IED-making from him, it had said.
The NIA had also claimed that on his return to India, Jundal fled to Pakistan via Bangladesh and stayed in Karachi and at the LeT's headquarters in Muridke.
He did three training courses in LeT training camps and came in contact with LeT top operatives, including its chief Hafiz Saeed, Zaki-ur-Rehman Lakhvi and Zarar Shah, NIA had alleged, the charge sheet said.