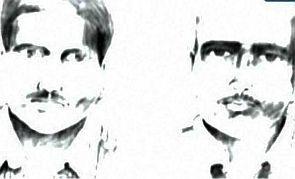 Investigators probing Sunday's serial blasts at Bodh Gaya are hot on the trail of two brothers named Sahidur and Saifur Rehman.
Based on the closed circuit camera footage, the Bihar police has released sketches of the Rehman brothers.

The police and the National Investigation Agency have gathered some information on the duo based on Intelligence dossiers. Following an alert issued in 2011, the agencies have been on their trail and it was learnt through investigation that they were residing in Scotland and Saudi Arabia.
According to the investigators, Sahidur arrived in Bihar on May 6 from Scotland and joined a team of youth in Darabanga who were plotting the attack.

Saifur arrived in India on June 7 from Saudi Arabia.
Claiming that the duo was called in specifically for the Gaya operation, an investigator told rediff.com that the brothers had two plans in their mind.

"The first was to carry out a major attack in Patna. However, that plan fizzled out as there was not enough planning done to carry out an attack in Bihar's capital. On the second target, Bodh Gaya, the team already had data available on the site."
"During his two month stay, Sahidur is said to have surveyed the Mahabodhi several times along with his accomplices. The planning continued after Saifur's arrival. Some local module members were also part of the planning. A day before the blast they did a dry run of the place. While planting the bombs, they were accompanied by several other persons."
Intelligence Bureau officials say that the Rehman brothers have had links with the Indian Mujahideen. Saifur was in Saudi Arabia and was in touch with some of the operatives from the Darabanga module and this is how the information regarding him and his brother came out. Moreover, those interrogated by the Delhi Police had also mentioned Saifur.
Meanwhile, the agencies are also interrogating a person named Vinod whose identification card was found at the premises. The interrogation of detained Kolkata-based operative Anwar Mullick is also underway.